If you're dealing with a sudden transition to homeschooling, you're lucky if you get anything done during a school day. 
But you've got backup. 
We've reviewed 10 online learning websites to help you pass the time with your kids, whether you're looking to supplement your child's curriculum or just trying to make the most of recess.
Explore the best online learning and education brands:
Khan Academy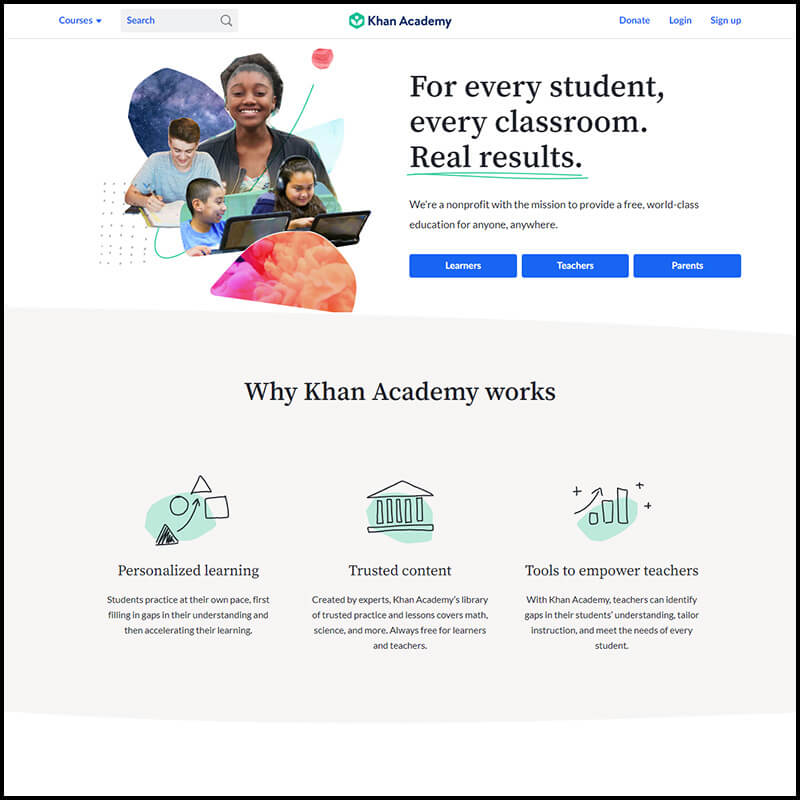 Khan Academy is a free online educational resource with educational videos on any topic your kid's homework could cover. What is it about whiteboard videos that's so satisfying? Engaging visuals and clear explanations make it a consistent winner for students and parents alike. Think of this site like a free tutor who can come over anytime to save you from Common Core.
Khan Academy offers: 
A huge selection of tutorials for every subject and grade level
Test prep for your high schooler, college student or grad school hopeful
Questions and practice tests to support your learning
And for kids ages 2–7, Khan Academy Kids is a free app with lessons in math, reading, and social-emotional learning (available from the App Store, Google Play, and Amazon Appstore).
What Does Khan Academy Cost?
Nada! KhanAcademy operates as a nonprofit and is totally free. No subscription required.
ABCmouse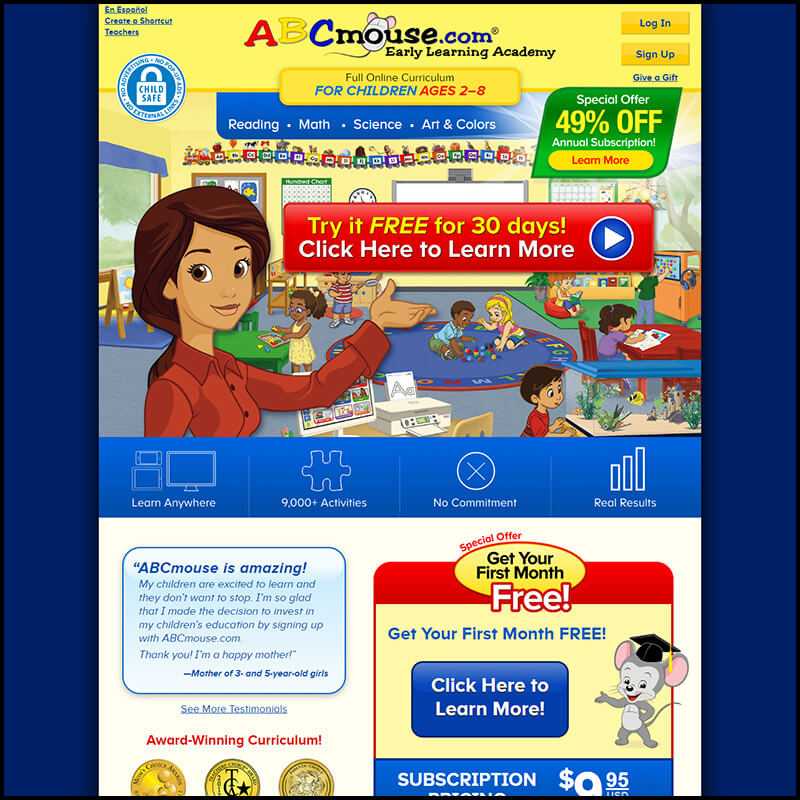 ABCmouse is an online learning academy for children ages 2–8. It's available on desktop, mobile, and iPad, so your little one can take learning from the kitchen to the playpen.
ABCmouse offers: 
Lessons in reading and language arts, math, science, social studies, arts and colors
More than 450 books and early readers
Over 2,000 printables so you can add some color to your day right away!
What Does ABCmouse Cost?
An ABCmouse subscription goes for $9.95 a month. At this time you can get the first month free, and there's also a promotion for up to 49% off an annual subscription.
For additional savings, Giving Assistant offers the best ABCMouse coupon codes and deals including $2 cash back on your subscription.
Udemy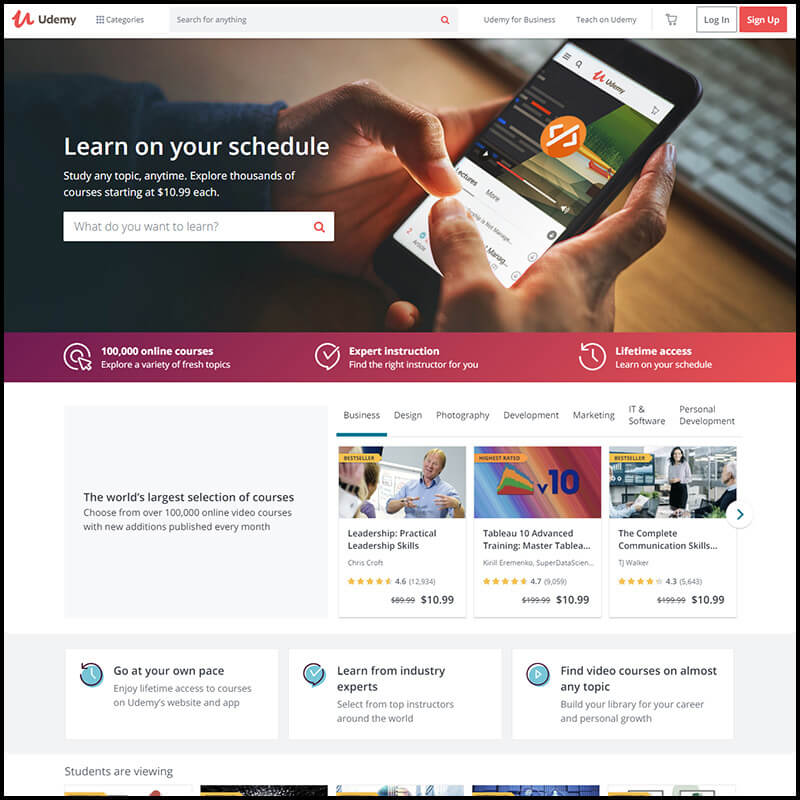 Udemy is another online learning community with thousands of cool classes. Whether you want help reviewing material from school or just to try something new with the family, you can find it on Udemy. 
Udemy classes for kids:
What Does Udemy Cost?
A Udemy account is free and gives you access to both free and paid classes. You pay for classes as you go (prices start at $11.99). If there's a class you're itching to take but it's expensive, keep your eye on it because courses go on sale all the time. Udemy is also offering up to 75% off for new users for a limited time.
Right now, Giving Assistant members can get 15% cash back from Udemy when you buy a class. Plus, find the latest coupon codes and deals.
Scholastic Learn at Home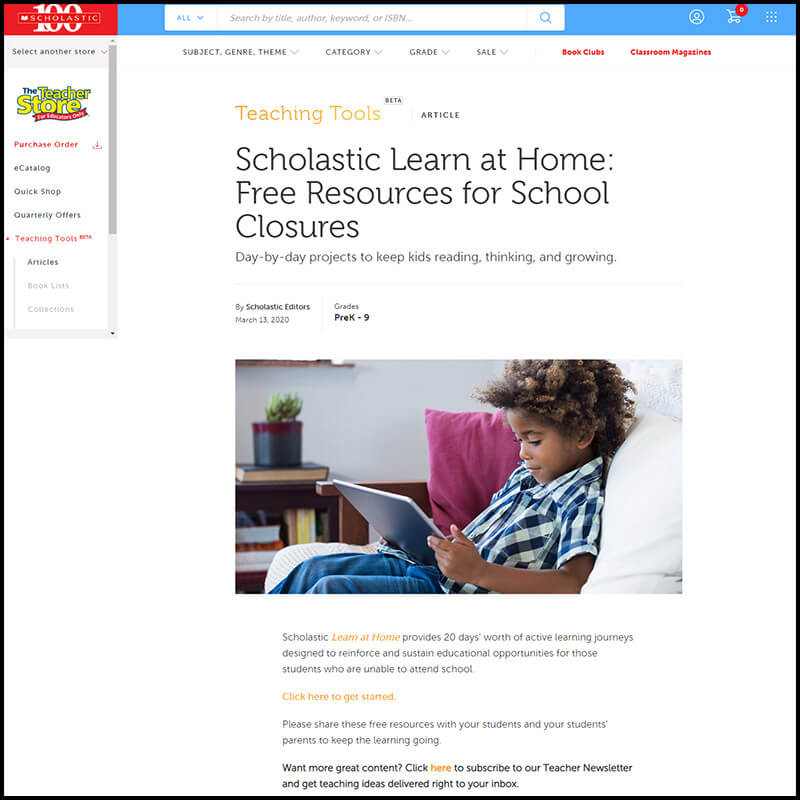 Scholastic Store offers Learn at Home, a new K–12 remote learning resource from the popular publishing and education company Scholastic. Think of it like a newsletter that connects things your child is already interested in to foundational skills they'd be learning at school.
The company has provided four weeks worth of fun, enriching activities (80 lessons in total!) on the site. Simply click on each day's link to get a free page of digital story times, videos, puzzles, and projects. 
Scholastic Learn at Home offers for kids:
Free digital stories, read aloud to them
Free ebooks to read quietly to themselves
Matching games and puzzles to support what they just read
Educational videos on topics like baby animals, gravity, and community
Activities to follow along like movement, drawing, and scavenger hunts
And your teen will love learning about:
What Does Scholastic Learn At Home Cost?
It's free! All you need to access their content is an Internet connection. Some of the lessons require household items for drawing and measuring.
For additional savings, get the best Scholastic Store coupon codes plus 6% back on your purchase.
Skillshare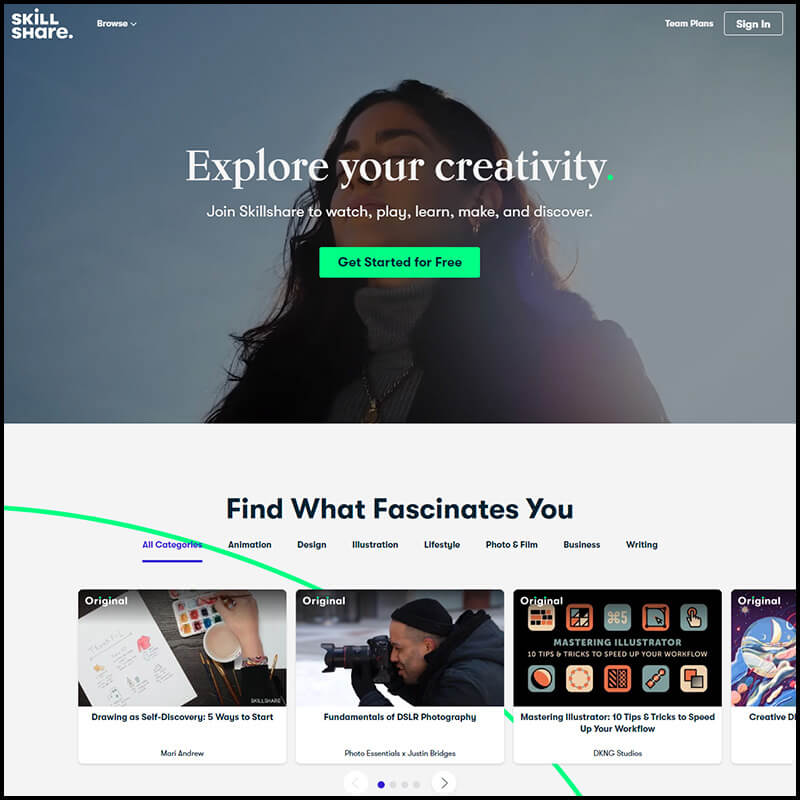 Skillshare is an online learning hub primarily geared toward creative professionals. They provide video classes in creative skills so you can learn at your own pace from home. They have lots of fun content for creative kiddos, too.
Skillshare offers classes in subjects like:
What Does Skillshare Cost?
It's free to make an account on Skillshare, and you can take many of their classes for free. But to get access to all of their (thousands of!) classes you need a Premium membership. Currently Skillshare is offering 2 months free unlimited classes (subject to change).
Right now you can get $15 cash back when you sign up for Skillshare plus always find the best coupon codes.
LearningResources.com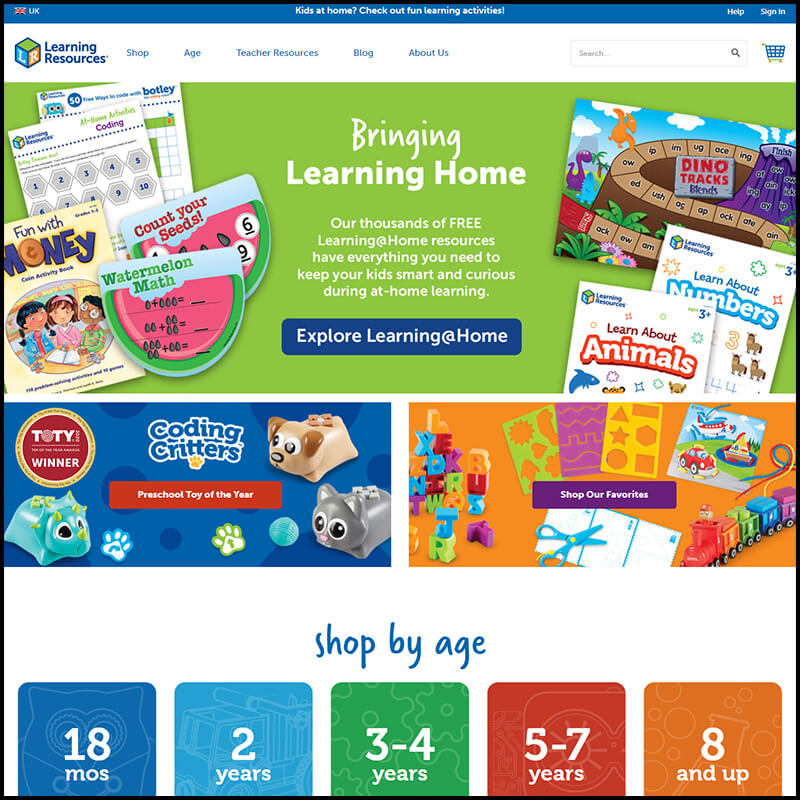 Learning Resources is an online store for educational toys. And they've opened up their digital resource library to help keep your kids busy and learning. 
Their Learning@Home page is all free and available for download, so you can get teacher-quality worksheets in your hands in just a few clicks.
Learning Resources offers for kids:
What Does Learning Resources Cost?
These digital resources are free! Their retail items vary in price (some of the sets can get up to $79.99) but right now they have 30% with code TEACH18.
You can also earn 8% cash back from Learning Resources when you shop Learning Resources with Giving Assistant. Plus find the best coupons and deals!
Really Good Stuff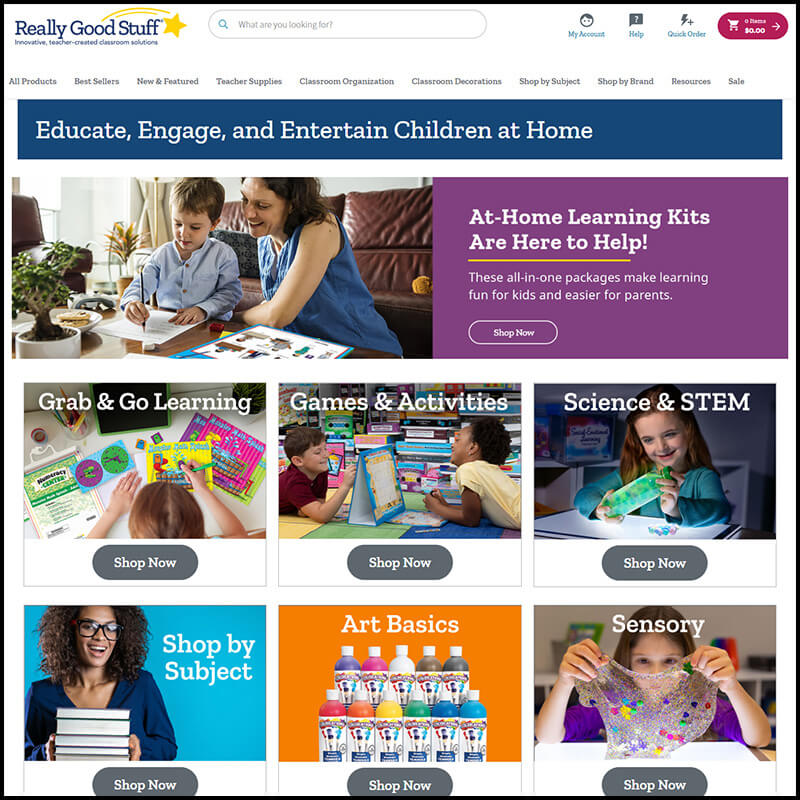 Really Good Stuff is a supplier for everything school, from bins to books. And they've also created a special resources library to support home learning at this time. Their digital printables are exactly what teachers use in the classroom to explain new concepts in a clear way.
Really Good Stuff offers free downloads like:
Letter trace sheets for learning to write.
Short dialogues for acting out scenes.
Place value anchor charts for learning decimals.
And if you're looking to stock up on school supplies, you can earn 1% cashback plus the best Really Good Stuff coupon codes when you shop with Giving Assistant.
BrainPOP
BrainPOP is an educational site for kids that teaches through animated lectures. Each video lesson is supported with interactive content to test your knowledge.
BrainPOP offers: 
Lessons in STEM, social studies, English, arts & music, and health
Quizzes, worksheets, and coding challenges to support what you just watched
Hours and hours of educational content
BrainPOP Jr. for learners ages K-3 to get a jump-start on school.
BrainPOP ELL for language learners to gain proficiency in English.
What Does BrainPOP Cost?
Right now it's free! BrainPOP is usually only available for purchase by educators, but they're currently offering free access — so you don't need an educator code to take advantage of this awesome resource.
National Geographic Kids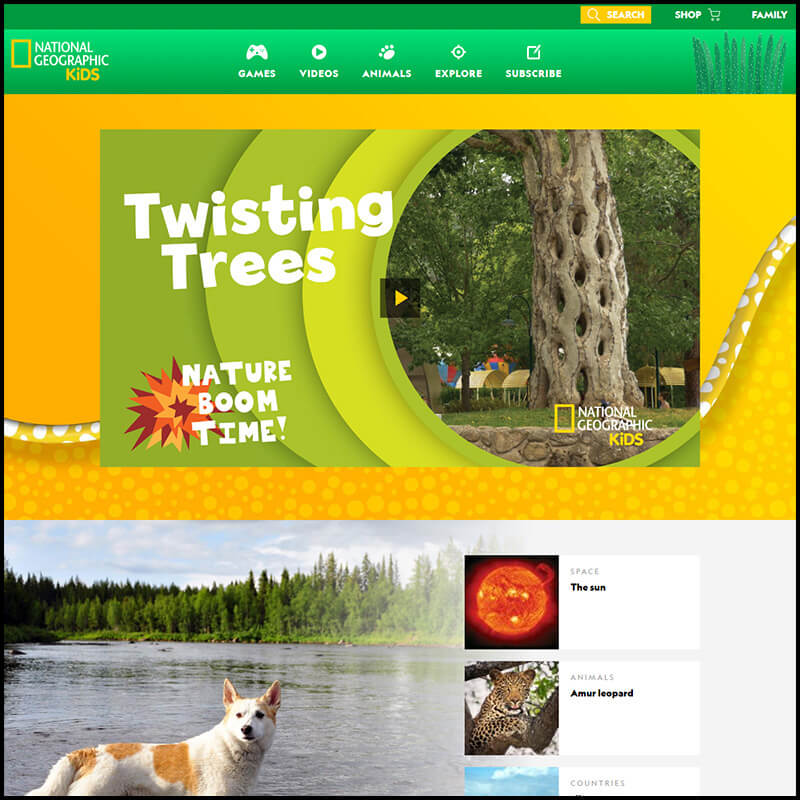 National Geographic Kids is a digital magazine. It's jam-packed with content from the paper magazine plus digital extras to keep your kids engaged. With a focus on animals and science, this is a good outlet if you have a little explorer in the house. Another plus? You'll feel better putting your kids in front of their videos than YouTube. 🙈
National Geographic Kids offers: 
Articles from National Geographic Kids without a subscription
Videos about animals, strange science facts, and experiments to try at home
Games that are educational and fun
Quizzes about the planets, dinosaurs, and inventions that changed the world
Downloadable books and worksheets
What Does National Geographic Kids Cost?
National Geographic Kids is free to visit online, it just doesn't include everything you'd get in the actual magazine. The print magazine costs $15 for a one-year subscription (10 issues).
KiwiCo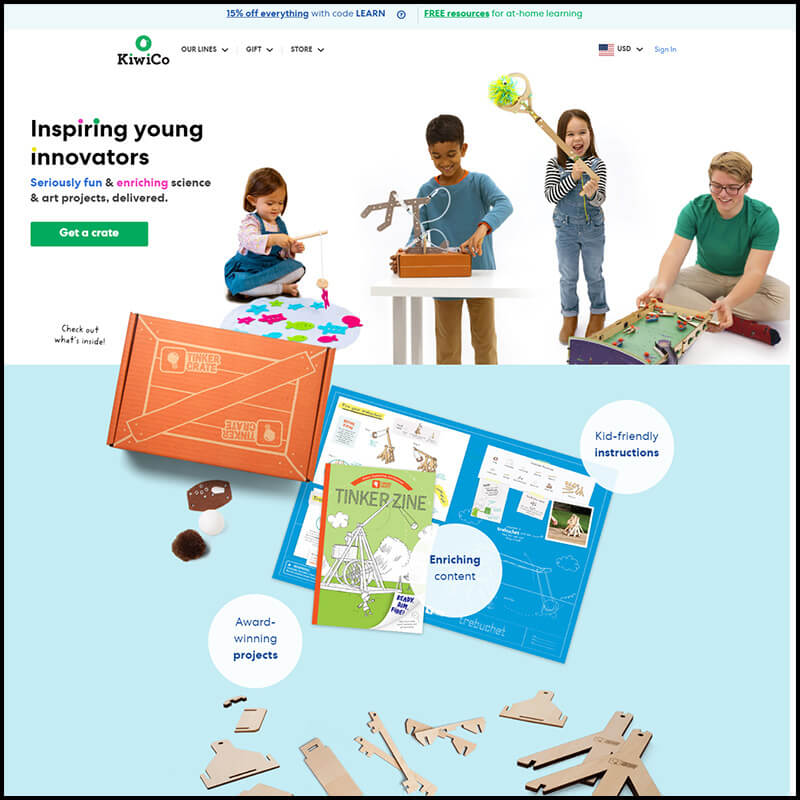 KiwiCo is a monthly subscription box of educational activities for kids. Each box contains everything you need to make a fun and enriching project, like this felt camping excursion. Right now they're putting that creative energy towards online resources like printable science projects and weekly DIYs — so you can tinker, make and explore with things you have around the house.
KiwiCo offers for kids:
Find the alphabet in nature with this no setup required scavenger hunt
Make invisible ink with just lemon juice
Learn about shadows and light through play
What Does KiwiCo Cost?
KiwiCo's online resources are free! But a KiwiCo monthly subscription starts at $15.50/month depending on age group (the two "oldest" crates have more expensive projects inside) and commitment level (two-year subscription, one-year, six months, or two months).
You can also get 30% off when you sign up for KiwiCo emails.
Kits can also be ordered individually starting at $24.95. Earn 15% cash back when you shop KiwiCo through Giving Assistant, plus always get the best coupons and deals.
How Your Online Learning Helps Nonprofits
When you buy online classes or programs through Giving Assistant, you instantly earn cash back to share with a nonprofit of your choice (including those supporting COVID-19 relief). Those donations add up to make a big difference. 
You can also be sure you never miss a deal again when you install the Giving Assistant Button on your browser: it automatically applies coupons and cash back offers at checkout.