We love sharing stories on brands that give back – and The Home Depot is on that list.
Known for assisting millions of people achieve their DIY dreams, providing design solutions, as well as fixing, renovating and upgrading personal spaces, The Home Depot holds the title of being the largest home improvement retailer in the world, with a reputation for having an even bigger heart.
A crew of nearly 400,000 associates is responsible for manning more than 2,200 stores across the United States, Mexico, and Canada.
Those numbers produce an impressive squad of volunteers who donate their time, energy and innovation to The Home Depot Foundation programs and Team Depot projects – the company's way of giving back to the community.
The Home Depot Foundation
What It Does
The bulk of charitable actions that The Home Depot Foundation and Team Depot primarily focuses on include improving the housing situations and quality of life of U.S. veterans; providing natural disaster relief to communities in need, and education such as transforming individuals into skilled tradespeople and addressing the skilled labor gap.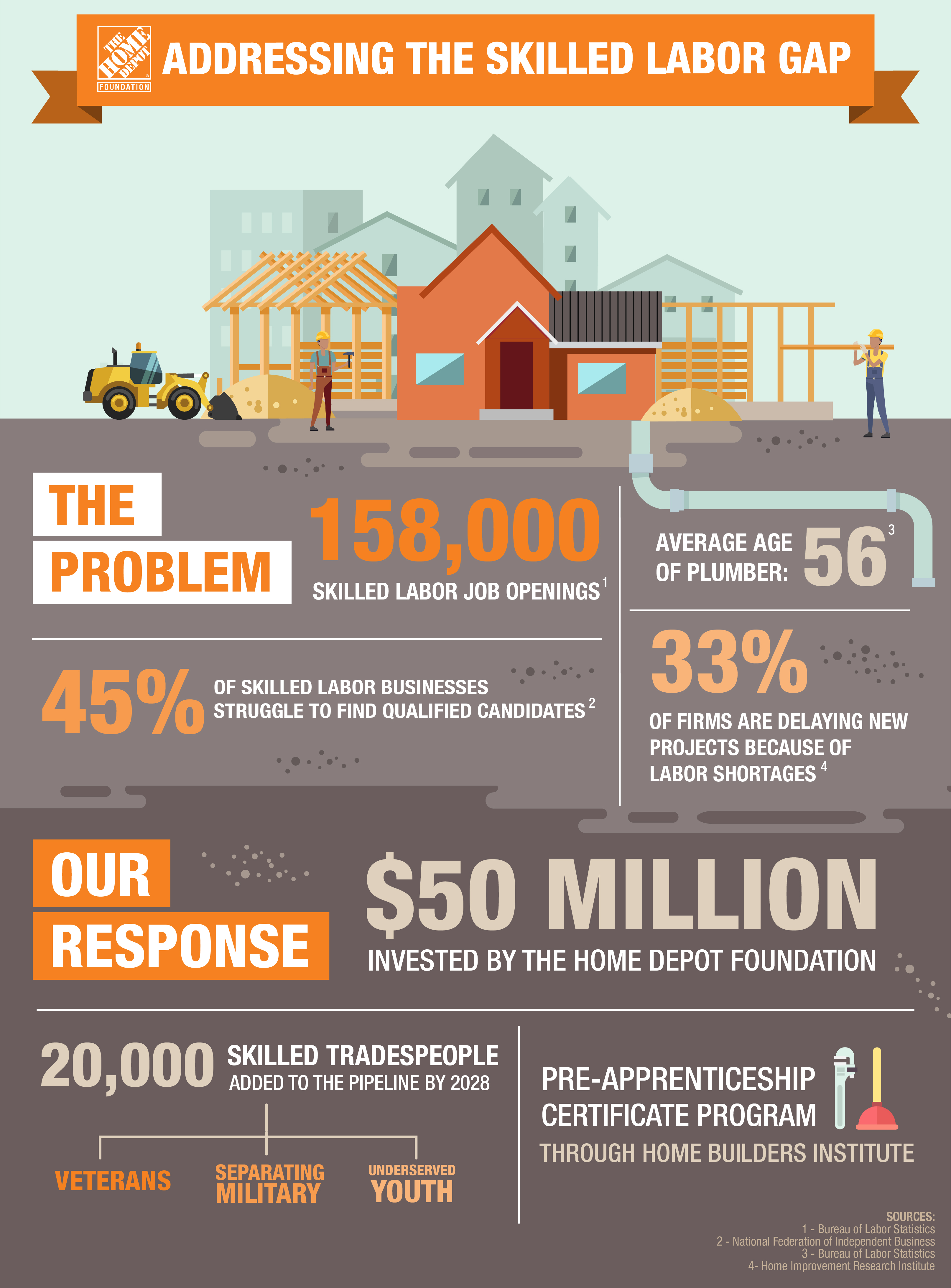 Examples
The Home Depot Foundation often joins forces with a wide range of local nonprofit groups and other organizations, such as Meals on Wheels, American Red Cross, Volunteers of America, Gary Sinise Foundation and Habitat for Humanity International, to form partnerships that complete endless "do-good" projects across the country.
For example, their joint venture with Habitat for Humanity led to the formation of Repair Corps in 2011, which funded the remodel, repair, and renovation missions of nearly 100 homes belonging to U.S. military veterans and their families demonstrating a critical need.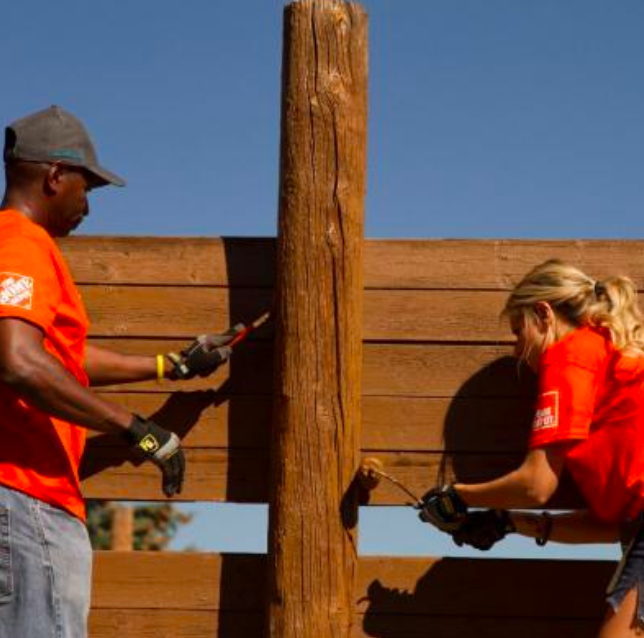 And, The Home Depot's month-long 'Celebration of Service' campaign honoring military vets wound up investing in initiatives that totaled $9.1 million in giving power that culminated on Veterans Day, with the promise of roughly 20 million more in funds being delegated over three years to meet the housing needs of veterans.
In 2016, The Home Depot Foundation announced a goal to invest a quarter-billion dollars in veteran-related causes by 2020.
Then, in May 2018, the Foundation far exceeded its objective – two years earlier than expected – just in time to make the announcement at the 40th-anniversary celebration marking the founding of The Home Depot.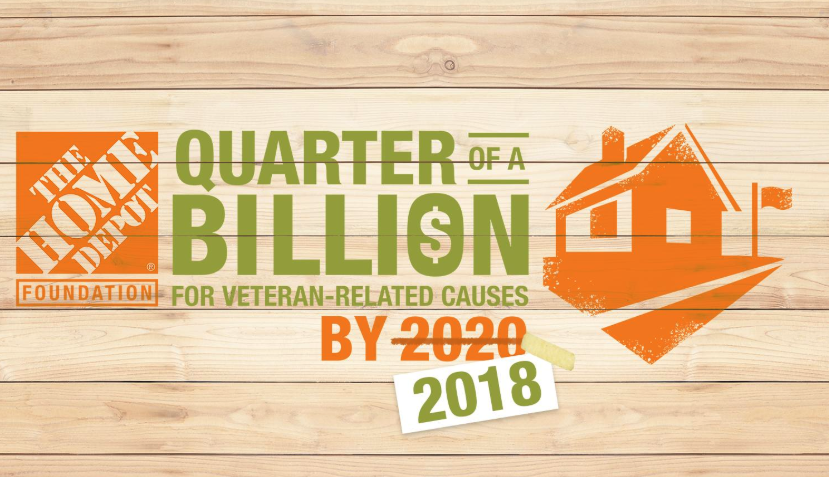 Every year, The Home Depot funds multiple grants and local programs that uplift and enhance the quality of living for communities across the U.S., such as:
National Partner Grants Program: Helps fight against homelessness in veteran populations, as well as actively satisfies the housing needs of veterans such as building unique customizations for senior vets and veterans with disabilities.
Veteran Housing Grants Program: Provides large grants to nonprofits for the development and repair of veteran's housing, including permanent supportive residences and transitional living facilities.
Community Impact Grants Program: Delivers small financial grants to non-for-profit organizations to breathe life into community volunteer projects which place special emphasis on serving local veterans.
Retool Your School Campus Improvement Grant Program: Donated over $1.8 million in the form of 490 grants that has been used to enhance the college campuses of Historically Black Colleges and Universities (HBCUs).
The Home Depot for Kids Workshops: Introduces local youth to confidence-building, family-friendly workshops on the weekend (like constructing a birdhouse or wooden car) that take place on a monthly basis and are completely free.
Disaster Relief Program: Offers supplies, resources and manpower to residents affected by natural disasters that require recovery and rebuilding efforts.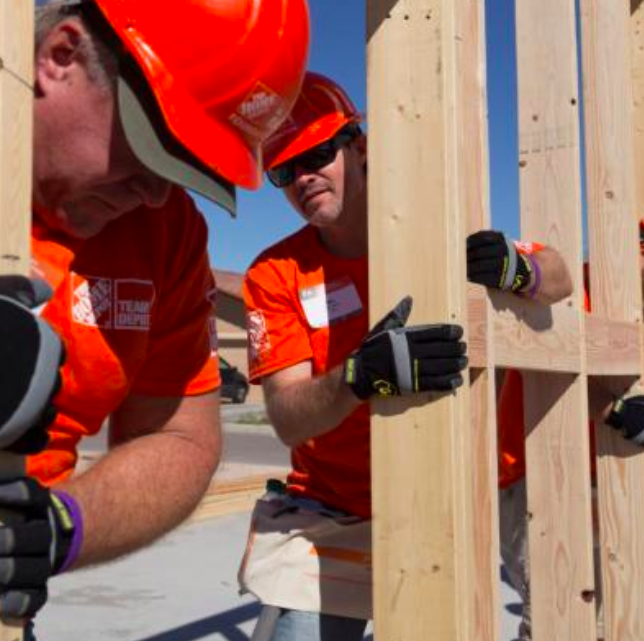 Home Depot also gives back to the community through the sales and discounted goods they offer shoppers throughout the year and for every season.
Right now, fall décor savings are in full swing – from back-to-school sale items, like room accents that add just the right touch of home to a college dorm room to cozy bedding for all of those chilly autumn nights.
Take up to 30% off (including top sellers) with their home décor sale that offers discounted duvet covers, faux mink throws, reversible comforters, and bath towel sets.
Also, keep an eye out for discounted The Home Depot furniture sale prices; it's the perfect time of the year to revamp your style for the colder season.
Tables, chairs, sideboards, cabinets, and complete sets for the living room, dining room, and bedroom are up to 25% off this season.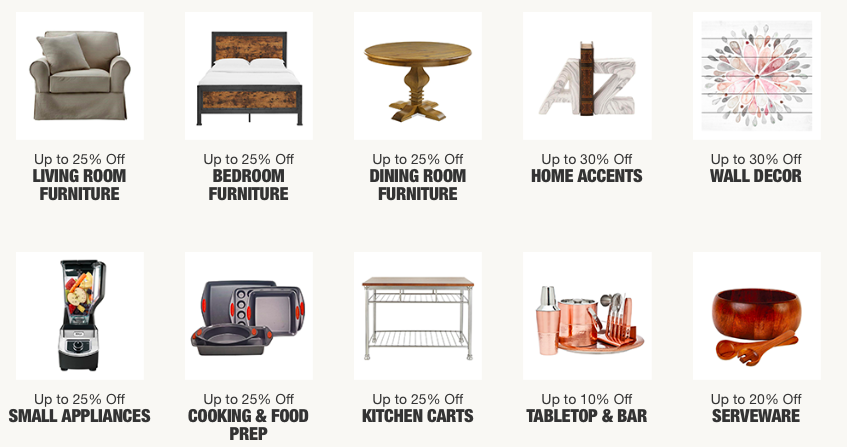 How You Can Help
You can decide to shop at The Home Depot to help the company carry on its good foundation work.
We help Giving Assistant shoppers save money and be able to easily donate cash back to millions of nonprofits.
We did this by offering shoppers the best The Home Depot codes and cash back we could find and share.
We also created our free cash back browser extension that lets you earn cash back that you can also donate to a non-profit of your choice when you shop online at The Home Depot.