Having a traditional account for your personal finances means there's a good chance your hard-earned money is funding oil projects that fuel the climate crisis. This money not only supercharges climate change but also threatens the lives and livelihoods of millions worldwide.
According to the Rainforest Actions Network's Banking on Climate Change: Fossil Fuel Finance Report Card (2020), the top four U.S. banks alone invest more than $240 billion of their customers' money in fossil fuels every year.
On the bright side, there is a financial services provider that's making its customers feel good about how they spend and save their money by providing socially conscious and sustainable ways to shop, conserve funds, and invest—all while making the world a better place.
Right now, you can earn $150 when you spend $1,000 in the first 60 days of opening an account. Learn more about how money management with Aspiration can help you save the planet, plus easily support charitable organizations like national parks and recreation nonprofits.
With every $1,000 you transfer to Aspiration, you can generate the planet-saving climate impact of 6,000 fewer miles driven by the average car. Aspiration is 100% committed to clean money; that's something that speaks to the millions of eco-warriors and social do-gooders who don't want to help fund harmful businesses with their personal finances.
What is Aspiration?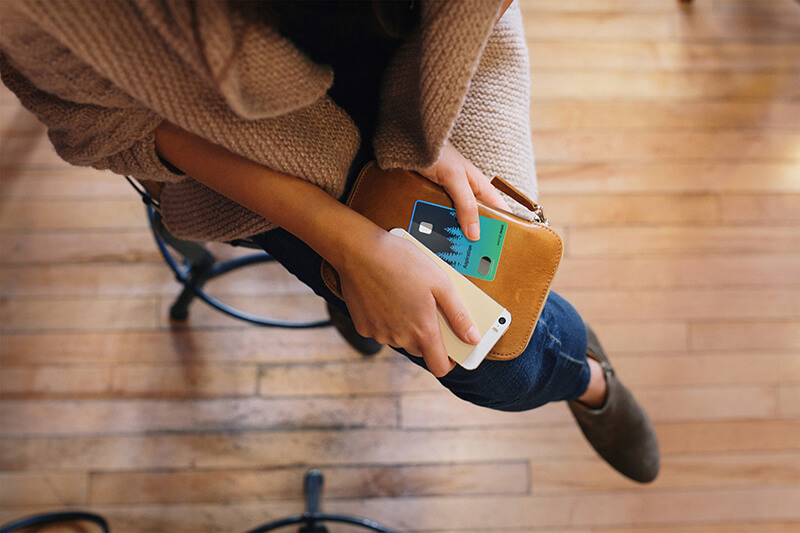 Aspiration is a personal finance company based in Marina del Rey, California; it also refers to itself as a "neobank" or fintech, a financial services provider known for its innovative tech products that improve and automate the delivery and use of financial services.
Aspiration offers "socially-conscious and sustainable cash management services," like its Spend & Save plans (with features similar to checking and savings) to help account holders maximize their positive impact on the planet. It also has investment products and a zero-carbon credit card. Unlike the "big banks," Aspiration does not use your deposits to fund oil pipelines or turn your fees into campaign contributions to finance causes that conflict with your values.
Bottom line, Aspiration operates as a "financial firm with a conscience" and provides spending, saving, and investing services that help you make money and make a difference worldwide.
How Does Aspiration Work?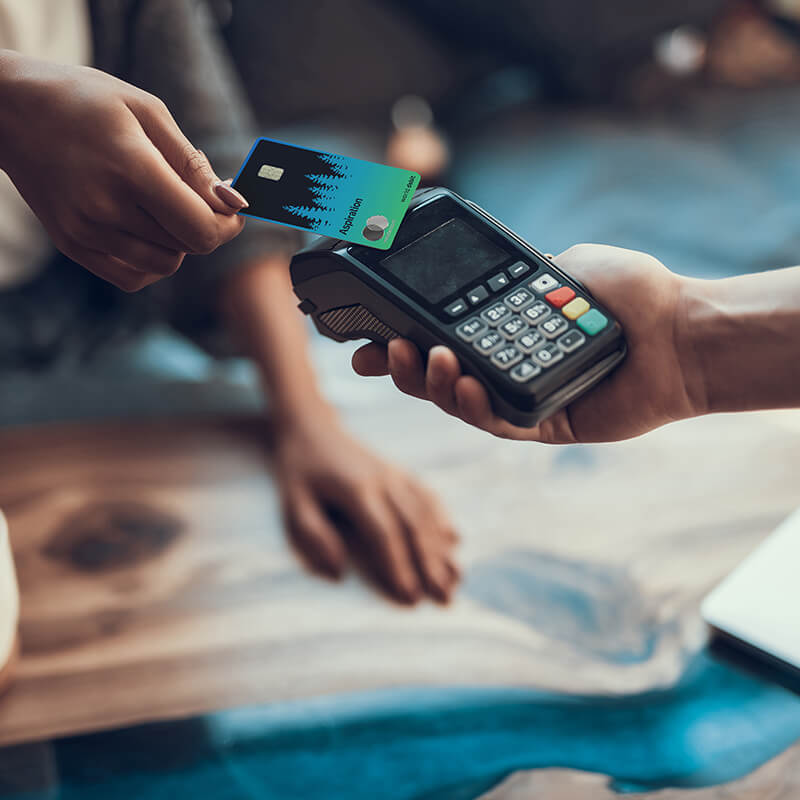 1. Sign up and select an Aspiration account.
2. Make a deposit to get started. Aspiration guarantees that your deposits will never go towards funding fossil fuel projects, firearms, or political campaigns.
3. Set the monthly fees for your basic account, if needed (pay what you think is fair).
Aspiration trusts customers to do what they feel is right to protect the planet through their financial transactions, spending habits, and the monthly account fee they set for themselves. You can adjust the amount collected whenever and however often you want. Of the account fees paid by customers, Aspiration donates ten cents of every dollar to charity.
4. Use your digital card instantly until your physical card arrives in the mail (in about 7–10 business days).
5. Earn extra cash back rewards when shopping select socially conscious merchants.
Aspiration's Conscience Coalition includes cash back offers from TOMS, Unilever, TurboTax, Warby Parker, CVS, Disney, Blue Apron, Reformation, CauseBox, Cricket Wireless, and more.
6. Track your spending habits and learn how to boost your impact even more.
Aspiration has an intuitive app that helps you track the impact of your spending with in-app features that highlight environmentally and people-friendly businesses you can support, plus gives your spending habits a sustainability score that breaks down the difference you make.
Sign Up for an Aspiration Account and Start Protecting the Planet Today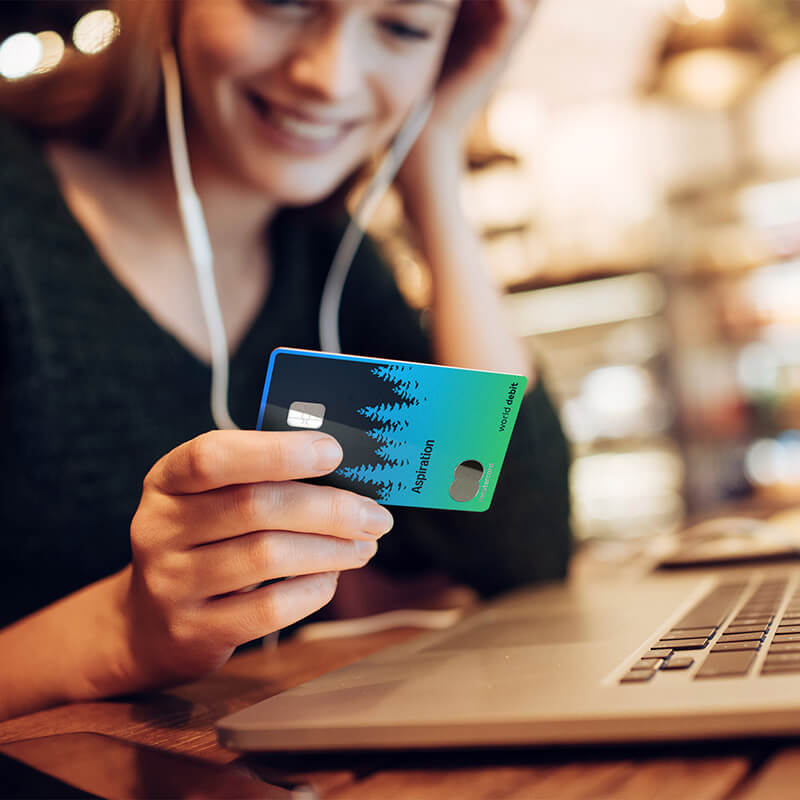 Aspiration Spend & Save plans are the world's first cash back accounts that let you track the impact of your spending and reward you with cash back when you shop with purpose and support the socially conscious brands that partner with Aspiration.
Things we like about Aspiration's cash back accounts:
No credit check
Deposits are FDIC insured
You only need $10 to set up an account
No hidden fees (not even overdraft fees!)
No charges for debit card use, account inactivity, or check deposits
Aspiration is also committed to full transparency and stands by "All Extra Services Provided at Cost," which means the company only charges you for what it costs them to provide extra services (like wire transfers), and they will let you know when that's the case.
Aspiration has two Spend & Save plans and one zero-carbon credit card:
Cost: Pay What is Fair (even if it's $0)
Debit Card Highlights
$150 welcome bonus
Deposits won't fund fossil fuel exploration or production
Up to 5% cash back on Conscience Coalition purchases
55,000+ in-network ATMs worldwide
Cost: $7.99/month ($5.99/month or $71.88, if you pay annually)
Debit Card Highlights
$200 welcome bonus
Deposits won't fund fossil fuel exploration or production
Unlimited fee-free withdrawals at 55,000+ ATMs worldwide
Other ways Aspiration Plus allows you to virtually "do more good for less than $2 a week."
Up to 1.00% APY Interest
Aspiration Plus offers savings interest up to 20 times higher than big banks—up to 1.00% APY—and you can sleep easy knowing your deposits won't contribute to environmental harm.
Neutralize the Environmental Impact of Your Car Rides
Enrolling in Aspiration Plus unlocks Planet Protection, where you can earn carbon offsets every time you use your Aspiration debit card to refuel your car (and counterbalance one of the most significant contributors to climate change). Aspiration tallies up your gas purchases each month and automatically buys carbon offsets to make your car travel carbon-neutral.
Get Extra Cash Back for Shopping Responsible Brands
Aspiration Plus debit cardholders earn up to 10% cash back on Conscience Coalition purchases. The more you support socially conscious businesses, the more cash back you get that you can keep or "reinvest" in Aspiration's network of do-good brands.
You can learn more about Aspiration's Conscience Coalition partnerships here.
3. Aspiration Zero Credit Card
Aspiration Zero is a credit card that rewards cardholders with carbon offsets; it has a base cash-back rate of 0.5%. The more you use the card, the higher the cash back rate. You can earn up to 1% cash back monthly on all of your purchases when you reach carbon zero.
Credit Card Highlights
$60 annual fee
Plant trees with every Zero card purchase
Round up your purchases to the nearest dollar to plant a second tree!
You can join the waitlist now for early access to the Aspiration Zero Credit Card.
What Sets Aspiration Apart?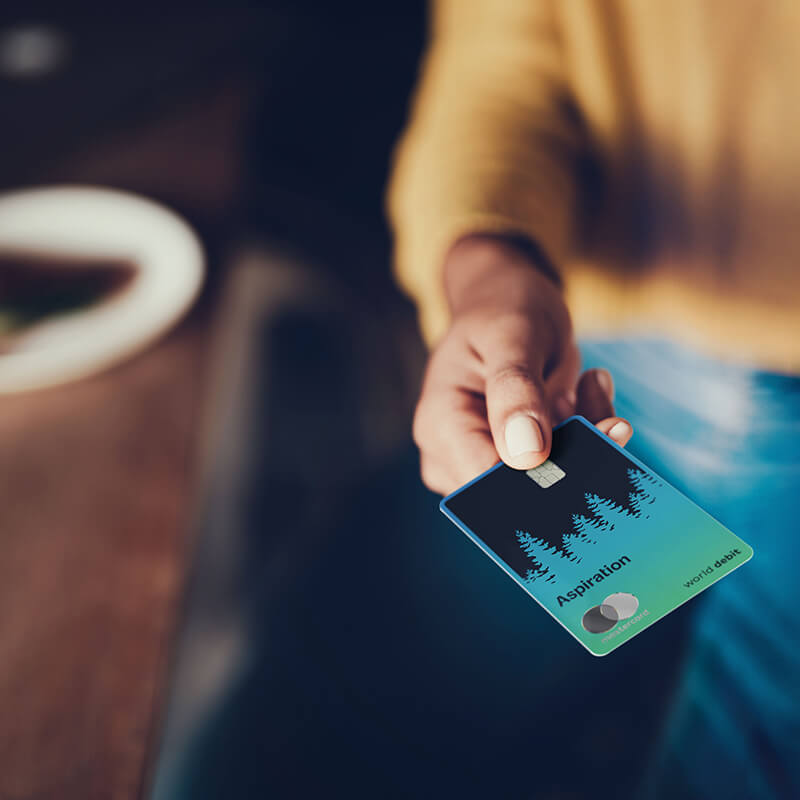 How Aspiration gives back to the planet and its communities is at the center of what sets this company apart from traditional banking institutions. Some of the ways Aspiration operates differently and helps customers maximize their impact as they make and save money include:
1. "Dimes Worth of Difference" Commitment
Aspiration is committed to donating ten cents of every dollar the company earns to charitable activities that expand economic opportunity. Working with Accion U.S. Network, the nation's largest provider of micro-loans, Aspiration helps provide microloans up to $5,000 to help struggling Americans start new small businesses through the Aspiration Opportunity Fund.
2. Certified B Corp
Aspiration is a Certified B Corporation, a business that balances profit and purpose by meeting "the highest standards of verified social and environmental performance, public transparency, and legal accountability." Companies need a B Impact Score of 80 or higher to become a B Corp; Aspiration's score is currently 128.0 — up 5.5 points since 2016!
3. Tree-Planting with Every Purchase
Aspiration makes it easy for you to turn extra pennies into support for clean air, clean water, and habitat conservation. You have the option to activate Aspiration's Plant Your Change feature, which rounds up the amount of your Aspiration Debit Card transactions made through your Aspiration Spend Account to the next whole dollar amount. The excess change transfers to a tree planting service that reforests the planet with every purchase roundup.
4. Planet-Friendly Debit Cards
Even Aspiration debit cards are planet-friendly, made from recycled ocean plastic, and the new Aspiration Zero card is a plant-based product that's compostable.
How to Get the Best Deals with Aspiration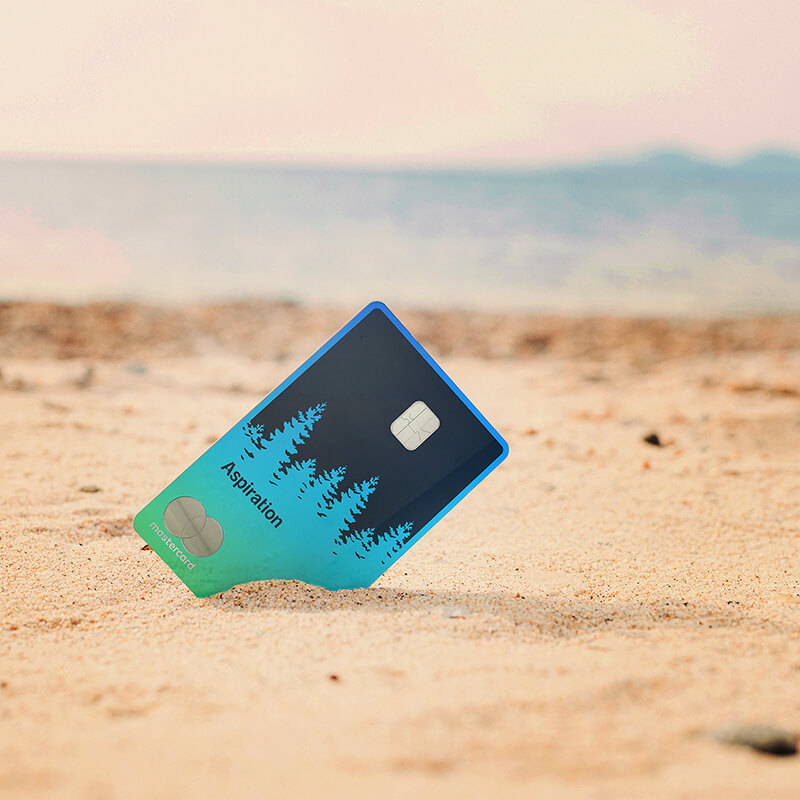 A few ways you can save and make more money with Aspiration include:
Earn $60 cash back when you open and fund an Aspiration Spend & Save Account through Giving Assistant and deposit $10 or more
Earn a $200 welcome bonus with Aspiration Plus
Save more with Aspiration deals and promos as a Giving Assistant shopper
Shop with Giving Assistant to Increase Your Cash Back Savings
When you commit to shop charitable brands and pay for your purchases using 100% clean money via an Aspiration debit card, you'll join the nearly five million other socially conscious shoppers already making a difference to protect the planet for future generations.
Don't forget, when you open and deposit just $10 to an Aspiration Spend & Save Account through Giving Assistant, you'll earn $60 cash back that you can keep or donate to a nonprofit of your choice.
Note: The Aspiration Plus Debit Card is issued by Coastal Community Bank, Member FDIC, pursuant to a license by Mastercard International Incorporated. Cash back is provided by Giving Assistant and is not an affiliated promotion of Aspiration.
Whether you're celebrating National Parks and Recreation Month in July or making planet-friendly spending decisions all year round, might we suggest donating your cash back to one of our favorite national park and recreation nonprofits, like:
You can also boost the positive impact of your spending all year round by shopping Aspiration's Conscience Coalition brands with Giving Assistant (from AT&T to Walgreens) and paying for those purchases with your Aspiration debit card. So not only will you maximize the cash back you earn, but you'll also use a form of payment that's "built for the planet."
Learn more about how Giving Assistant works and download the Giving Assistant Button, our free browser extension, so you can find exclusive deals and coupon codes for thousands of online stores. It's also one of the easiest ways for you to turn your savings into automatic donations for one of 1.7 million US nonprofits. Every purchase makes a difference.