The ultimate mission for Giving Assistant has always been to make it easy for consumers to turn their everyday shopping into charitable giving. We are dedicated to helping businesses and consumers lead with purpose, which is the next evolution of our premier online consumer giving and shopping rewards platform.
We don't just want to look good, we want to genuinely make a positive impact in the world.
We want our shoppers to be able to trust that they're making a difference when they shop with us. And we want nonprofits to trust that by partnering with us, we can help them reach their fundraising goals.
Of course, writing an earnest mission and slapping it on our website is never enough. We know our company needs to be held accountable for what means the most to our team and the communities we serve. That's why we set out to become a Certified B Corporation in 2017, and why we're thrilled to be officially recertified as a company using business as a force for good.
It wasn't an overnight process. In fact, you could say that the journey began when we decided to launch a social enterprise. We had to spend years building a company that was even B Corp worthy — then keep it that way. Take a look at the goals of B Corps, the process of becoming certified, and how Giving Assistant continues to meet the requirements with excellence.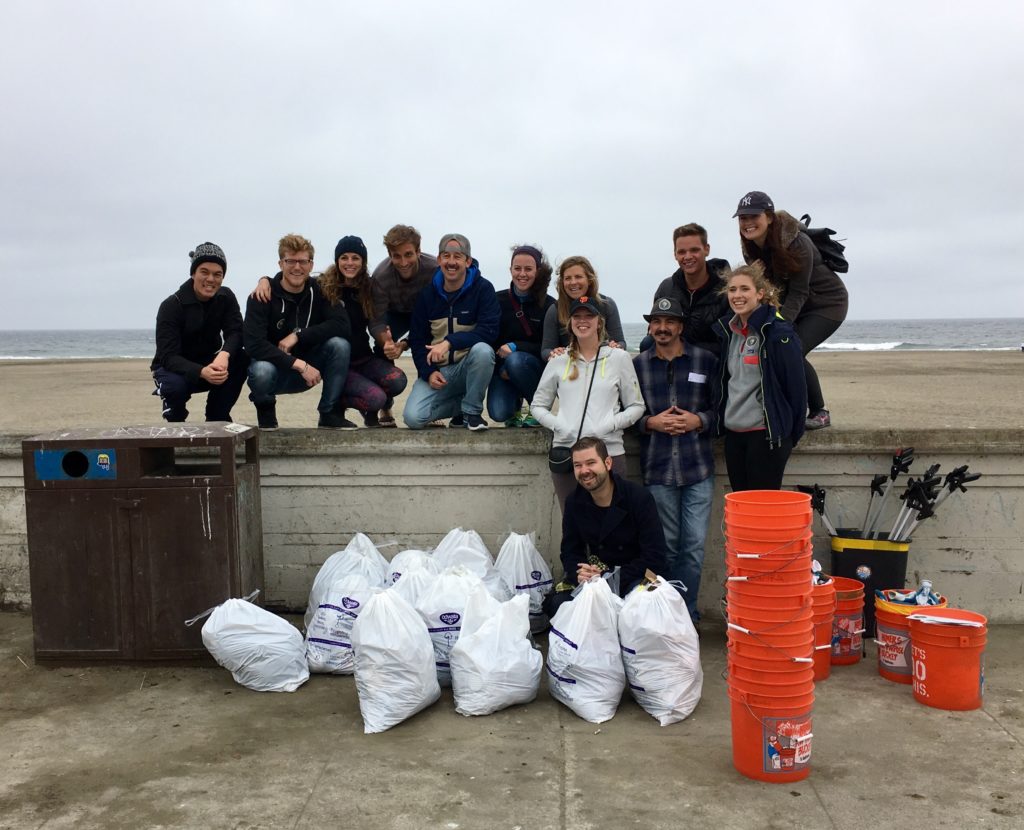 What is Giving Assistant?
Giving Assistant is a fast-growing, mission-driven, for-profit, Certified B Corporation. We envision a shopping economy where giving back is easy, and every purchase makes a difference no matter where you shop. Consumers will expect and demand nothing less. The winning companies will not only offer great products, but they will also invest in the social and environmental missions that matter most to their customers.
We believe shopping and giving go together. We know that consumers shop more when they can support a cause they love in tandem. That's why we committed our team, partnerships, and technology to make saving and giving easy and unified for everyone.
Giving Assistant empowers brands to enhance the shopping experience with personalized giving as a way to help consumers make a positive impact with each purchase. Together with our shoppers, we have donated nearly 1.5 million dollars to nonprofits to date.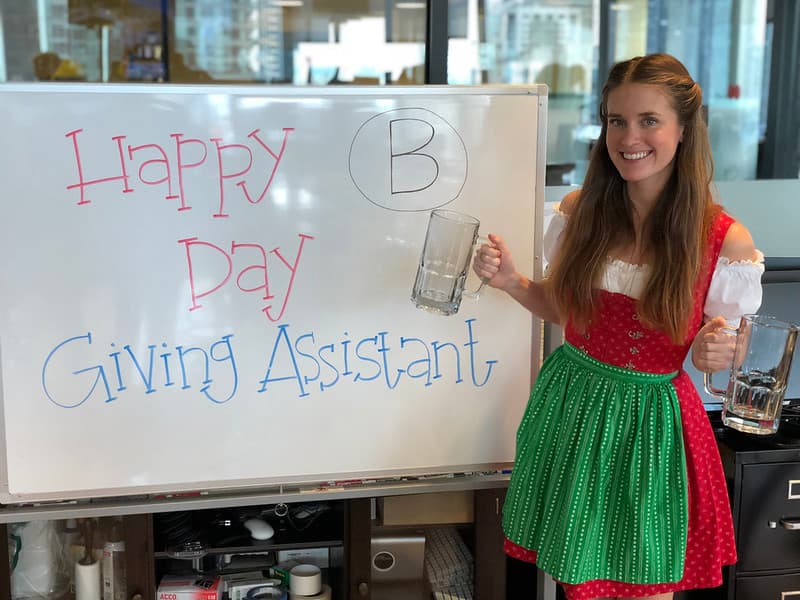 What is a B Corporation?
Certified B Corporations, called B Corps for short, are companies that go through a rigorous certification that measures their impact on the environment, their employees, their customers, and their community. There are now over 3,700 companies in 75 countries that have successfully become B Corps, which makes the label one of the most prestigious ones out there. (Go us!)
In one sentence, the B Corp title is "like Fair Trade certification but for the whole business, not just a bag of coffee." This perfectly describes the community of B Corps across the globe: companies that treat the people and the world around them fairly while simultaneously remaining a profitable business. A few of B Corporations' values are:
Businesses should compete not only to be the best in the world but to be the best for the world.
All business ought to be conducted as if people and places matter.
World business leaders must realize that everyone is dependent on each other for the wellbeing of our global community and natural resources.
A company's products can and should benefit society in their production, practices, and profit.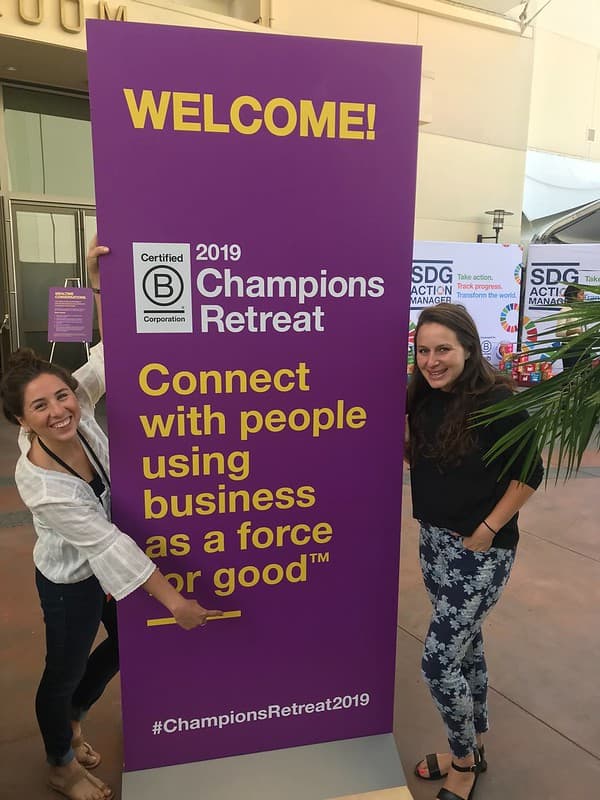 Why Did Giving Assistant Decide to Become a B Corp?
Giving Assistant became a B Corp not just to fulfill our own vision as a company, but also as a response to an observed trend of corporations prioritizing profit no matter the negative impact of their actions.
"We envision a future in which large corporations continue to make decisions that increase profit, however while objectively protecting and benefiting the environment and society over the long term." — James Gray, Giving Assistant CEO
"For too long, large corporations have made decisions that neglected the long-term best interests of our environment and society, in pursuit of more and more profit," says Giving Assistant CEO James Gray. "We envision a future in which large corporations continue to make decisions that increase profit, however, while objectively protecting and benefiting the environment and society over the long term."
"We made the decision to become a B Corp in the hopes that our differentiated approach of building a business not just for profit, but for the benefit of the environment and society, would inspire other business owners to do the same," Gray continues. "It is my dream that we scale our business — and increase our profile — and that leads to inspiring many others to become B Corps and pursue social missions that improve our world."
How Did Giving Assistant Become a B Corp?
Not just any business can become a B Corp. It takes a thorough vetting process to filter through unqualified organizations and find companies that are truly making a difference. As B Lab's requirements state, the process is "rigorous but straightforward."
One of the first things a business should consider is to adopt a benefit corporation structure or equivalent within 2 years of certifying. Then you can move on to the next part of the process which is called the B Impact Assessment. This assessment measures a company's positive impact and sustainability. Once this initial test is complete, businesses receive a detailed score report that shows their strengths and weaknesses. If their score is high enough, B Lab verifies their answers to make sure that they are accurate. And, if all goes well, a company is eligible to become a B Corp.
After getting certified, a company must demonstrate that they are still worthy of the title. Every three years, all companies must get recertified through a concise version of the initial assessment. Additionally, 10% of companies are randomly selected for an extra check-up each year. All of this goes to prove that being a B Corp is not only an honor but an ongoing responsibility.
In May 2017, Giving Assistant passed the B Impact Assessment on the second try and went through all of the required steps to become a B Corp! The process was long and included successes and failures. It took over a year for us, and we had to formalize many of our unwritten policies. But in the end, here's how our scores stacked up against other companies that took the test.
We scored 24 in the area of employee treatment, where the average applicant scores 18.
Our governance earned us a score of 16, 10 points higher than the average.
In the community category, our score of 22 beat the average score of 17.
Considering everything that goes into becoming a B Corp, the Giving Assistant team is incredibly proud of our progress. It is an honor to be considered part of this diligent group (and to be welcomed back), and we work every day to keep up our positive impact and benefit even more communities around the world. Thank you for being part of our success!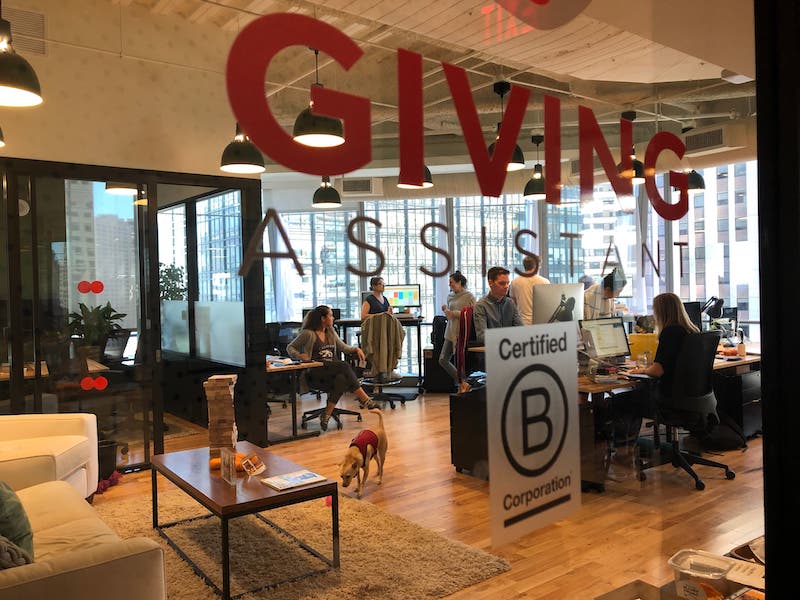 Has Giving Assistant Been Recertified as a B Corp?
Yes! We wanted to continue to hold ourselves to the high standards set in place by B Lab and completed our recertification process in 2020.
Some highlights: our overall score held steady, and we improved within a few specific criteria. For example, our score rose to 23 in the community category, and our score increased to 29.8 in employee treatment.

These upward shifts stem from our work to diversify our hiring practices, as well as our introduction of a fuller benefit package, life skills training, a more formalized review process, a more detailed employee handbook, health & wellness initiatives, and improved worker flexibility policies.
We'll be working to improve our civic engagement, career development goals, and promotion practices — among other efforts — in the days ahead. B Lab's vision for B Corporations in the next five years includes a special focus on climate justice, racial equity, and stakeholder governance, and we are committed to meeting the moment across our company.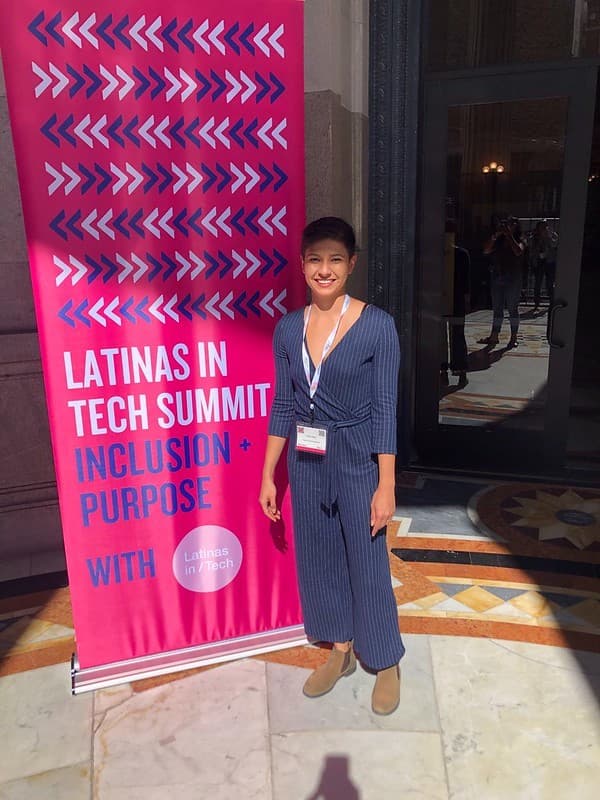 Support our Mission Whenever You Shop
Our mission is to transform the collective power of consumer shopping into a new sustainable source of giving. We pursue that mission with the guidance of our six core values:
Inspire Giving: We believe everyone can find a way to give back.
Work Smart, Live Well: We believe "work-life balance" should be more than a buzzword.
Do More with Less: We strive to be nimble and inventive in a fast-paced environment.
Be a Team Player: We do our best when we work together.
Uphold Integrity & Transparency: We feel honesty and openness are essential to create a workplace where everyone feels supported.
Own the Experience: We champion taking responsibility and ongoing learning.
Our B Corp certification (and recertification) enshrines our mission and values, providing a rigorous rubric that reinforces our commitment to being a business for good.
Please join us in celebrating all the amazing B Corporations who are making a difference. Many of these brands partner with Giving Assistant. That means that you can support an amazing business, find exclusive deals, and earn cash back to help you donate to a nonprofit of your choice. Be sure to celebrate National Nonprofit Day and our Double Cash Back Events so you can pay it forward!