Who says women are difficult to shop for?
Holiday shopping doesn't have to be a science. Make your shopping less stressful and her holiday more cheerful with these wonderful gift ideas for the lady in your life!
The Best Last-Minute Gift Ideas For Her for 2023
1. Soap and Glory Box of Delights
Everyone needs a little pampering every now and again. Treat the 'she' in your life with a set that offers foamy body wash, clarifying shower gel, body butter, and buttercream.
2. Deep V Bralette
The metallic fibers of this bralette sparkle and shine with class. The shimmery, plunging neckline impresses on the dance floor just as much as it dazzles in the bedroom.
3. West 57th Zip Around Continental Wallet
There's a lot of places to tuck away your cash, coins and credit cards in this wallet. The pebbled texture of the leather is a versatile, luxury accessory that makes a special holiday gift.
4. Michael Kors Smartwatch
Talk about a gift that has it all: stylish, convenient, productive, and fun! With this gorgeous rose gold smartwatch, she can track steps and calories while simultaneously monitoring calls and alerts. It's compatiable with iPhones, Google Fit, and Android devices and also offers Bluetooth connectivity. This watch is on sale for $199.99, snag it while you can!
5. Blue and White Porcelain Bowls Set of 4
Eat cereal, pasta and salad in style. Gold-rimmed and featuring four different designs, the crispness of these blue and white bowls add a dash of pizzazz to any meal.
6. Petite Diamond Floral Stud Earrings
Treat the special gal in your life to a pair of 14K yellow gold earrings that sparkle with the beauty of brilliant-cut diamonds and vintage-like flair.
7. Velvet Mini Dress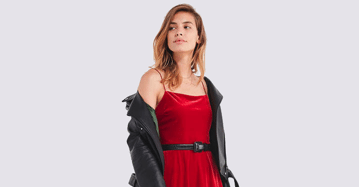 Where's the party at? Smooth and soft, this fit-and-flair mini dress features a straight neckline, spaghetti straps, and a slight pleat that's sure to turn heads.
8. Mega Plaid Blanket Wrap
It's plaid season, yall! Brave the snow and ward off the chill of winter with a cozy wrap that will stylishly keep her warm.
9. Black Studded Ankle Boots
If your lady craves style but is also practical, these are the perfect pair of eye-catching ankle boots to add into her shoe collection. With the croc embossed texture, multi buckle detail, and silver studs—she will feel like a million bucks each step she takes in these bad boys!
10. EOS 70D Refurbished DSLR Camera
Say cheese! Do you know someone with amazing Instagram game or has a great visual story to tell? Gift that creative spirit this professional DSLR camera and definitely win some major points.
11. Love You Necklace
Say what's on your mind with this simple yet elegant necklace from Vera Bradley. Available in gold and silver, this necklace features a diamond charm and circle with an inscription. This necklace can say anything from "Love You", "Too the Moon", "Mom Knows Best", etc.
12. Brixton Barry Poncho Blanket
Poncho's are back in style, ladies! And for some great reasons: They're super comfy (literally it feels like wearing a blanket), they're quick and easy to throw on, and they're also adorable for the winter season! Look your best this Christmas with the Brixton Barry poncho from Backcountry.
13. Briony Boots
Black boots are an essential staple in any woman's wardrobe, and these riding boots from Hotter Shoes serve their purpose. Bonus tip: pair with the poncho above and black jeans/leggings for the perfect (yet effortless) winter outfit that will look good for any occasion.
14. Blue Topaz Rope Stud Earrings
You can never go wrong with a gift of jewelry! It doesn't matter if you are shopping for your girlfriend, aunt, sister, or mom. Blue Nile offers stunning diamond earrings that she will love. Dazzle her with these lovely sterling silver and blue topaz earrings. These eye-catching earrings also come in 11 other colors that are just as beautiful so you are sure to find the perfect pair!
15. Marble Stapler
Looking for something your boss or co-worker will love? Take a look at this beautiful marble stapler from Nasty Gal that would be a great addition to any desk! Nasty Gal also carries a variety of other desktop products in a matching marble finish so you can put together the perfect gift set.
16. Faux Shearling Infinity Scarf
Help her stay warm on chilly days with this fashionable faux shearling infinity scarf from Forever 21. It comes in a soft, feminine pink color and is a suitable gift for any lady on your list. Add on this faux shearling jacket to complete the look.
17. Cozy Slippers
Check out these cozy slippers from Vera Bradley that will keep her feet comfy and warm on those chilly winter nights. These slippers come in 3 different designs so you can find the perfect pair.
18. Rejuvenating Rose Gift Set
Give her something to pamper and relax over the holidays with this rejuvenating rose gift set or energizing verbena set from Gilt. She will appreciate the chance to unwind as she indulges in this wonderful gift.
19. Classic Books Boxed Set
Do you have a book lover in your life? Then this classics boxed set from Barnes & Noble is certain to be a winner. With five timeless classics bundled into one set, it will become a cherished part of her collection.
20. Figaro Jewelry Box
Make it personal with this Figaro jewelry box from Bed Bath and Beyond. You can have this stylish jewelry box personalized with her name at no extra charge. If this isn't exactly what you're looking for, Bed Bath and Beyond offers many other personalized gifts to choose from to fit your budget.
21. Monogram Scalloped Tote
This handmade monogram scalloped tote from Etsy will fit any gals fashion style with its sleek design and seven beautiful colors to choose from.
22. Brown Bear Faux Fur Throw
Give her something to cuddle up with in front of the television on movie night. This brown bear faux fur throw from Pottery Barn is sure to become her favorite! This throw matches any décor, and will keep her warm and toasty during the show.
23. The 7 Piece Bare Minerals Makeup Set
Treat her to this 7 piece Bare Minerals makeup set from Sephora. This popular set comes in many different shades to match any skin tone. It includes everything she needs for achieving a beautiful, healthy look.
24. Sketched Story French Press
If she is a coffee connoisseur, then she will love this beautiful Sketched Story French Press from Anthropologie. This 30 oz. french press features a stylish design by Molly Hatch in a color that will fit into any décor.
25. Osprey Tempest Backpack
If the lady on your list loves outdoor activities, then this Osprey Tempest Backpack will be the perfect gift for her. This backpack from Backcountry comes in three different colors, and is made just for women so that it is a comfortable fit!
More Last-Minute Gift Ideas Before You Go
We hope you got some good gift inspiration for that special women in your life you're looking to spoil.
Why not also check out our last minute gift ideas for him or our best last minute gift deals to get some more gift giving inspiration if you need.