Depending on the situation, finding the best gifts for men can be a real challenge.
Whether you want to thank your father-in-law, a teacher, a boss, a coworker or a boyfriend – we know giving a thank you gift to a man you like and respect makes you feel good. So it's important to find that perfect gift for that guy in your life.
Buying nice presents for a man shouldn't be a big deal, but buying thank you gifts for mentors or coworkers is much different than buying thank you gifts for a male boss and can get a touch more complicated when shopping for a spouse or boyfriend.
These gift ideas will help you find the perfect gift to express your gratitude to any guy who's gone above and beyond for you.
The Best Gift Ideas for Men for 2023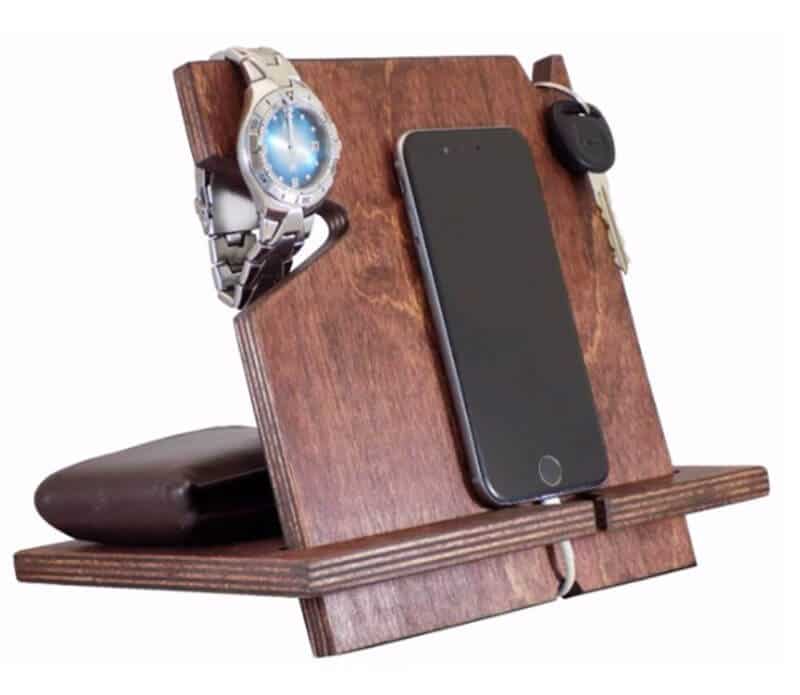 Thank you gifts for supervisors and coworkers that make life more efficient will be loved. Their organization will improve with this docking station's space to put headphones, watches, a smart watch charger and even magnet to hold their schedule.
Made with extreme attention to detail, this gorgeous desk organizer has a modern, practical and versatile design that will fit in any man's home décor, making it perfect for Christmas and birthday gifts too.
Savings Tip: Check out Walmart promo codes for the best deal.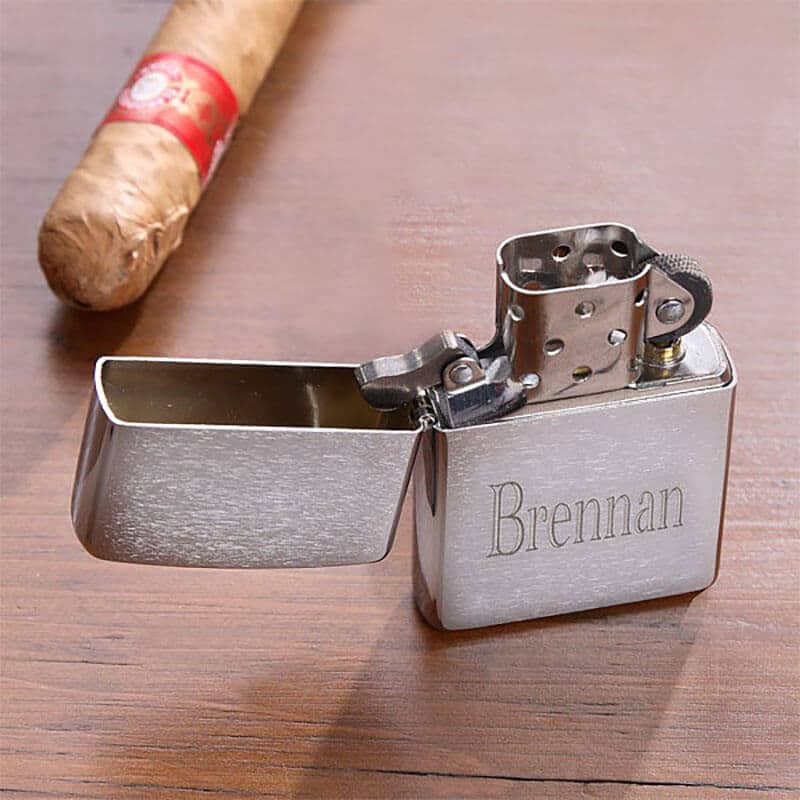 Thank you gifts he'll actually use are the best gifts, which is why this lighter makes a great gift. Made from solid brass, you'll get free laser engraving (60 characters) to give a custom thank you message, and a gift box for proper presentation.
Minimalist in design and high quality, creatively customize it to turn this lighter into one of the more truly unique gifts for a special man on Valentine's Day and Christmas as well.
Savings Tip: Get Personalization Mall promo codes for the best deal.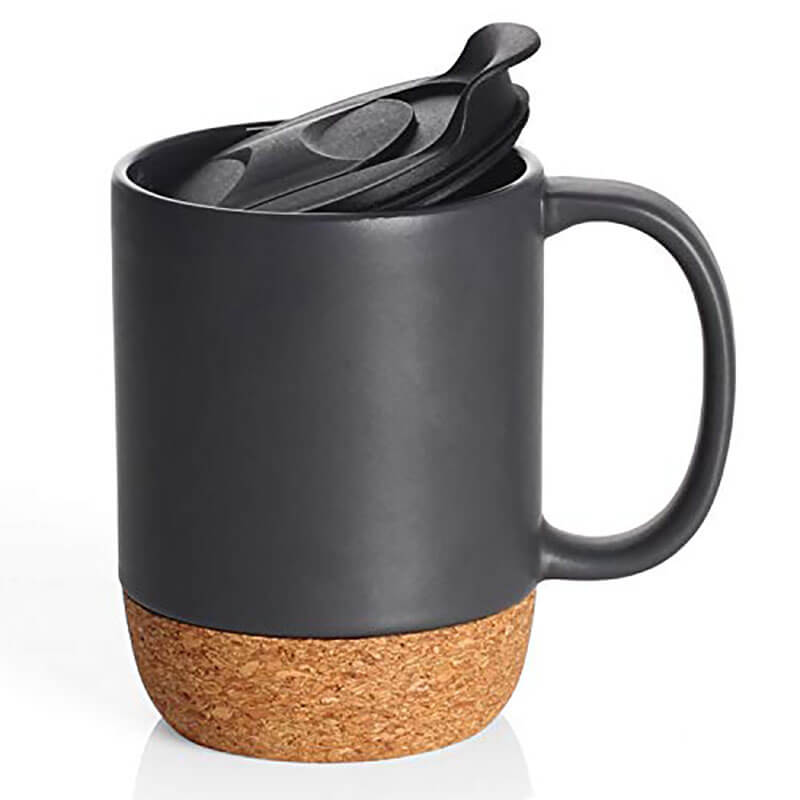 This mug is a perfect thank you gift for someone who has everything. These 15 oz. mugs have a cool cork design any man will want to show off. The lid is splash and dust-proof, and the cork keeps tea and coffee hot without burning your hand.
Mugs may seem like boring gift ideas, but one this stylish makes a great thank you gift for school counselors, teachers and anyone else who needs several doses of caffeine to get through the day.
Savings Tip: Find The Best Sears promo codes for the best deal.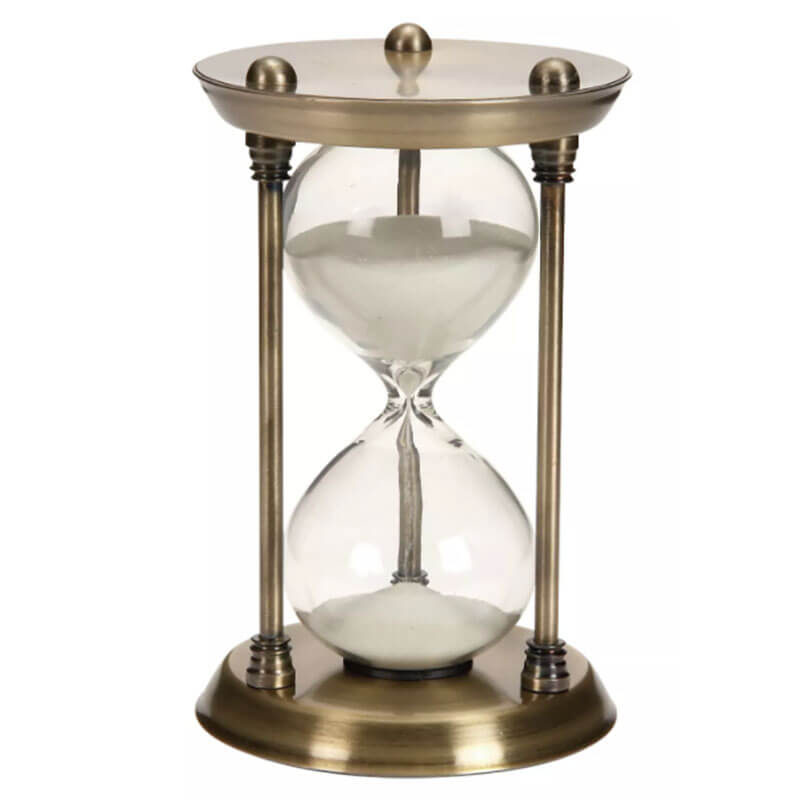 Simple in form and function, the hourglass holds 60 minutes of sand and will fit in any home or office. One of the best thank you gifts for a man that has everything, it gives him a chance to unplug from technology when his eyes and mind need a break. He can enjoy an hour to write, listen to music or just be – without constantly checking his smartphone.
Savings Tip: Get Target promo codes for the best deal.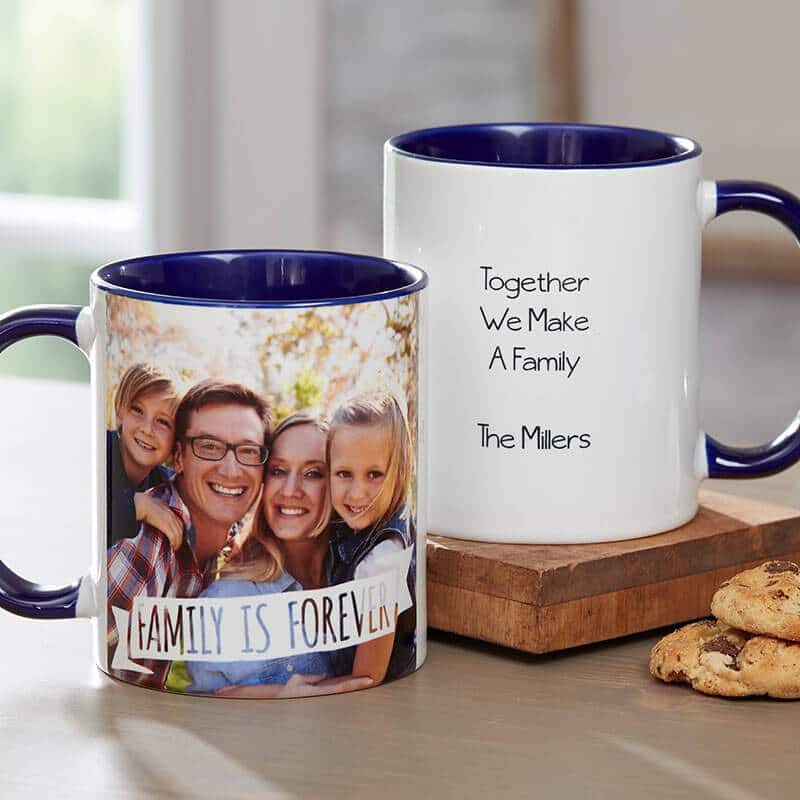 Personalized gifts are gift ideas that work well as birthday gifts or for Christmas and Valentine's day and once you place an image on this mug, it will become a meaningful gift he never gets tired of using.
Made from high-quality materials and with a variety of vibrant colors to choose from, your thank you gift will help him start the day off right.
Savings Tip: Find Personalization Mall purchase for the best deal.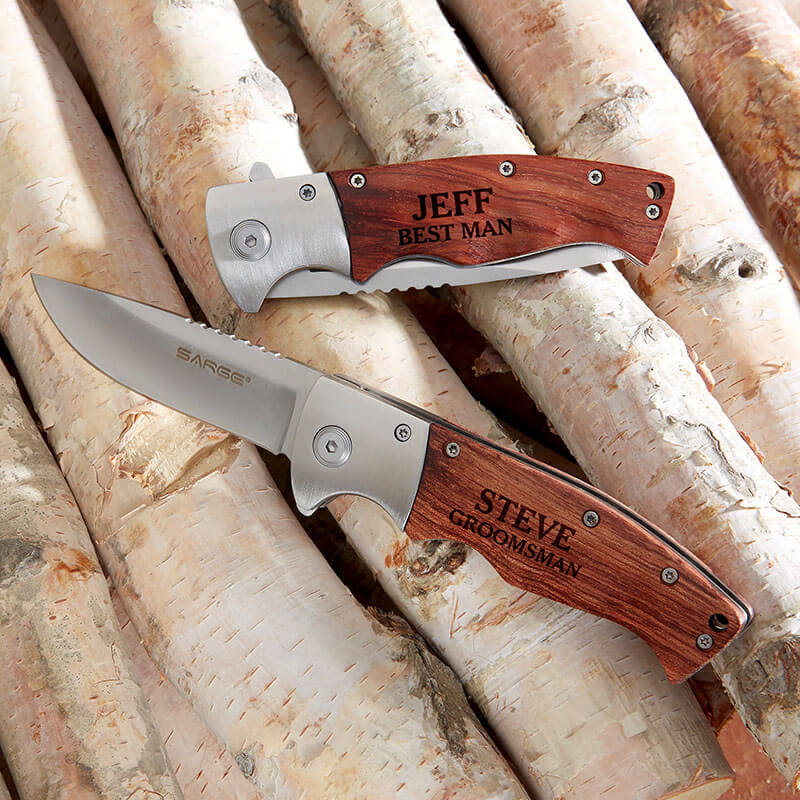 If you're looking for thank you gifts for speakers, staff, groomsmen or friends, this pocket knife will surely be a winner. The multi-tool includes a stainless steel corkscrew, bottle opener and Phillips head screw driver.
The perfect gift to make someone feel handy and ready with a gadget for any McGuyver situation, get their name beautifully engraved to make this a thank you gift they'll enjoy whipping out.
Savings Tip: Get Personalization Mall promo codes for the best deal.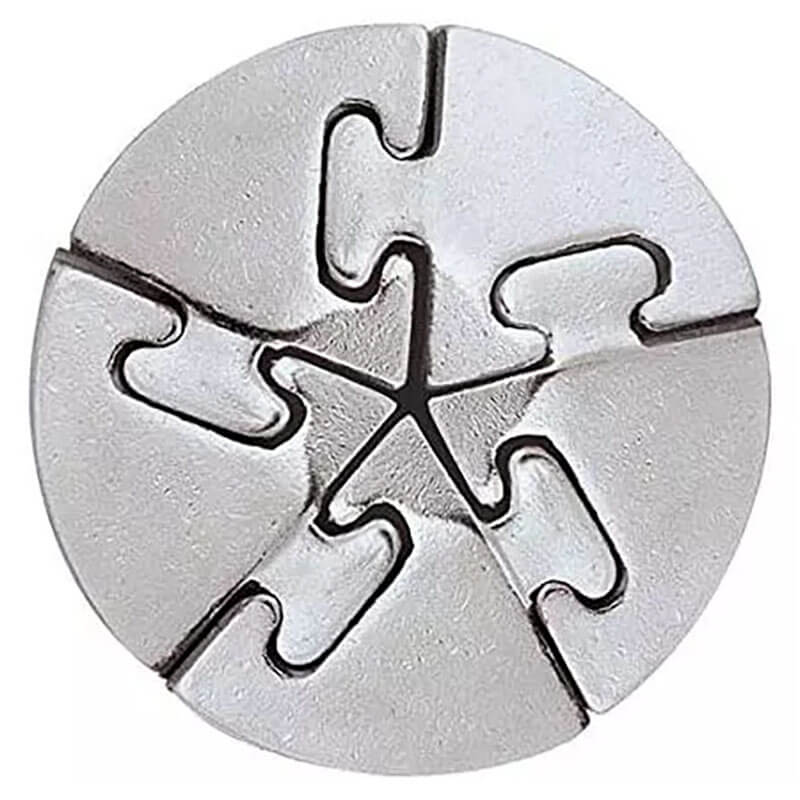 Hanayama puzzles are unique gifts to express your appreciation while also conveying how well you know the man you're thanking.
Instead of a gift card, get a man who enjoys mind-bending challenges a chance to hone his dexterity and finesse with this striking metal object. At level 5 it is one of the most challenging, prone to making grown men cry, so be sure they're up for the task.
Savings Tip: Find the best Target coupon codes.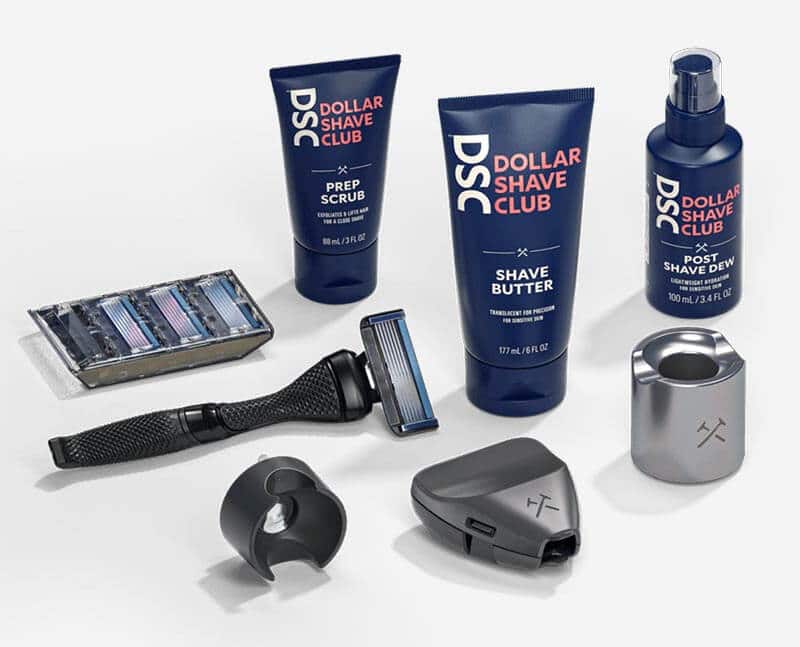 If your husband loves keeping his beard in shape, check out these shaving gift sets. Dollar Shave Club offers customized subscription boxes with tools like razors, skincare, and haircare. He can get this starter kit with a sleek razor, six blades, post-shave cream, and more. He'll especially love the shave butter for its smooth, translucent finish.
Savings Tip: Check out Dollar Shave Club promo codes for the best deal.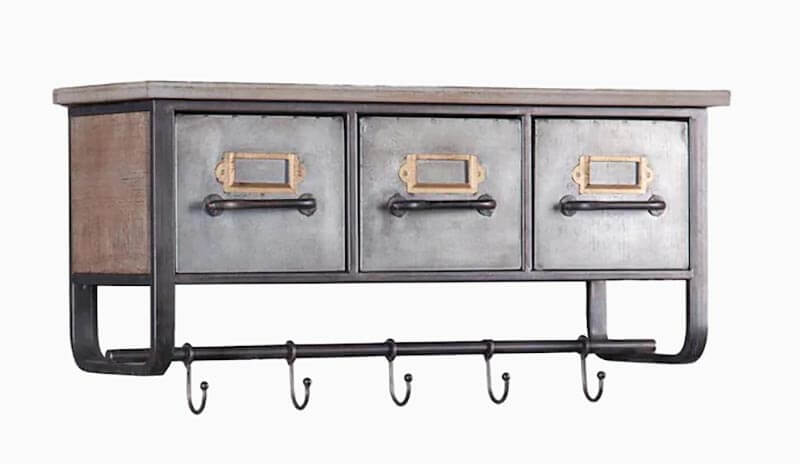 This wooden shelf is a quaint tool for storing art, cooking, or even garage supplies. Lowe's carries tons of storage options like this for your home space to take advantage of. He can store his spices, keys, towels, dog leashes, or other essentials in this sturdy wall unit. Plus, the space on top lets him prop up decor like pictures.
Savings Tip: Find the best Lowes coupon codes for great savings.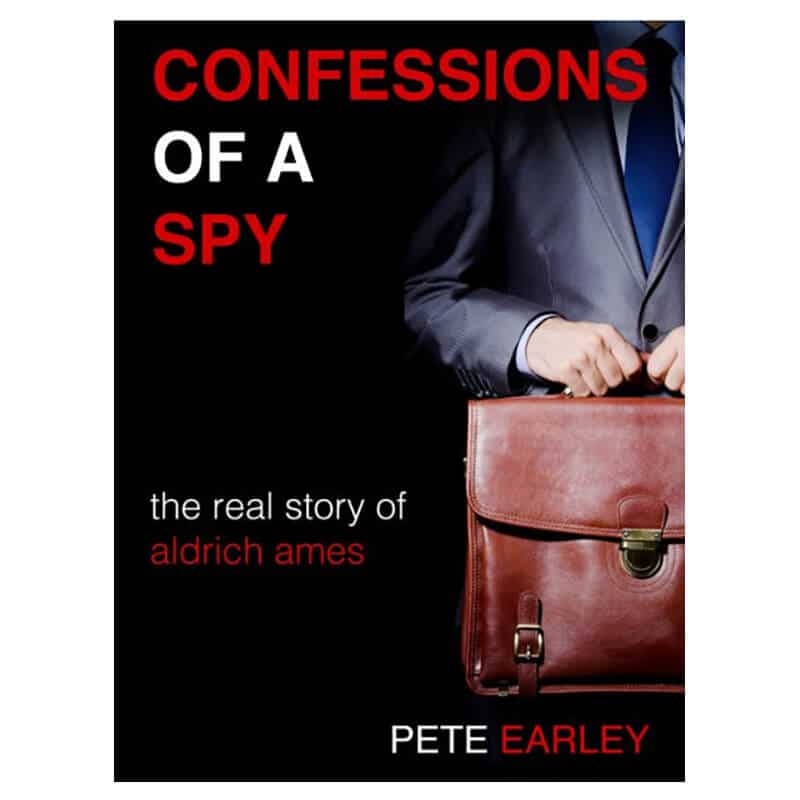 This gift idea is for the history buff husband. Confessions of a Spy is a nonfiction interview collection with Aldrich Ames, a former CIA spy turned KGB agent. The story is as informative as it is fascinating and will keep him turning pages. If he wants to explore other history types, you can find plenty through Barnes & Nobles' bestselling selections.
Savings Tip: Get Barnes & Noble promo codes for the best deal.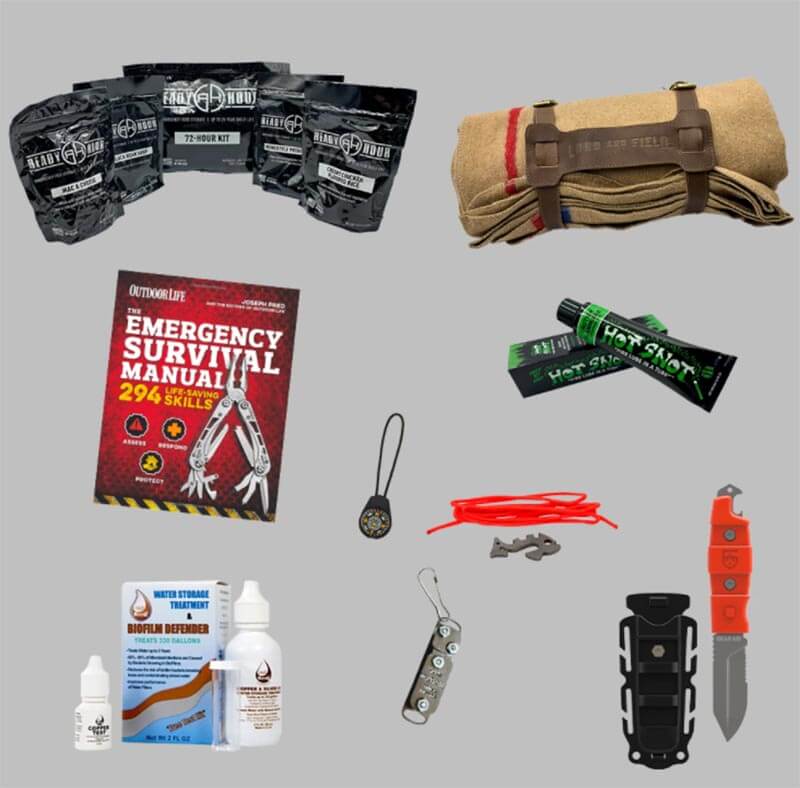 Does your husband love hiking, camping, or mountain climbing? In any case, this would be one of the best gifts for him. This kit comes with all the tools he'll need to make a survivalist journey over the weekend. It has a survival manual alongside meal kits, wool blankets, knives, and other sturdy navigational tools.
Savings Tip: Get Battlbox promo codes for the best deal.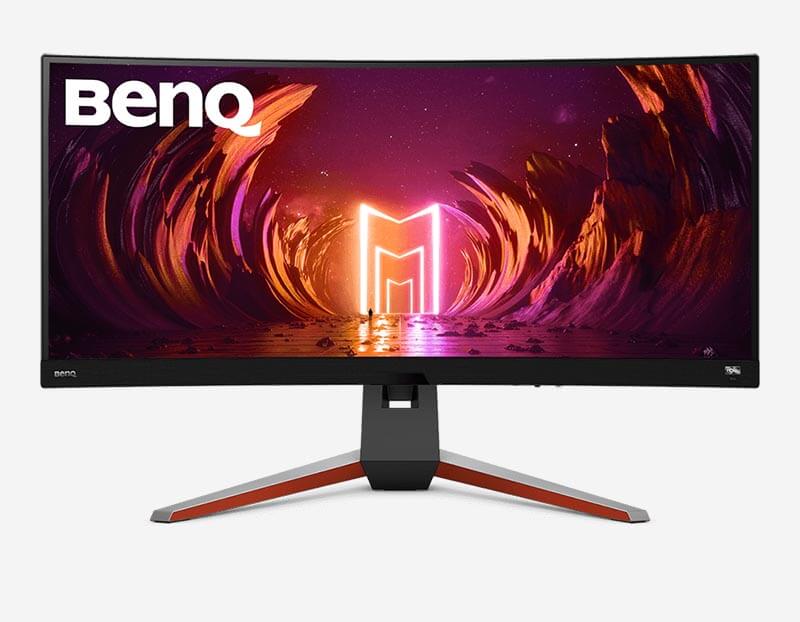 This ultrawide gaming monitor boasts vivid colors your gamer husband will love. The screen display adjusts itself to different lighting. Plus, it has custom sound modes both of you can change to fit different game genres, like racing or sports. If you want a gaming projector instead, BenQ's site also has great options for that.
Savings Tip: Find BenQq promo codes for the best deal.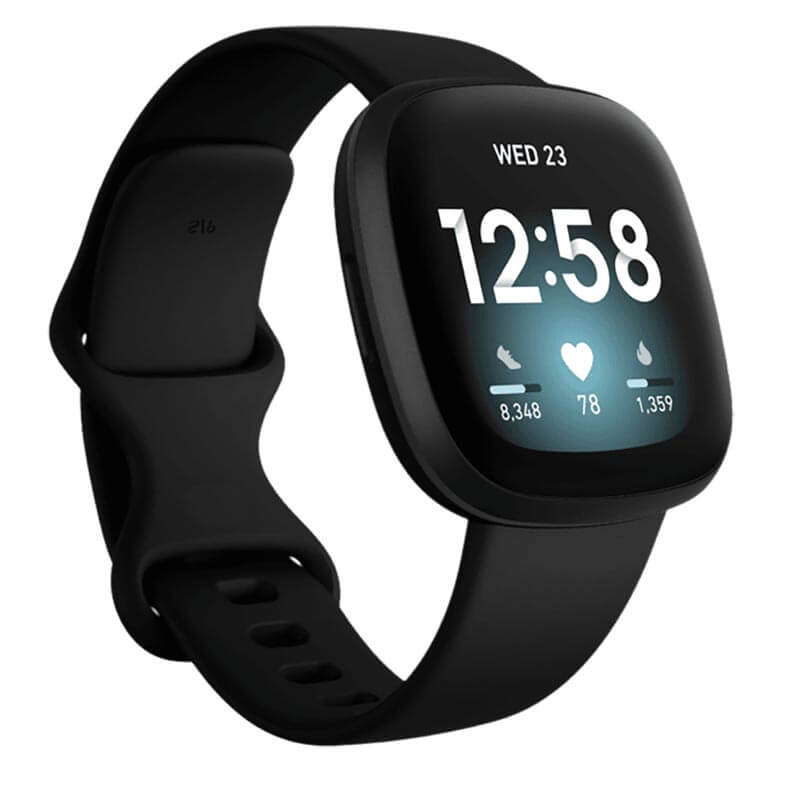 The Fitbit Versa 3 is the ultimate tool for a partner who loves fitness. It has built-in GPS to track his running and heart rate in action. He can connect it to the app to see where he ran geographically and the most challenging routes. The Versa 3 can even handle swimming up to 50 meters.
Savings Tip: Find Fitbit promo codes for the best deal.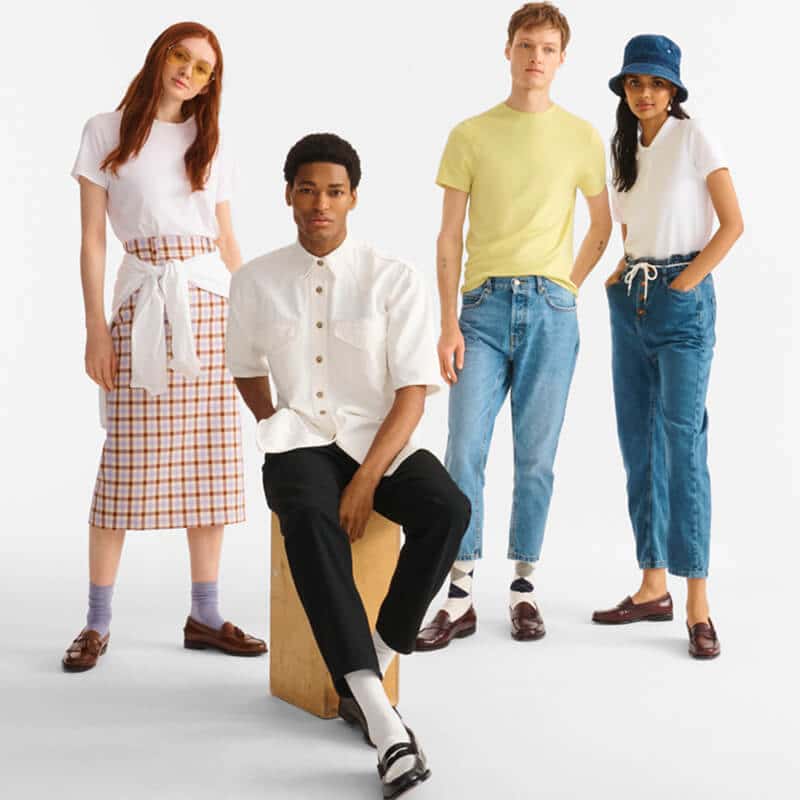 Good-looking, professional, and sophisticated are just a few words that come to mind when we think of loafers. This pair is no exception. It has a pattern behind its face, which feels like adding a tie to a suit.
Not into loafers? Look at GH Barson's collection of other sneakers, oxfords, and boaters for the fashionable husband.
Savings Tip: Get G.H. Bass & Co promo codes for the best deal.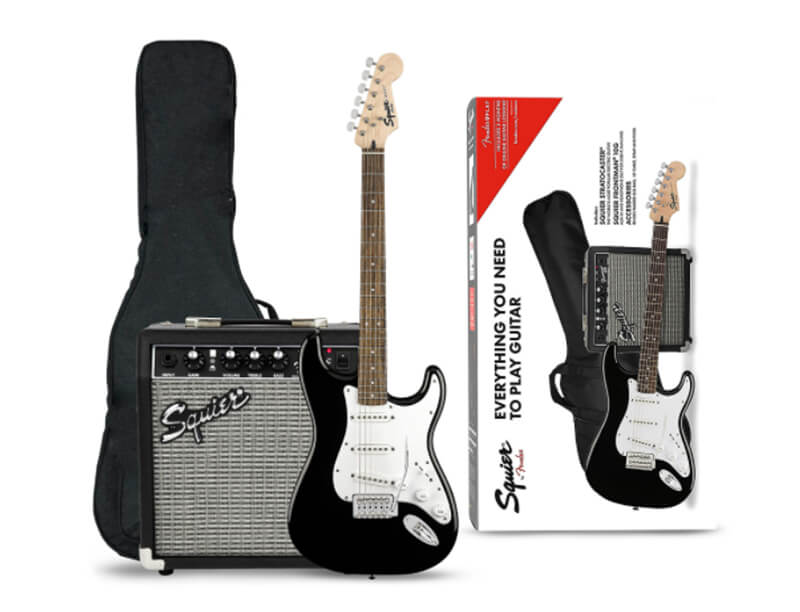 This electric guitar kit is perfect if your husband has been thinking of learning how to play. It's affordable and has a good tune to get his feet wet. It won't take long for him to feel like an Aerosmith or other rock star. If he's more of the country type, you can also look at the Guitar Center's acoustic collection.
Savings Tip: Get Guitar Center promo codes for the best deal.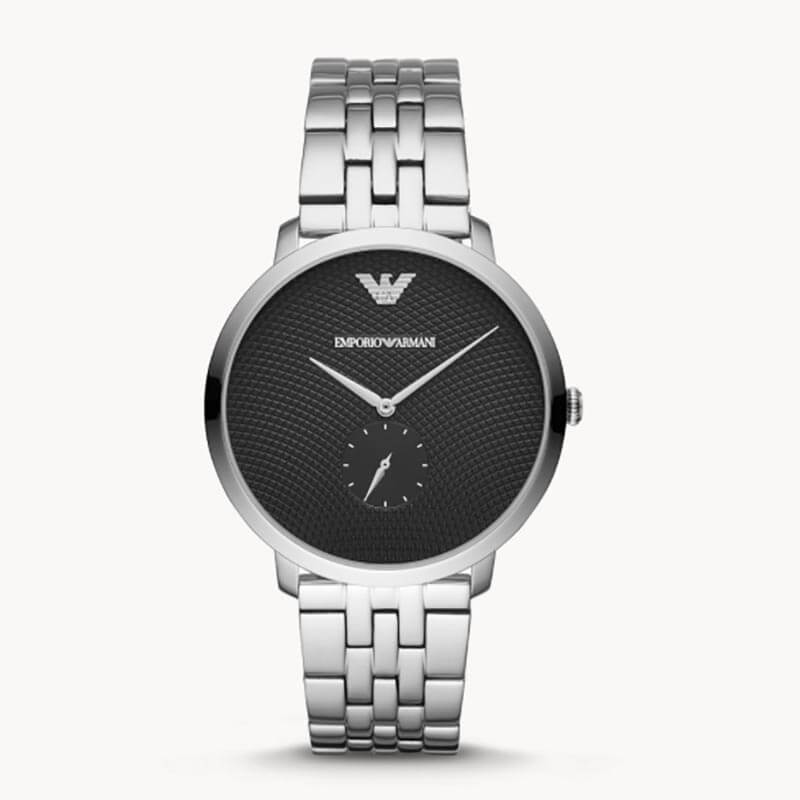 This watch is a combination of sleek and sporty. With a black texture face and stainless steel frame, it will blend into almost any outfit. Watch Station has a lot of options to choose from different brands. You can find other models by Fossil, Michael Kors, and even Puma. And he'll love the opportunity to mix a practical need with style.
Savings Tip: Find Watch Station promo codes for the best deal.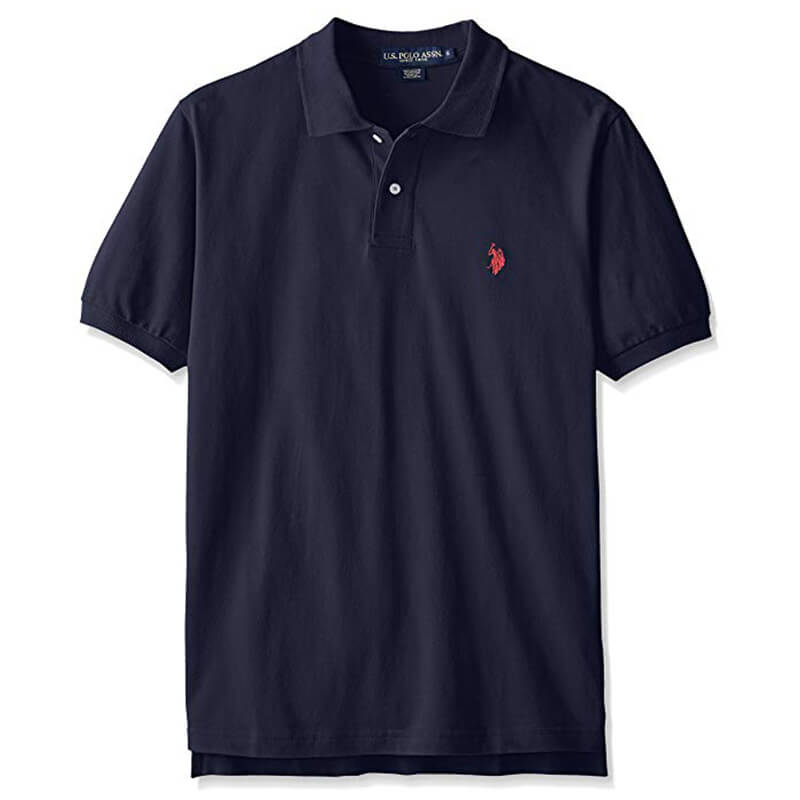 The classic Polo shirt is like the sophisticated version of a t-shirt. He'll love how easy it is to pair with anything. This short-sleeve model comes in more creative colors than an average t-shirt. You can choose between fire engine red, cobalt blue, or green for him. Pair it with a pair of Polo sunglasses to complete the look.
Savings Tip: Find U.S. Polo Assn. promo codes for the best deal.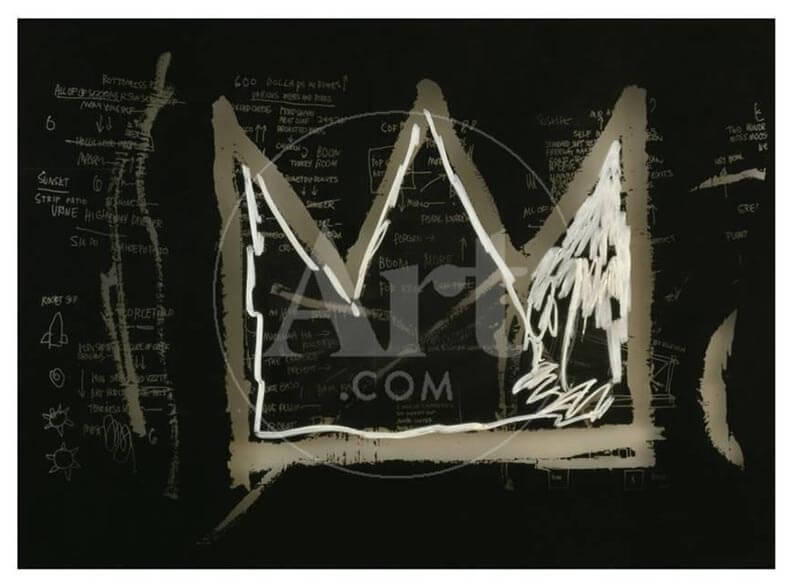 Art.com makes prints of famous artwork so you can frame them in your home. For example, the above is a 1982 piece by renowned artist Basquiat. You can customize what art you find based on his interests, including anything from space to maps. But for now, we think some husbands will enjoy the cultured, graffiti style of Basquiat's art.
Savings Tip: Get Art.com promo codes for the best deal.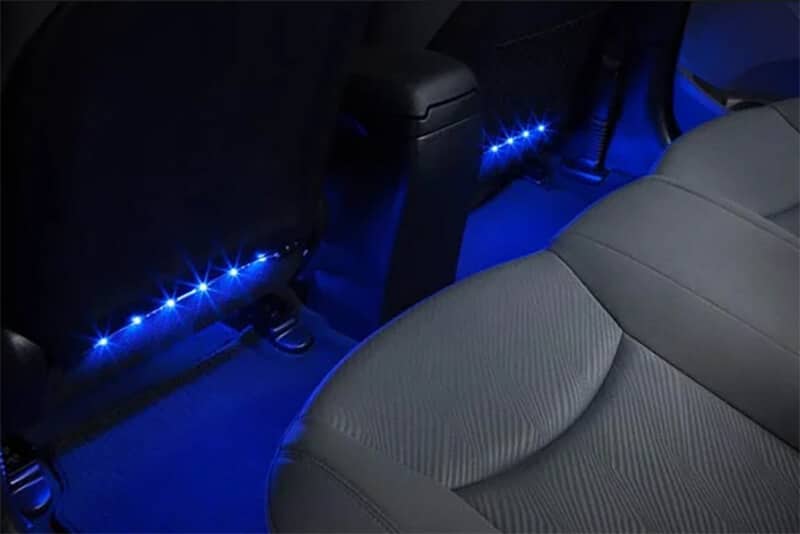 If your husband likes neon colors and upgrading his car, this is a win. He can install these interior lights under the car seats. It switches between colors like blue, green, and purple, putting on a great show at night. If he wants to install it in the trunk, you can purchase extensions at the link above.
Savings Tip: Get AutoAnything promo codes for the best deal.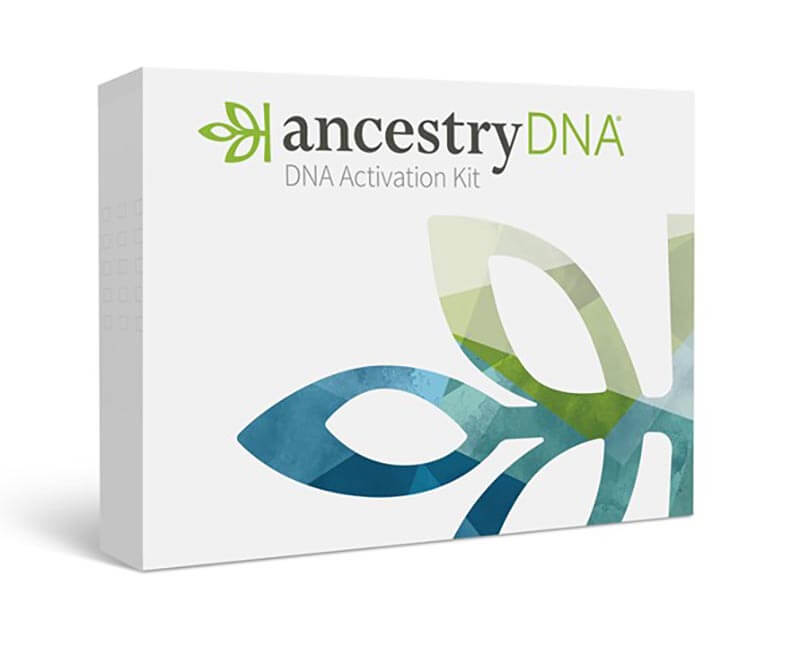 Ancestry's DNA kit covers 1000+ regions of the world. Using his DNA, it will track what regions his genetics resemble the most. Then, it'll give him a story of how and why his ancestors might have moved from one country to another. Ancestry.com updates its data continuously so that he can appreciate this as a long-term investment.
Savings Tip: Find the best Ancestry coupon codes for great savings.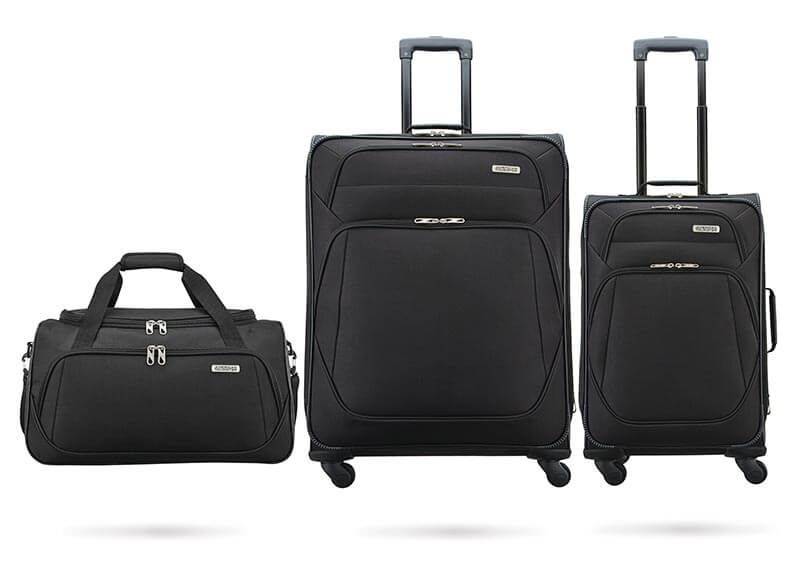 A jet-setting husband will love this luggage set. He can 'stack' two pieces on each other and carry the duffel bag in his free arm. It's the perfect size for a short trip, whether it's for business or a quick vacation with you. American Tourister also sells Star Wars luggage tags if he's interested in the franchise.
Savings Tip: Check out American Tourister promo codes for the best deal.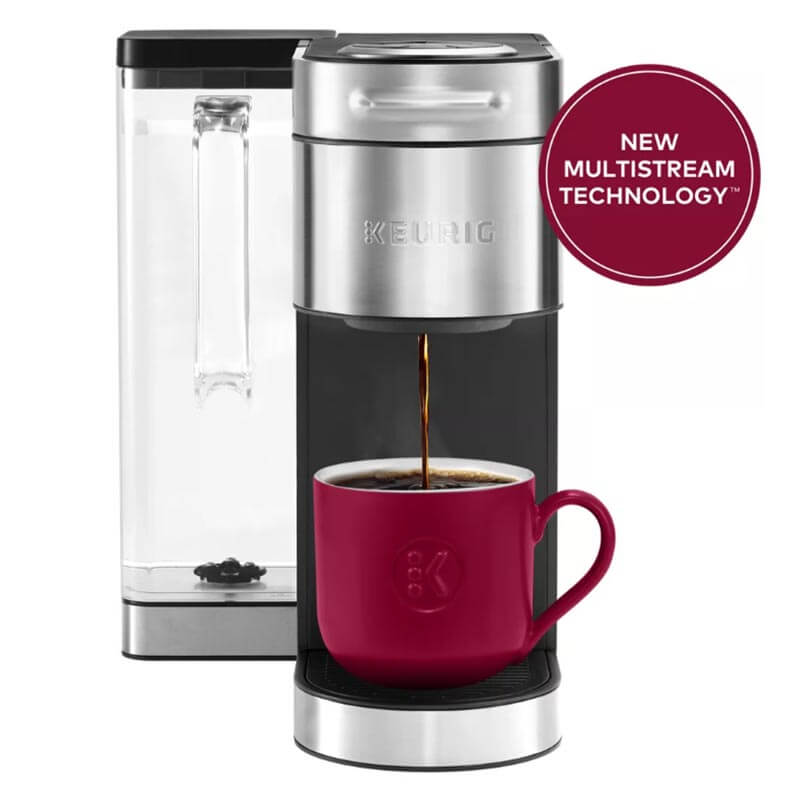 Both you and your husband can unite with this gift as coffee lovers. This coffee maker lets you choose different brew sizes and temperature settings to make in less than a minute. It comes with multi-stream technology to get more nuanced flavors, too. Pair it with a Keurig blend variety pack to get him started with this useful gift.
Savings Tip: Get Keurig coupons for the best deal.
23. Flaviar Gift Set (for the Whiskey lover)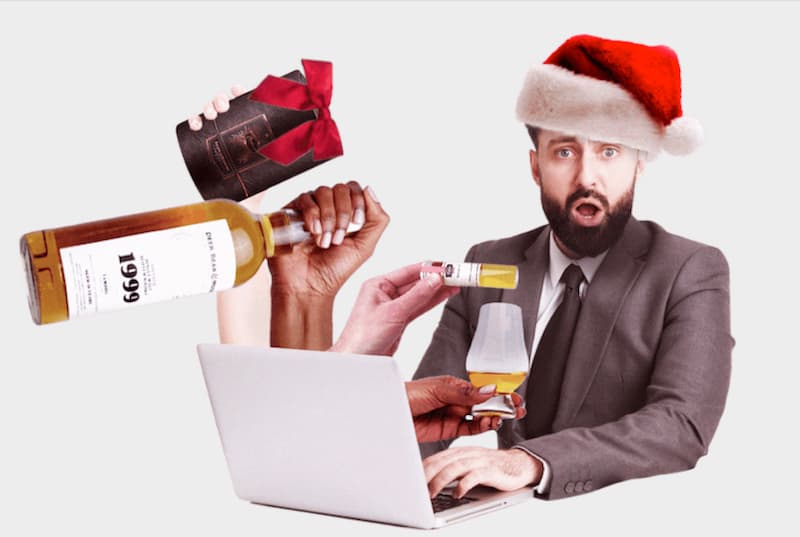 Create an unforgettable gift for your buddy especially if he appreciates tasting spirits. Enjoy whiskey, bourbon, rye, vodka and more. Flaviar's themed Tasting Boxes come with a carefully-selected array of drinks that showcase the flavor range of each category and make it even easier for your brother, dad, cousin or best friend to try even more. Even better, ask him to share with you and you can enjoy quality time together taste-testing.
Savings Tip: Use code "givingassistantgift" to get $15 off your gift
24. 5-in-1 iPhone Charging Dock Station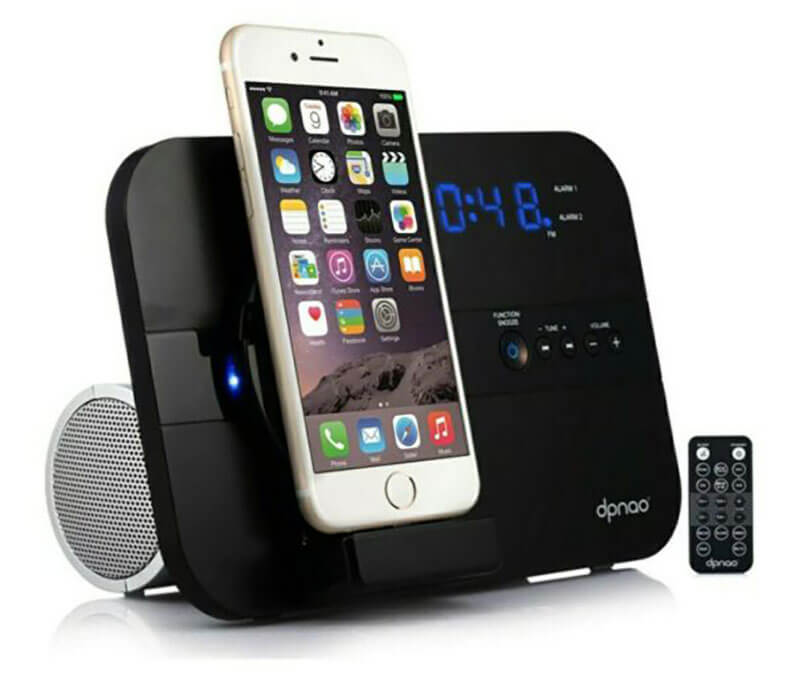 A charger, alarm clock, Bluetooth speaker, FM radio and USB rolled into one, this sleek and high-powered gadget is the perfect gift for men who like to avoid clutter. They can charge their phone and smart watch at the same time while listening to FM radio or, more realistically, their self-titled playlist on Tidal or Spotify.
The alarm clock has a large display and automatically syncs with the Apple iPhone's time and times for seamless integration.
25. Portable Solar Charger Power Bank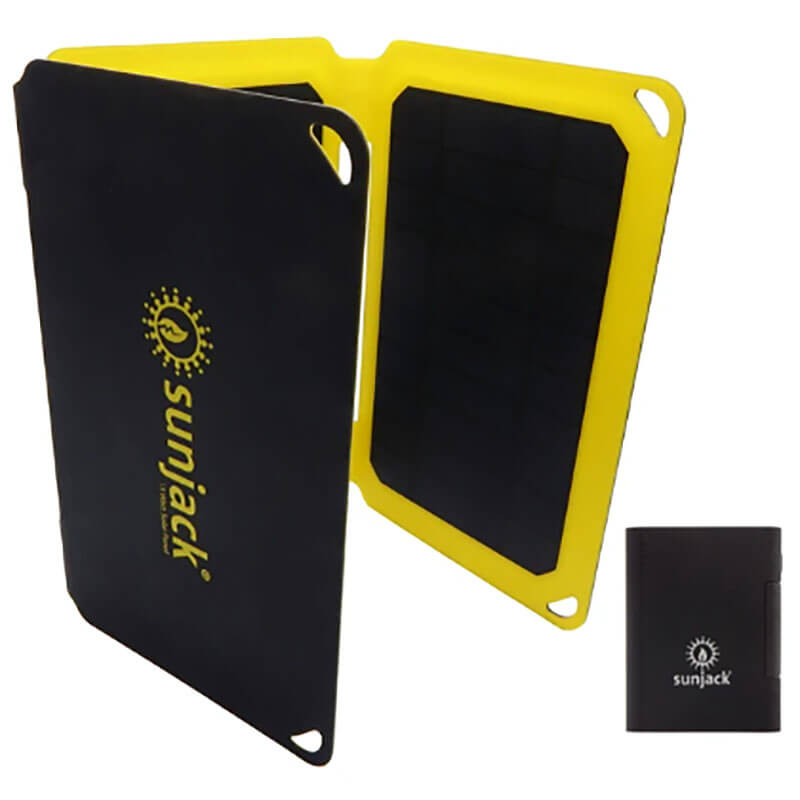 Truly unique birthday gifts for him will take his likes and dislikes into account. If his phone is always dying or he enjoys lots of outdoor activities, this power bank could be the perfect gift idea.
On one full charge it can charge an iPad Air 3 times – it has some power. With dual ports, it can even charge multiple gadgets at once. Equipped with an LED light, it also comes in handy for camping and hiking at night.
26. Himalayan Salt Plate & Holder Set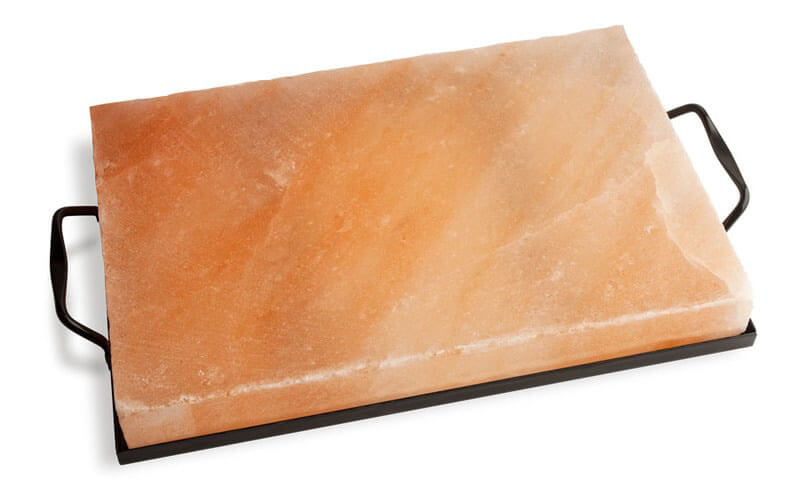 Grilling professionals have not stopped talking about the trendy Himalayan salt plate. Great for cooking steaks, veggies and more, it automatically salts food, is the perfect flat surface required for a good searing and makes some delicious BBQ.
It comes with a holder which eliminates excess pressure on any specific area of the salt plate and protects the fragile edges, both which extend the life of the plate.
27. Personalized Hidden Secret Message Leather Bracelet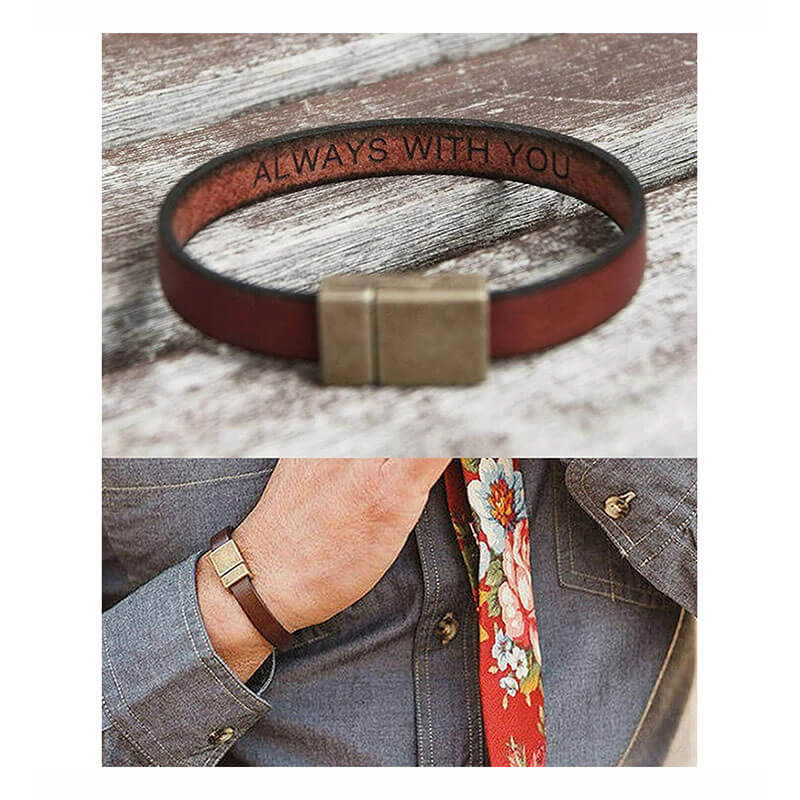 A meaningful birthday gift for him, this one will leave him with a smile. The handmade bracelet is made with genuine leather and features strong magnetic clasps. On the inside, you can have a special message engraved, and there is space to get creative.
A stylish piece that goes with his favorite t-shirt as well as it goes with a dressier outfit, it is a nice final touch that can bring his entire look together and make him feel special.
28. Rocky Mountain Shower Steamer Bath Bomb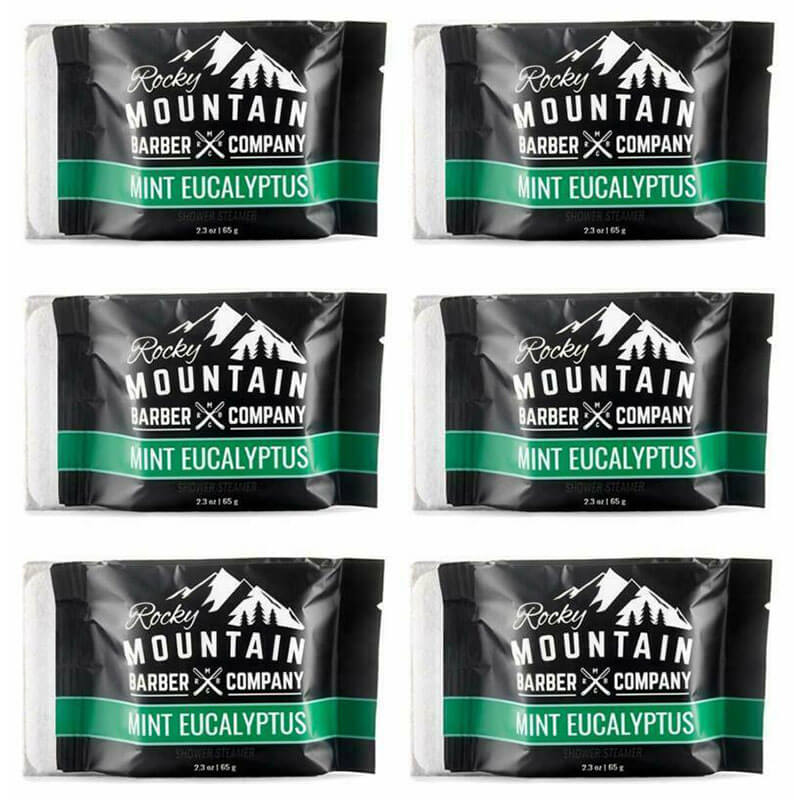 One of the best gifts for the guy that is need of stress release, these soothing bath bombs will instantly turn the shower into his very own steam room. Made with 100% real essential oils, the calming eucalyptus and mint will have all the stress ooze out of his body and right down the drain.
These best sellers are a unique gift idea for the men who never have a chance to slow down and take care of themselves.
29. Stainless Steel Engraved Cufflinks and Tie Clip Bar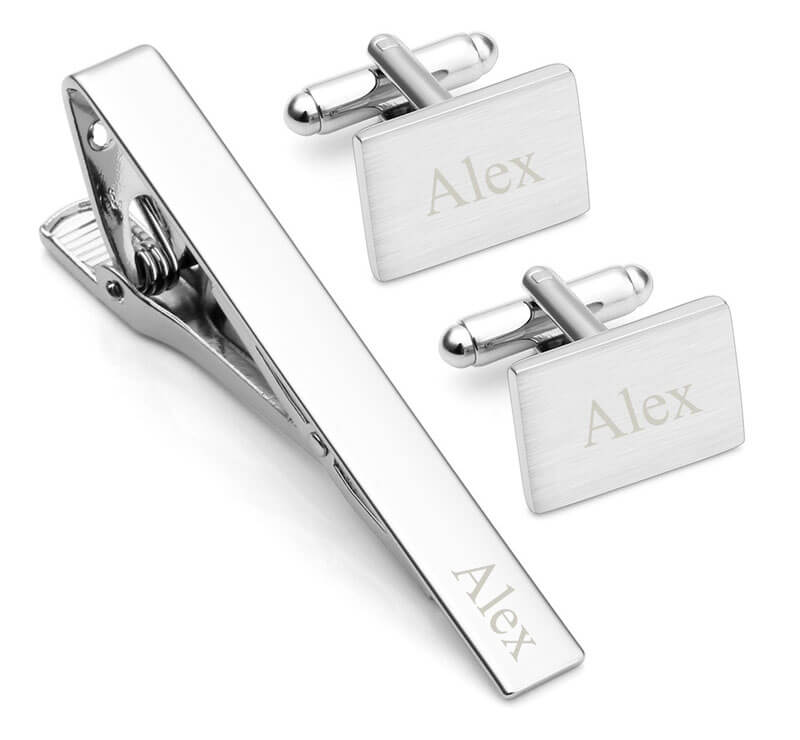 An oldie, but a goodie, this cufflink and tie bar set is a great old fashioned personalized gift. The classic design is elevated by the engraved initial of the birthday boy and punctuated by the polished mirror finish and the tie bar's matte finish adds that touch of offhand sophistication.
The high-quality stainless steel is durable, able to resist scratching, tarnishing, rusting and staining. Simple, elegant and perfect for wearing daily, you may want to get another set for Father's Day, too.
30. Wireless Bluetooth Hat Headphones and Gloves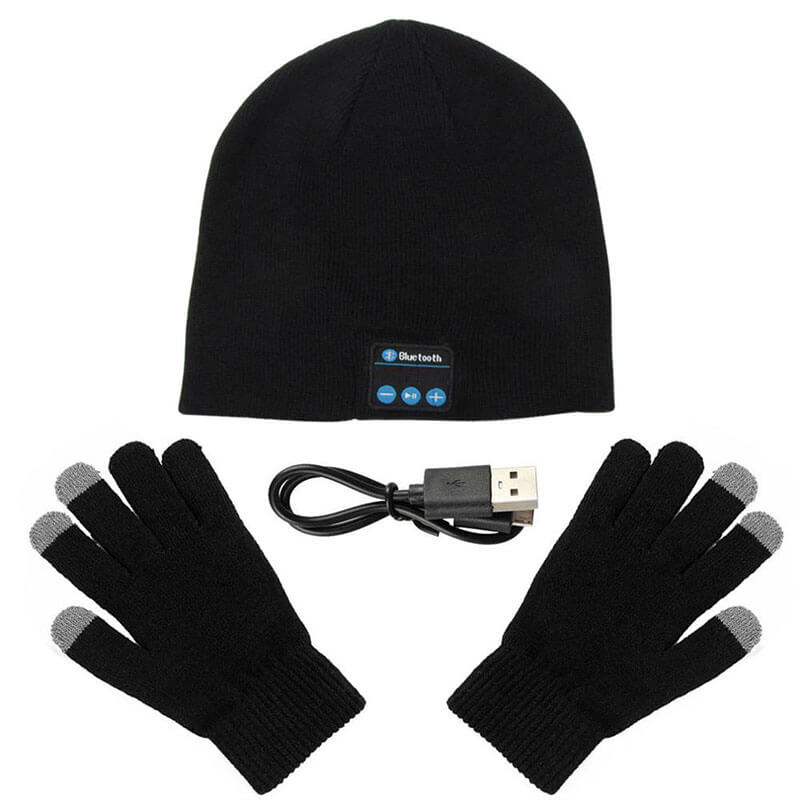 A unique birthday gift that is both practical and awesome, it is a great idea for the outdoorsy guy or guys who live in places where the weather gets cold.
The beanie has a built-in stereo headset that allows you to listen to music without needing an additional pair of headphones. Super soft, the double-knit hat will keep them warm and the touchscreen gloves allow them to answer calls without sacrificing any body heat. Tech is amazing!
31. Monica Vinader Linear Men's Friendship Bracelet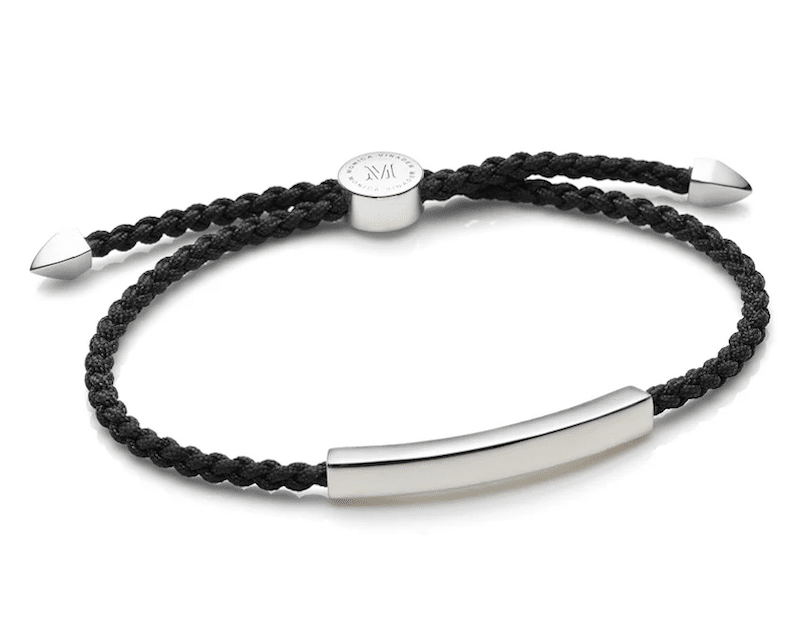 We love this bracelet because it uses recycled silver, it is responsibly manufactured, and handmade. What's not to love?
For the man who has everything. This hand woven bracelet is designed with a slider that glides over the cord to fit perfectly. An everyday staple that also makes the perfect gift.
32. Personalized Grill BBQ Set with Bamboo Case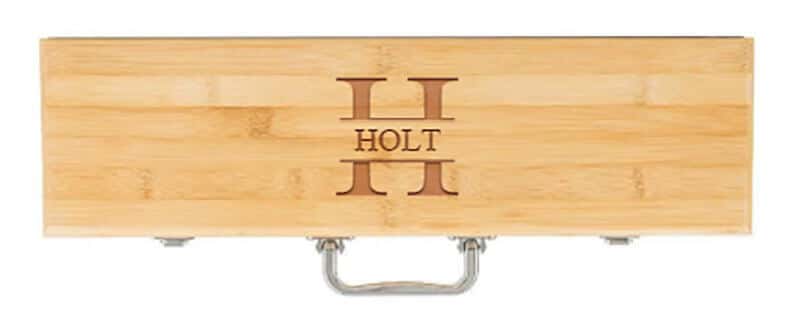 Men love to be outside and, chances are, they love to grill. This grilling utensil set includes a spatula, fork, and tongs made from rust resistant steel, and a monogrammed case made from high quality bamboo.
The case measures 19 5/8" by 5 1/2″, with the ability to engrave one line up to fifteen characters. There are six design options to choose from: initial stamp with horizontal last name, modern stamp with initial and vertical last name, circle stamp with initial, last name and date, chef design with last name, steak design with last name, and knife design with last name.
Savings Tip: Check out A Gift Personalized promo codes for the best deal.
33. Personalized Decanter Set with Whiskey Glasses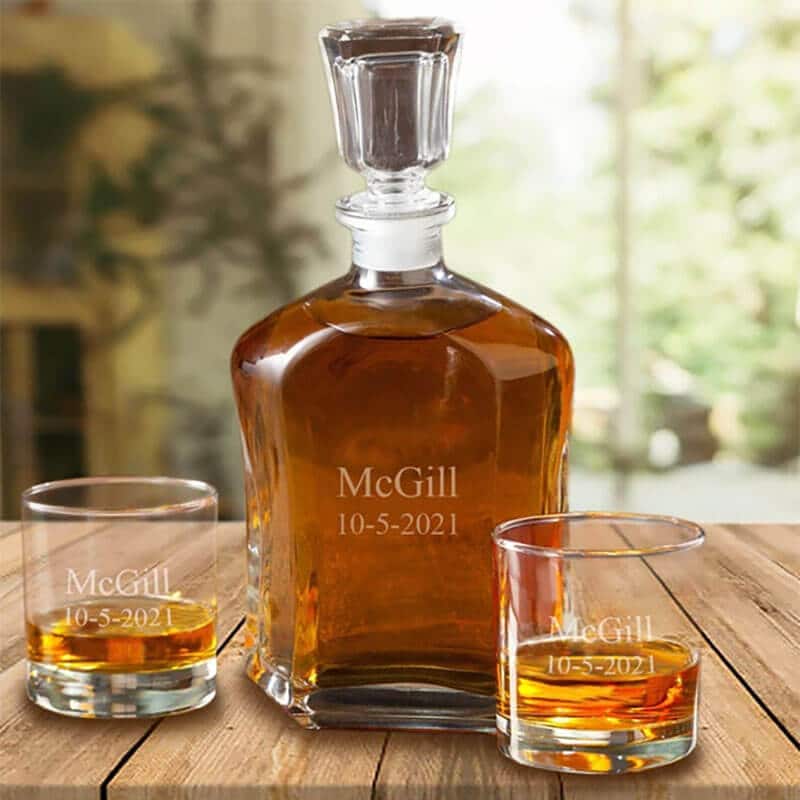 For the men who love whiskey, this decanter set is a great gift idea. The set includes a decanter made from glass that holds 23 ounces of whiskey. Each low-ball glass that comes with the set can hold 8 ounces.
The decanter is 10 3/4″ by 5 1/2″, so it won't take up too much space. Personalization is of the decanter and the glasses, making it the perfect matching set. You have the option to engrave two lines up to fifteen characters each, three initials, or five design options that allow one line of up to fifteen characters.
Savings Tip: Get Personalization Mall promo codes for the best deal.
34. Mini Golf Pool Game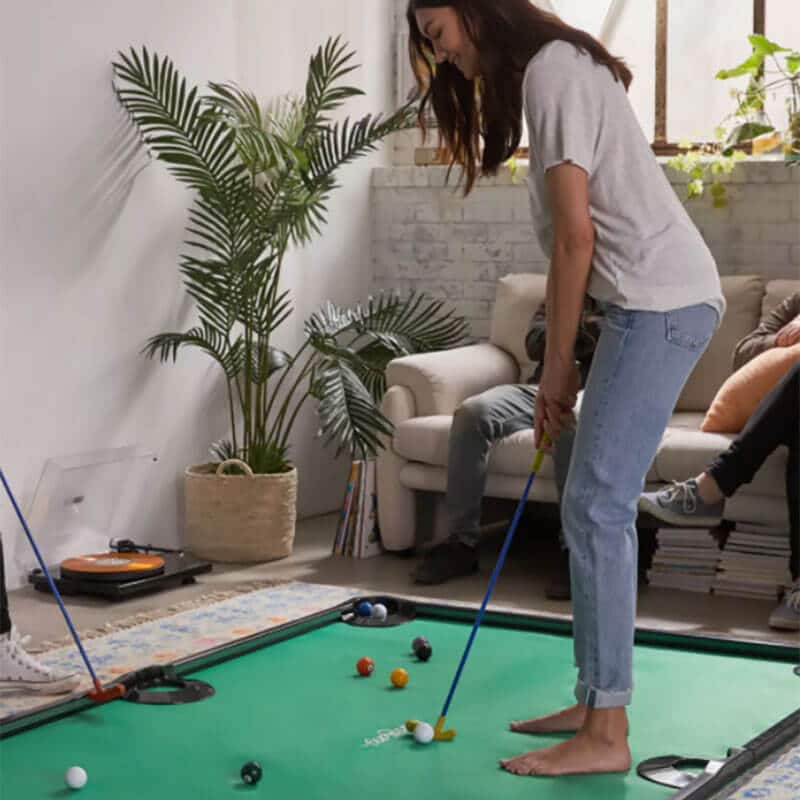 This game is suitable for any man in your life no matter what their age is. The mat is 78" long and 57" wide, featuring six holes to look just like a putting green pool table. Included are sixteen golf balls that are decorated like pool balls and two putters.
Savings Tip: Check out Urban Outfitters promo codes for the best deal.
35. Personalized Picture Wallet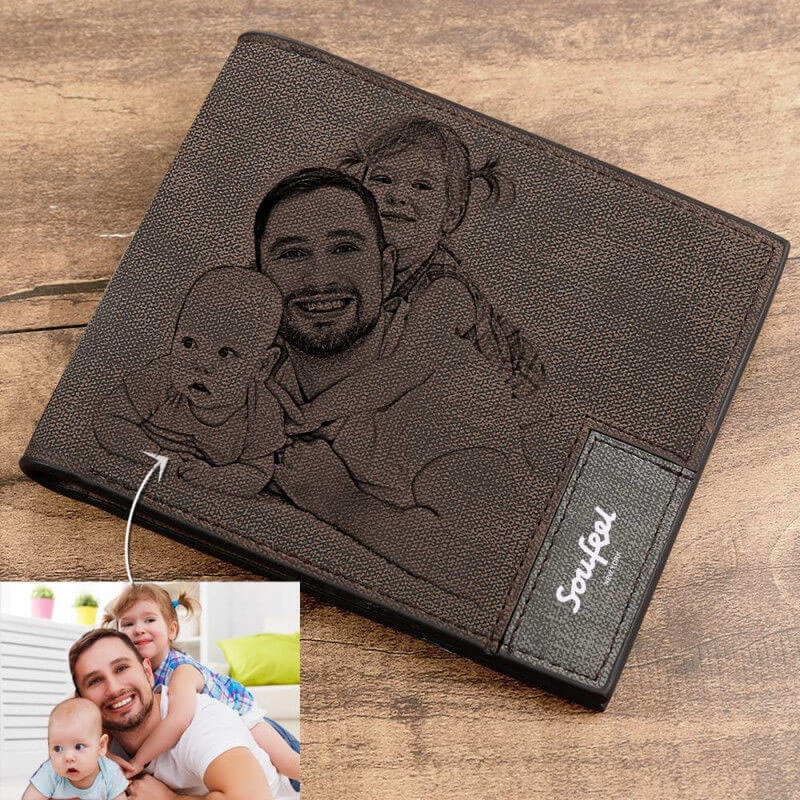 What is something you've noticed your husband, boyfriend, or father always have with them? What is the thing they use the most? The answer is almost always their wallet. The gift of a personalized wallet is sure to be a massive hit.
There are several different wallet types to pick from and so many different colors to choose. You can pick out whichever wallet you think your man will like best. Then you upload the picture you want on the wallet, place your order, and they will get started etching. Keep in mind this item will take about nine business days to perfect before it will ship. Make sure you order with enough time to get it delivered.
Savings Tip: Check out Aliexpress promo codes for the best deal.
36. Man Crates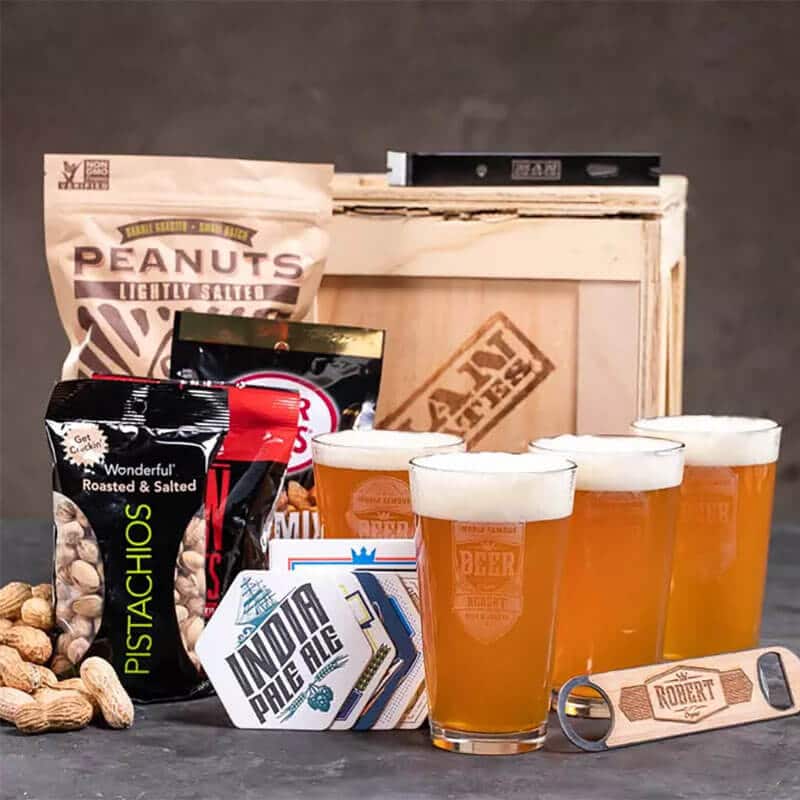 Man Crates is a brilliant idea for a gift. They have so many different themed crates to choose from making it easy to find the perfect gift. The themes include grilling and cooking, jerky and snacks, drinks, DIY maker, sports and gear, and personalized items.
Grilling and cooking crates have options that range from utensils to unique recipes and sauces.
Jerky and snack crates offer a very wide range of jerky flavors, carnival snacks, nuts, and of course bacon crates.
 Drink crates offer drink ingredients and glassware sets.
DIY maker kits provide all materials needed to make knives, sausage, games, watches, and many more.
Sports and gear crates offer camping gear, hunting gear, gift cards inside concrete that they get to smash (because we all know how fun that would be), car care, motorcycle care, and may more.
Personalized crates allow for a really cool and unique gift with the added touch of having it personalized so your man knows you picked out that gift specifically for them.
Savings Tip: Check out Man Crates promo codes for the best deal.
37. Craft Beer Club Subscription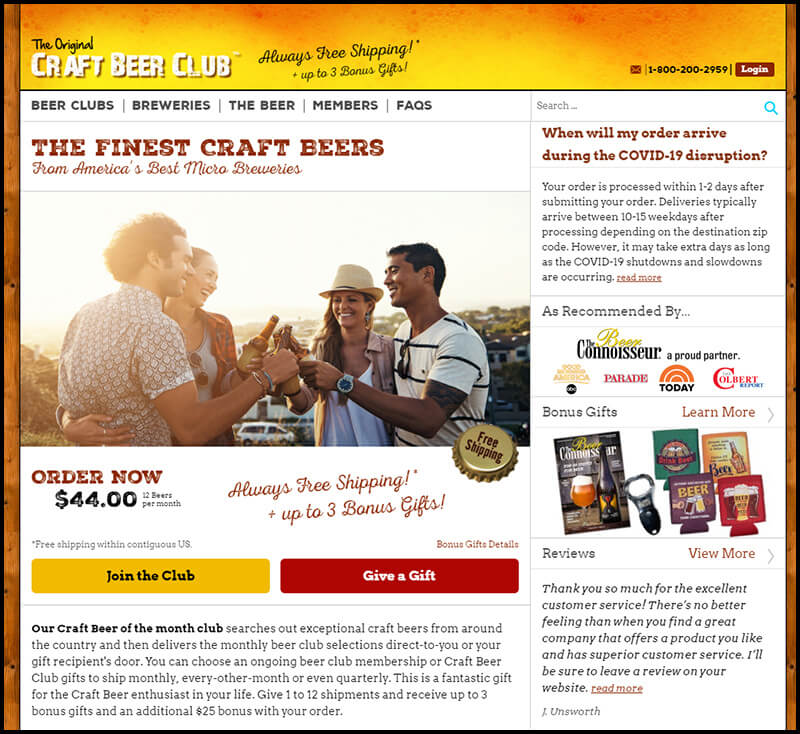 This idea is great for men who enjoy all different kinds of craft beer. They provide monthly shipments of unique craft beers from small independent breweries, so you can support small business all over the country.
You can choose between getting twelve beers delivered each month, four styles of three each, or twenty-four beers, four styles of six each. You can join the subscription as an ongoing subscription that will charge and send beers monthly until you cancel, or you can pay up front for one, two, three, four, five, six, or twelve months.
Savings Tip: Get Craft Beer Club promo codes for the best deal.
38. Personalized Family Puzzle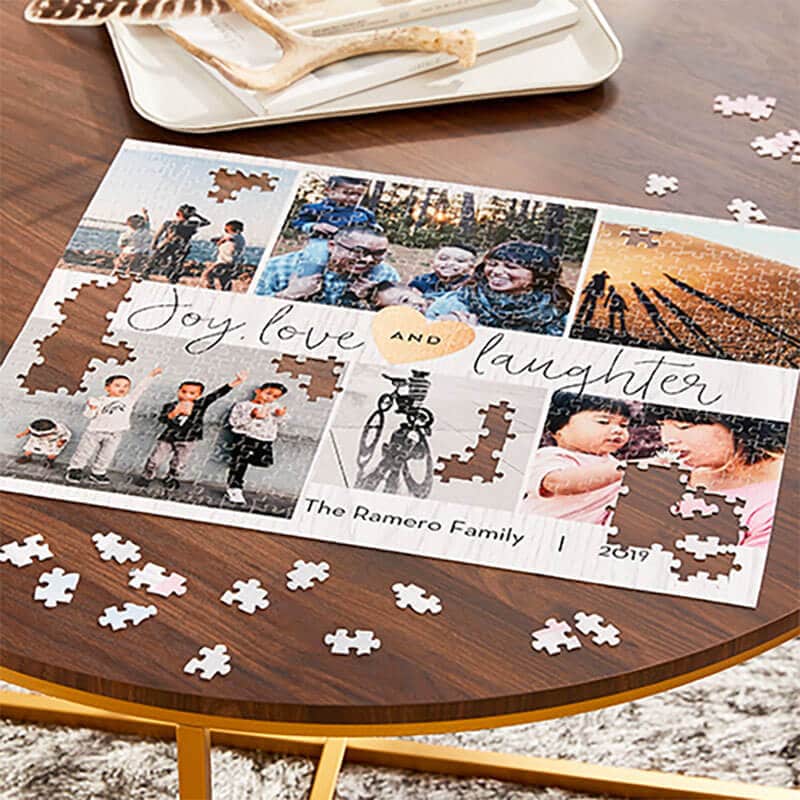 You are able to create a collage of pictures, have the pictures printed on high-quality paperboard for puzzles, and have it delivered to your loved one. This is a fantastic idea for men who really enjoy puzzles, especially because it can be put on display when finished.
There are three sizes to choose from: 10" by 14" with 60 pieces or 252 pieces, 16" by 20" with 520 pieces, and 20" by 30" with 1,014 pieces. You can print a portrait or landscape orientation with each size.
Savings Tip: Get Shutterfly promo codes for the best deal.
How to Find the Right Thank You Gift For Any Man
There may be a special professor, boss, or friend that has impacted your life in a huge way, and you want to let them know how much they mean to you.
Thank you gifts for men can be given at any time, but to make sure you get them an appropriate thank you gift that is sincere, meaningful, and useful, follow these tips.
1. Figure out what he likes
What sounds like common sense is not. There is no one thank you gift on the planet that every man is going to appreciate. Think about any interests he has that have popped up in conversation. For example, if they love beer, why not give him a brewing kit or a gift basket filled with growlers? Is he a techie? Try to find a techie gift for him that he will use and appreciate.
Besides that, when expressing thankfulness, try to identify a personal experience with him that can be worked into your gift. If he helped you with your homework or did a great job speaking at an event, give a thoughtful gift that commemorates that time in some way.
2. Avoid hobbies and pastimes they're great at
When you are choosing a gift, unless you know them very well, try to avoid giving them a gift that is related to a hobby they've mastered. One of the mistakes many gift-givers make is to buy a gift that they think will be of value, but it isn't.
Take, for instance, a man who golfs. Buying them a cheap set of golf tees probably won't make the best impression. Instead, find out what particular balls and tees they like and buy those.
Another obstacle in this approach is that they know way more about this topic than you. To show true appreciation for what they've done for you, try to encourage them to start or gain mastery of a hobby they've always wanted to partake in, but haven't done yet.
3. Give them an experience to remember
Men enjoy physical gifts, but they also enjoy getting out and about, so don't forget that experiences make for wonderful thank you gifts.
If they are a daredevil, the best gift may be base jumping or parasailing. If a mentor loves baseball, take them to a game and buy their food. Experience gift packages are fantastic personalized gifts that bond you both even more.
It's the Thought That Counts
We've all heard the saying: It's the thought that counts. But that doesn't mean you shouldn't choose carefully. In fact, it means to take your time and get to know your recipient to find out what his interests are.
By taking the time to think about what someone actually likes, you'll never doubt if your message of thanks has gotten across to them. Hopefully finding a thank you gift for a male friend or colleague is much easier after looking at these gift ideas.