Are you sick of eating the same three or four meals while staying at home, or feel discouraged that you can't find your favorite items at the grocery store? Run out of ideas for what to make for dinner (or want to give takeout a break)? A meal kit delivery service is just the trick.
Meal kit delivery services offer the convenience of bringing quality meals to your doorstep and save you the hassle of going to the grocery store to buy ingredients (that means more time to stream something great together). Meal kit delivery services also offer a variety of delicious, well-balanced recipes that you and your family will love.
Let's explore a dozen of the best meal kit delivery options available.
Best Meal Kit Delivery Services in 2023
1. HelloFresh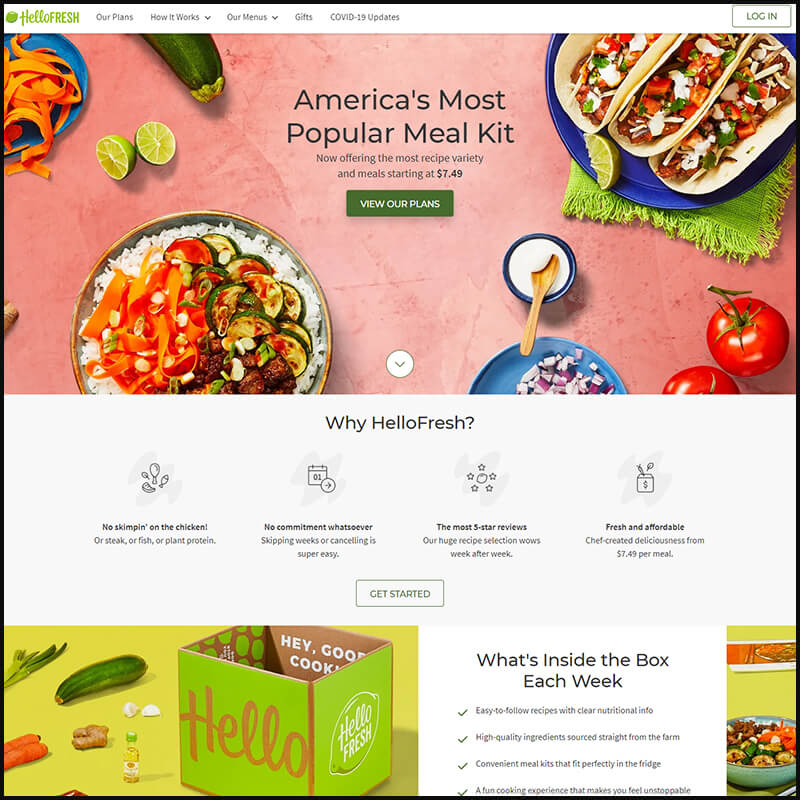 HelloFresh is self-proclaimed as America's most popular meal kit. HelloFresh offers a weekly meal subscription that allows you to select a meal plan that matches your lifestyle. Each week, you will receive simple, step-by-step recipes and fresh, pre-measured ingredients to make your own delicious meals without having to think of or research new lunch or dinner ideas.
You will receive just the right amount of ingredients to prepare your meals with minimal waste. HelloFresh also allows you to easily cancel, change, or skip a week as needed.
Where Does HelloFresh Deliver?
HelloFresh delivers to all states in the contiguous US.
How Long Does HelloFresh Delivery Take?
HelloFresh delivers shipments once per week: on Wednesday, Thursday, or Friday for all customers, and Saturday, Sunday, Monday and Tuesday in select areas. Shipments arrive between 8am and 8pm on the delivery day.
How Much Does HelloFresh Cost?
HelloFresh charges a $7.99 delivery fee on top of the price of your weekly plan, which ranges in price from $7.49 to $8.99 per serving depending on the number of people in your order.
You can earn $20 standard cash back when shopping at HelloFresh through Giving Assistant.
2. Home Chef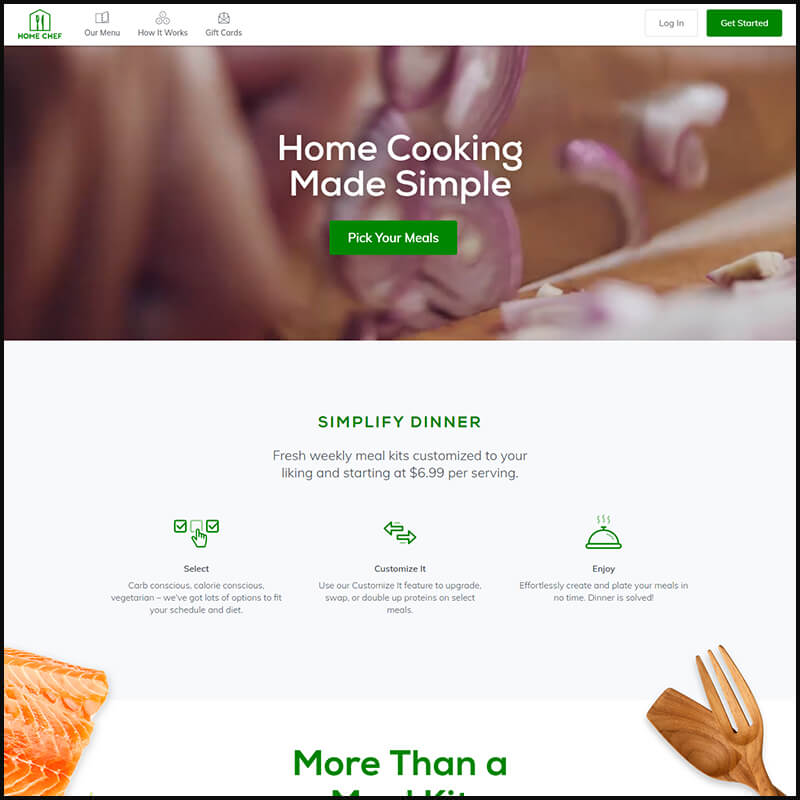 Home Chef allows you to select recipes each week that fit your preferences and dietary restrictions. From classic and elaborate meals to quick and simple meals, you can opt for meal suggestions by Home Chef or choose your own based on your dietary needs and preferences. Home Chef offers a different menu each week, so you are always trying new recipes.
You can also choose from several protein packs of beef, chicken, and seafood. Home Chef allows you to upgrade, swap, or double up your favorite protein on select recipes. Fresh, pre-portioned ingredients are delivered right to your door along with step-by-step recipe cards to create effortless, delicious meals. It's also easy to add meals or edit servings if needed.
Where Does Home Chef Deliver?
Home Chef delivers to "98% of the United States." Enter your zip code on their website when you sign up to verify delivery availability in your area.
How Long Does Home Chef Delivery Take?
Home Chef delivers once per week Monday to Friday. You can choose the day that's most convenient for you, although options will vary depending on your location.
How Much Does Home Chef Cost?
Home Chef meals start at $6.99 per serving. Delivery fees are $13.99 for orders under $40 and $6.99 for orders $40 and up.
Earn $10 cash back when ordering at Home Chef through Giving Assistant.
3. Sakara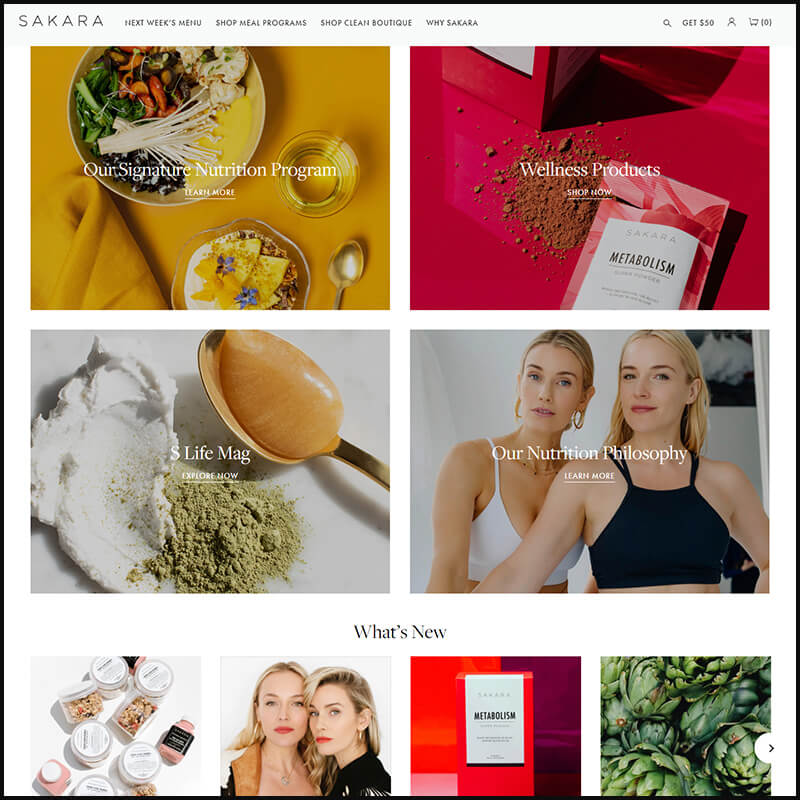 Sakara is focused on clean eating, sustainability, and wellness. Offering a 100% plant-based meal kit service, Sakara aims to help people get back to feeling their best by incorporating more plant foods in their diets. Sakara offers meals for breakfast, lunch, and dinner, and are all pre-prepped and ready to eat.
Sakara isn't a meal delivery service just for vegans; it is for anyone who wants to improve their health and nutrition. Sakara offers a diverse menu of fresh, portioned meals made with all organic produce sourced from farmers that follow responsible farming practices.
Where Does Sakara Deliver?
Sakara delivers across the contiguous US. Enter your zip code here to verify availability in your area.
How Long Does Sakara Delivery Take?
Sakara delivers weekly for its Signature and Healthy Body Project programs, and monthly for its Detox program. Specific delivery days depend on your location and program.
How Much Does Sakara Cost?
Sakara meal subscription plans range in cost from $169 to $420 per week based on the number of days of meals desired. One-time program costs range in cost from $185 for a 2-day supply to $1,760 for a 20-day supply. Modificatications based on food allergies can be made for an additional fee.
Earn 15% cash back on Sakara meal programs when shopping through Giving Assistant.
4. Gobble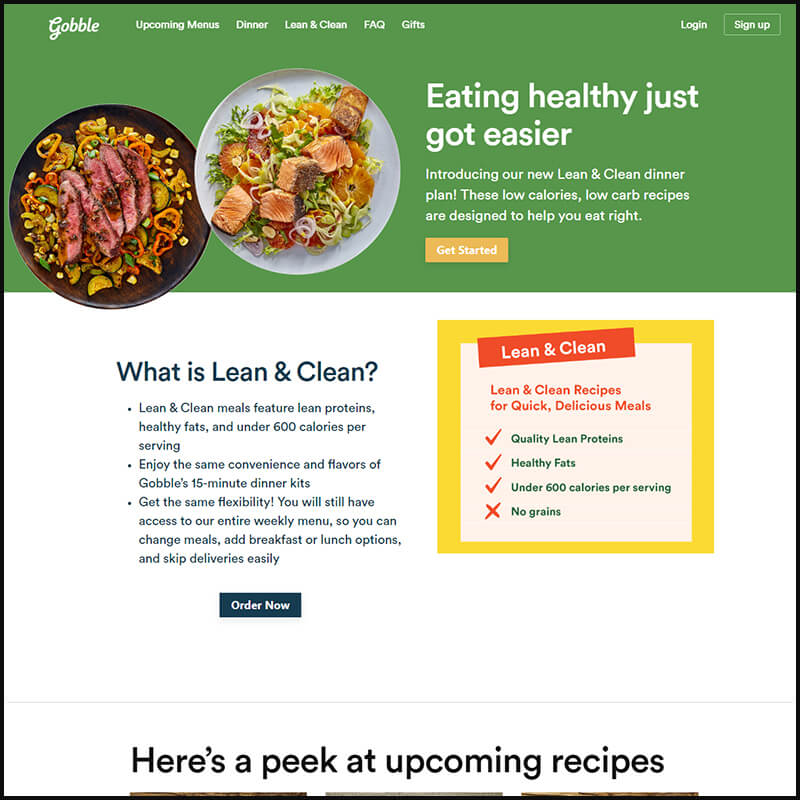 If you are looking for quick and easy meals that take 15 minutes or less to make, then you will "Gobble" this up! Gobble is a meal kit delivery service that handles all the peeling, chopping and marinating, and delivers everything straight to your door in a refrigerated box. You can have a delicious homemade dinner on the table in 15 minutes. Your only job is to enjoy.
Gobble offers plans that include a variety of cuisines and accommodates different dietary needs, such as gluten or dairy-free, low carb, and vegetarian. Gobble also offers a "Lean and Clean" dinner plan that includes all high-quality meats and meals under 600 calories.
Where Does Gobble Deliver?
Gobble currently delivers across the contiguous US except Minnesota, Montana, North Dakota, South Dakota, and Nebraska.
How Long Does Gobble Delivery Take?
Gobble sends deliveries weekly, with specific days depending on your location.
How Much Does Gobble Cost?
Gobble charges $6.99 for shipping. Meals plans cost $71.94 plus shipping per week for a 2-person, 6-meal plan; and $143.88 plus shipping for a 4-person, 12-meal plan. Minimum orders are 4-meals for $55.96 plus shipping. Gobble waives shipping fees on the first shipment for new customers.
Shop Gobble with Giving Assistant and get $18 cash back plus other great deals.
5. Sun Basket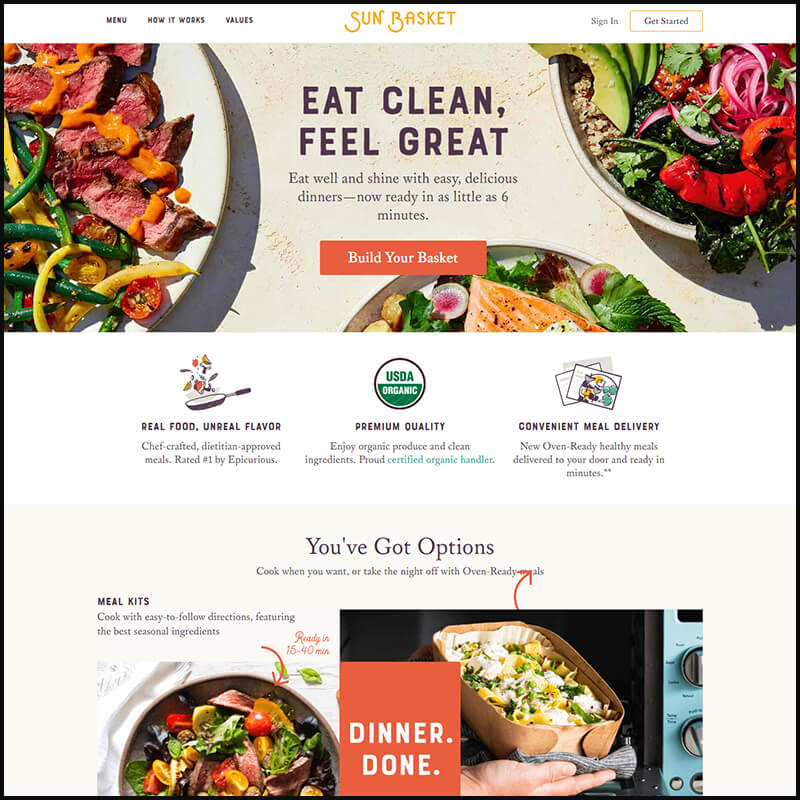 Sun Basket offers delicious meals for breakfast, lunch, healthy snacking, and more. In addition to selecting from a variety of meal plans, including Paleo, Carb-Conscious, and Diabetes-friendly, you can mix and match recipes from Sun Basket's full menu to customize your own plan.
Sun Basket uses the best quality, organic produce, and clean ingredients and makes its own sauces and spice blends. All of Sun Basket's well-balanced recipes are approved by in-house dieticians to comply with USDA dietary guidelines and the most-up-to-date science-based nutritional recommendations. The company also gives back to the community through Feeding America, local food banks, and employee programs.
Where Does Sun Basket Deliver?
Sun Basket delivers to most of the contiguous United States, excluding parts of Montana, New Mexico, and North Dakota. MT, NM, and ND
How Long Does Sun Basket Delivery Take?
Sun Basket delivers once per week Monday to Thursday between 8am and 9pm, depending on your location.
How Much Does Sun Basket Cost?
Sun Basket meals cost $11.99 per serving and are available in 2 and 4 serving versions for 3 recipes each week. Sun Basket charges a $7.99 shipping fee per order but waives the fee on your first week.
Sign up for Sun Basket now and receive $20 cash back when you shop with Giving Assistant.
6. Blue Apron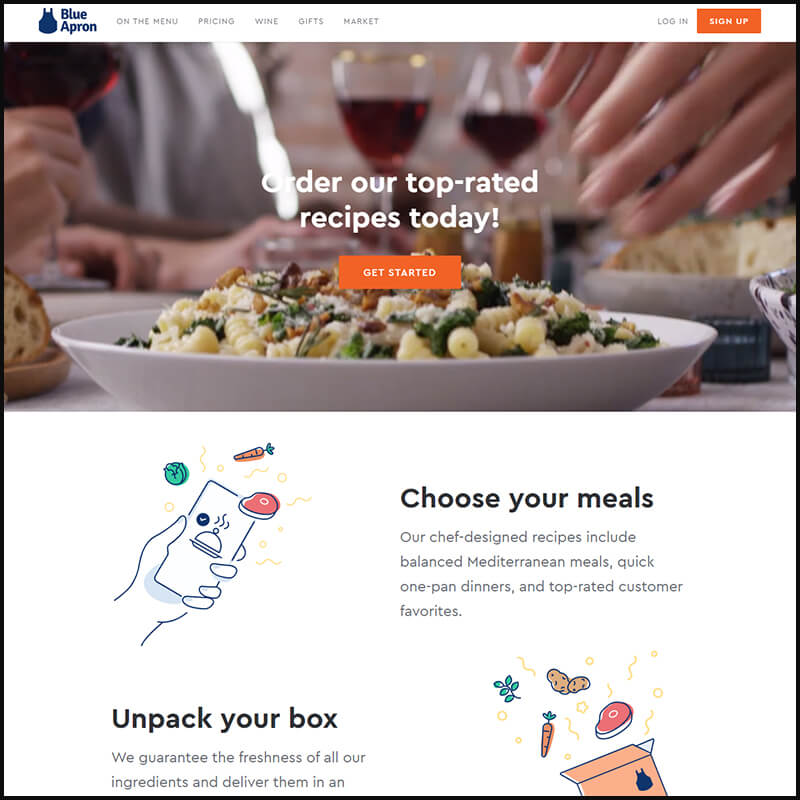 Named as an homage to chefs around the world who wear blue aprons while learning to cook, Blue Apron offers no-fuss meal planning and preparing while allowing you to try new cuisines and learn new cooking techniques.
Offering both signature and vegetarian meal plans, you receive weekly meals complete with fresh ingredients and cooking instructions. All recipes are designed by the Blue Apron team to ensure quality and deliciousness. Tried a Blue Apron recipe you love? You can easily recreate it using the Blue Apron recipe card.
Where Does Blue Apron Deliver?
Blue Apron delivers across the contiguous US. Shoppers can verify options in their zip code when they sign up.
How Long Does Blue Apron Delivery Take?
Blue Apron delivers once weekly. Specific delivery days and windows depend on your location.
How Much Does Blue Apron Cost?
Blue Apron costs $47.95–$59.94 per week for 2-serving options (depending on number of recipes ordered), and $71.92–$119.84 per week for 4-serving options. Shipping is free.
Save $60 off your first three boxes by shopping with Giving Assistant.
7. Farm Fresh to You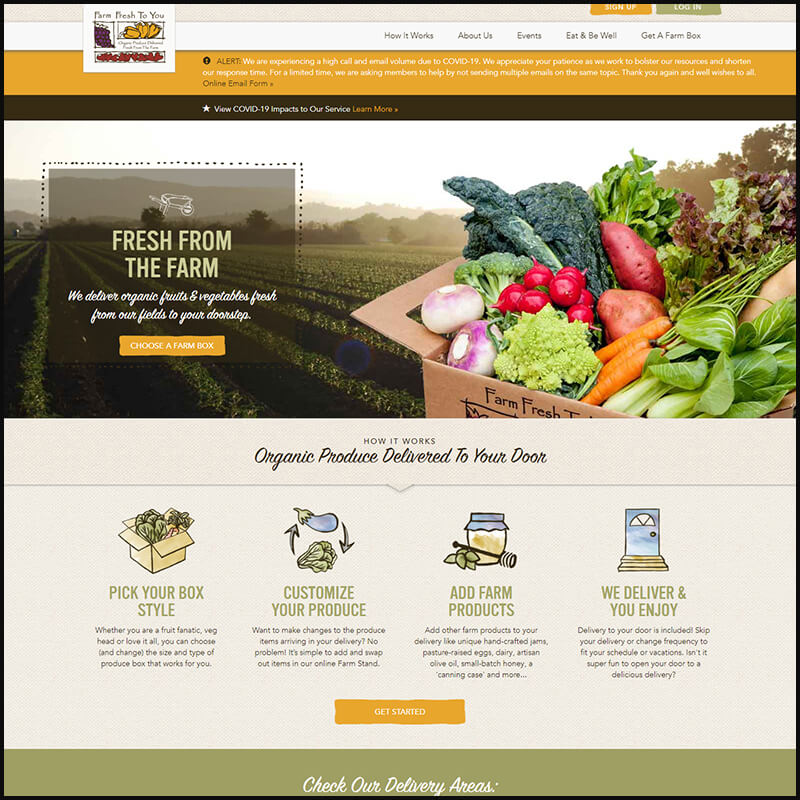 Farm Fresh to You brings the farmer's market right to your home! Farm Fresh to You is a family-owned and operated produce delivery service based in Capay Valley, California. Partnering with local farms and artisans, Farm Fresh to You delivers a fresh assortment of the best in-season, 100% certified-organic produce, and hand-crafted farm products to your home.
Getting started is quick and easy. Simply select the size and type of box you want to receive and delivery frequency. You can also create a "never send" list to avoid receiving items you don't want or dislike. Farm Fresh to You allows you to add or swap items on your upcoming deliveries.
Where Does Farm Fresh to You Deliver?
Farm Fresh to You delivers to much of northern and southern California. Verify options in your neighborhood here.
How Long Does Farm Fresh to You Delivery Take?
Farm Fresh to You generally delivers within 1 to 2 weeks depending on your home or office location and delivery window availability.
How Much Does Farm Fresh to You Cost?
Farm Fresh to You offers four price tiers for boxes depending on the product: $27.50 for small, $35 for regular, $49 for more, and $61 for monster. Snack Pack fruit shipments cost $38 for mini, $65 for small, $90 for medium, and $118 for large. Shipping is included in the box price.
Sign up with Farm Fresh to You today via Giving Assistant and receive $15 off your first order.
8. FreshDirect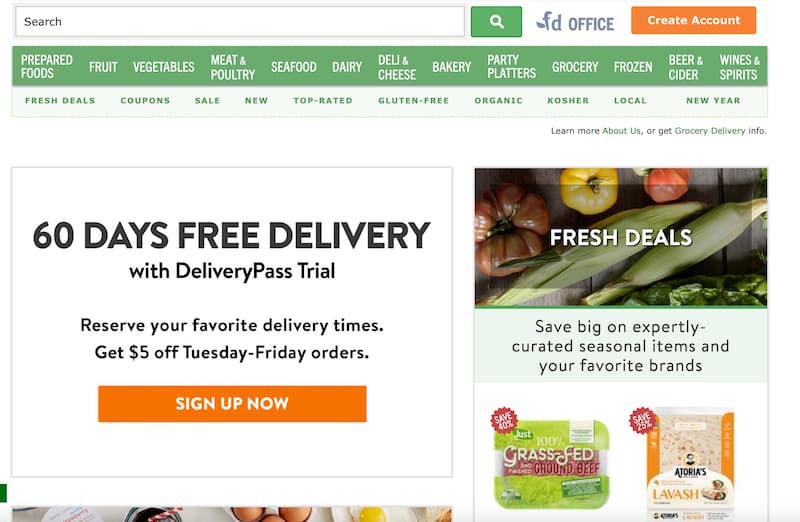 Running behind schedule or can't get to the grocery store? FreshDirect has you covered! FreshDirect is the leader in online grocery delivery including meal kits, groceries and beer and wine. Order fresh produce, prepared food & all your grocery essentials for delivery as quickly as today!
You can always expect newness and freshness from FreshDirect as its curated offerings of food and alcoholic beverages are updated daily.
Where Does FreshDirect Deliver?
FreshDirect delivers to the Northeast of the United States:
New York: Brooklyn, The Bronx, Manhattan, Nassau, Queens, Rockland, Staten Island, Suffolk, Westchester.
New Jersey: Bergen, Burlington, Camden, Essex, Gloucester, Hudson, Mercer, Middlesex, Monmouth, Morris, Passaic, Somerset, Union
Connecticut: Fairfield
Pennsylvania: Bucks, Chester, Delaware, Montgomery, Philadelphia
Delaware: New Castle
Washington, D.C.
Jersey Shore (summer only)
Hamptons (summer only)
How soon can I receive my order?
All areas serve for next-day delivery or up to a week in advance. Many areas that we serve are eligible for same-day delivery. You can order in the morning for delivery in the evening. Select zones in Manhattan, Brooklyn, and Queens are eligible for express 2-hour delivery using "FreshDirect Express".
How Much Does FreshDirect Cost?
All locations require a minimum order of $30 for delivery and delivery fees start at $5.99 based on the location.
Find the best FreshDirect coupon codes and earn 6% cash back when you shop with Giving Assistant.
9. Green Chef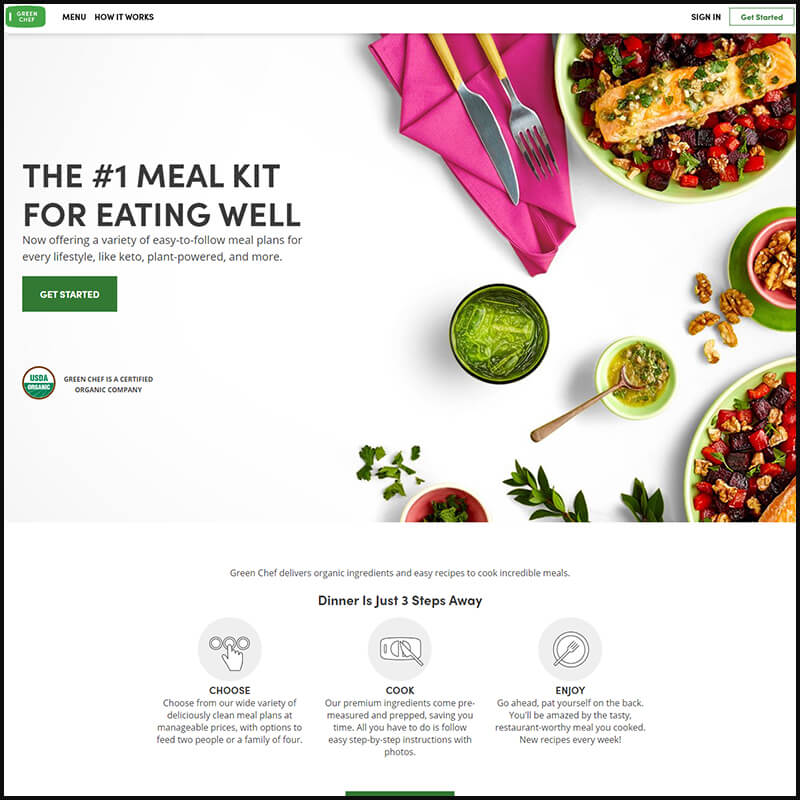 Green Chef delivers premium ingredients and easy recipes for healthy dinners that you can cook in about 30 minutes. Green Chef offers various chef-crafted recipes weekly from several healthy meal plan options. The company prides itself on being GMO-free, certified organic, and also follows sustainable sourcing practices.
To get started, simply select a meal kit plan that fits your lifestyle. Some options include the Keto, Paleo, Balanced Living, Plant Powered, and Family Plans. Enter in your shipping information, and you'll have pre-measured, perfectly-portioned ingredients and easy-to-prepare recipes delivered to your doorstep. Each recipe also features Green Chef's premade signature sauces, dressings, and spices.
Where Does Green Chef Deliver?
Green Chef delivers everywhere in the contiguous US except for parts of Louisiana.
How Long Does Green Chef Delivery Take?
Green Chef delivers weekly, bi-weekly, or monthly from Monday to Saturday between the hours of 8am and 9pm, depending on your chosen subscription and location.
How Much Does Green Chef Cost?
For 2-person plans, Green Chef costs $12.99 per meal for Keto and Paleo, $11.99 per meal for Balanced Living, and $9.99 per meal for Plant-Powered. Family Plan boxes contain 2 dinners for a family of four (8 meals total) and cost $10.99 per meal.
Sign up with Green Chef today via Giving Assistant and save up to $55 off your first box.
10. Imperfect Foods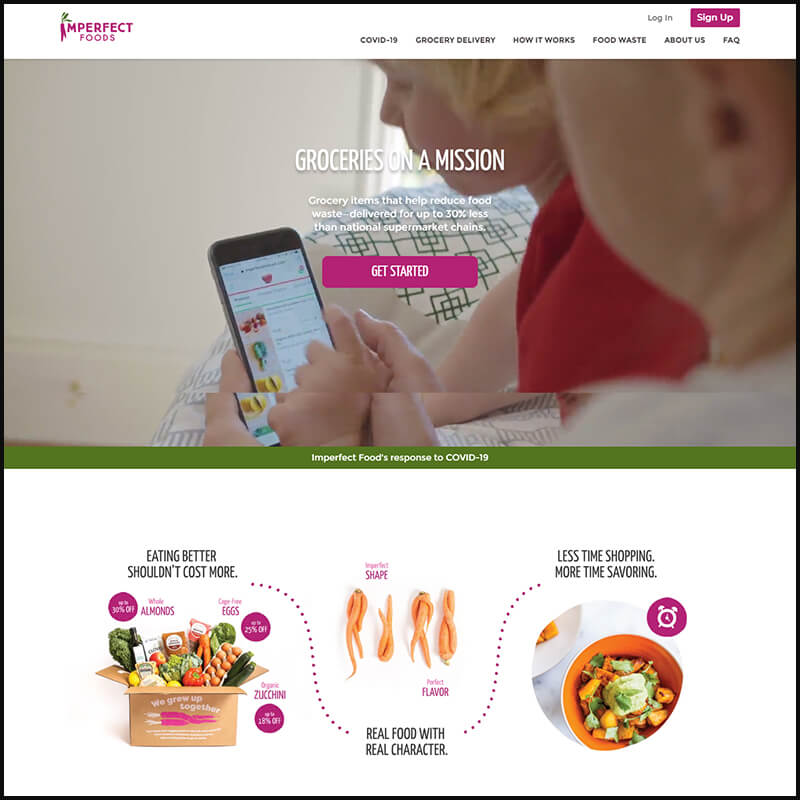 Imperfect Foods is a grocery service that aims to not only provide you with perfectly good, delicious produce and groceries but to also eliminate food waste and build a better food system. The service sources food items that are rejected from grocery stores for various reasons, such as excess inventory, cosmetic imperfections, low demand, and packaging changes.
You will start by selecting from a list of preferences so Imperfect Foods can recommend the best grocery plan for you. Then, you can select additional items—meats, dairy products, snacks—to add to your delivery. Next, the Imperfect Food team hand-selects every item on your list. You also have the opportunity to customize your delivery by removing or swapping items before your box is packaged and delivered.
Where Does Imperfect Foods Deliver?
Imperfect Foods delivers to most of the US, primarily the West South Central region, Midwest, Northeast and West Coast. You can verify your availability with your zip code on their website.
How Long Does Imperfect Foods Delivery Take?
Imperfect Foods delivers weekly or biweekly depending on your chosen subscription. Your specific delivery day and window depend on your location.
How Much Does Imperfect Foods Cost?
Imperfect Foods charges $4.99 – $5.99 in delivery fees and requires a $30 minimum grocery order in some places.
11. Freshly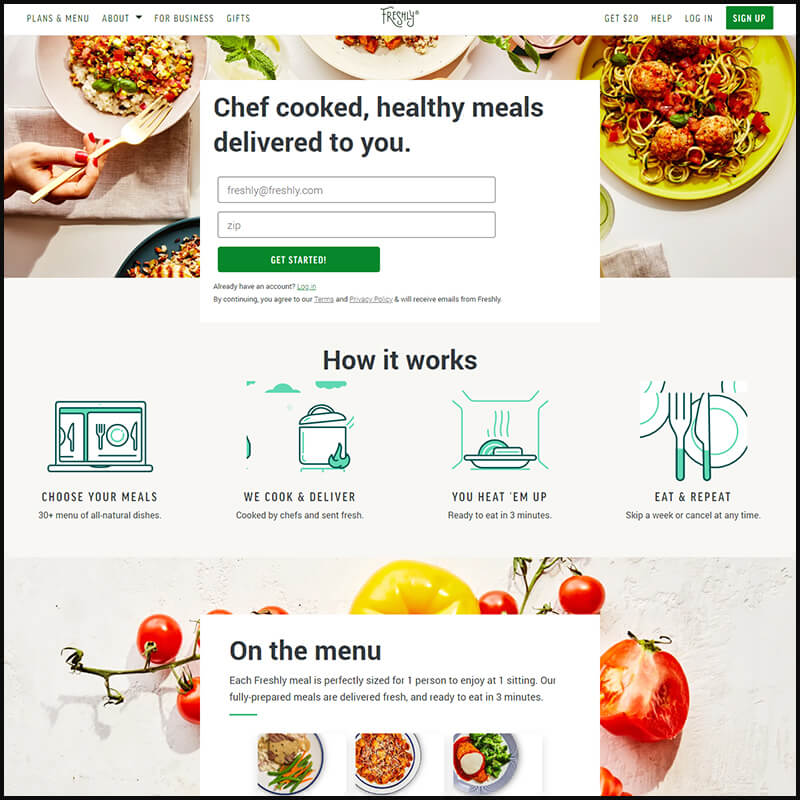 Freshly is the perfect option if you are looking for the convenience of having fully prepared, nutritious meals ready to eat — simply heat and enjoy! Each Freshly meal equals one serving. You can order up to 12 meals a week based on your plan. Each week you will pick your selection of meals from Freshly's weekly rotating menu of over 30 different dishes.
All meal options are gluten and peanut-free, however, if you have any additional dietary restrictions, Freshly can accommodate you with a variety of meals to choose from. Your meals will be delivered in microwavable containers for the most convenience. Each meal is chef-crafted and nutritionist-approved.
Where Does Service Deliver?
Freshly delivers to the entire contiguous US. Verify delivery availability in your zip code on their homepage.
How Long Does Service Delivery Take?
Freshly delivers within 48 hours to most locations from Sunday to Saturday. Your specific delivery day depends on your location.
How Much Does Service Cost?
Freshly offers 4 price tiers: 4 meals per week costs $11.50 per meal, 6 meals and 9 meals per week cost $8.99 per meal, and 12 meals per week costs $7.99 per meal.
Get $15 cash back when you order from Freshly with Giving Assistant.
12. ButcherBox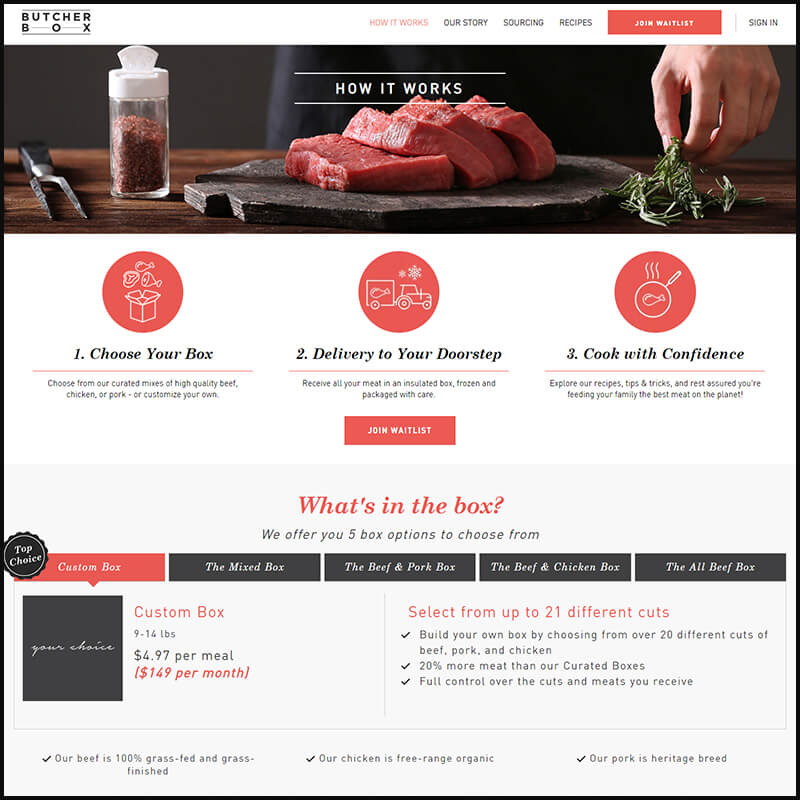 Calling all meat lovers! ButcherBox is a premium meat delivery service. You can save yourself the hassle of shopping for high-quality meats by having a ButcherBox delivered right to your door. Butcher Box offers 100% grass-fed and grass-finished beef, heritage breed pork, and free-range organic chicken. You can choose curated assortments or your own custom box.
ButcherBox has high sourcing standards. All meats come from humanely-raised animals and do not contain any antibiotics or hormones. The company strategically sources from the best meat-processing facilities that are routinely inspected and follow fair labor practices. Orders arrive frozen, securely packaged in an insulated box to ensure quality and freshness.
Where Does Service Deliver?
ButcherBox delivers to all of the contiguous US.
How Long Does Service Delivery Take?
ButcherBox delivers monthly or bi-monthly depending on your subscription. Please note: In order to provide the best possible service to their current customers amid the supply demands of the COVID-19 pandemic, ButcherBox is placing all new customers on a waitlist and will notify them as soon as new customer orders are possible.
How Much Does Service Cost?
Curated boxes cost $129 per month for 24 meals and $238 per month for 48 meals. Custom boxes cost $149 per month for 30 meals and $270 per month for 60 meals.
Purchasing fresh meat on the regular can get expensive. Save where and when you can on your ButcherBox orders and earn cash back through Giving Assistant.
Shop to Give: Transform Meal Deliveries into Donations
You can order delicious, fresh, and healthy foods through these meal kit delivery services, support these businesses, and save money and donate to an awesome cause — all at once!
Giving back and helping others is more important than ever in these challenging and unprecedented times. You can support local or national nonprofits while shopping meal kit delivery services and your other favorite brands with Giving Assistant.
Make it even easier to shop, save, and give by installing the Giving Assistant Button browser extension, and never miss a great deal again.