We all know that COVID19 has changed nearly every aspect of our lives and our world. State-mandated lockdowns spanned the nation and the world, inhibiting social contact, entering public places, and travel. Even with emerging vaccination options—and more on the horizon—the idea of travel still seems a bit, well, scary. 
While it's difficult to say what the future holds, one thing is "clear": getting through an airport with as little human contact as possible is a must in order to remain healthy and safe, yet also get to where you need to go. 
However, many brands and businesses are coming up with new, innovative solutions. CLEAR is a company that launched with a vision for the future of the airport security process. What is CLEAR exactly? Let's make it crystal for you…
What is CLEAR?
Clear is nationwide network for touchless experiences at airports, select venues, and beyond.
Imagine walking up to a kiosk, having the iris in your eye scanned, and walking through to an X-ray machine without having to take your shoes off before jumping on your flight. Sounds like something out of a Sci-Fi movie, doesn't it? Thanks to CLEAR, the future has arrived!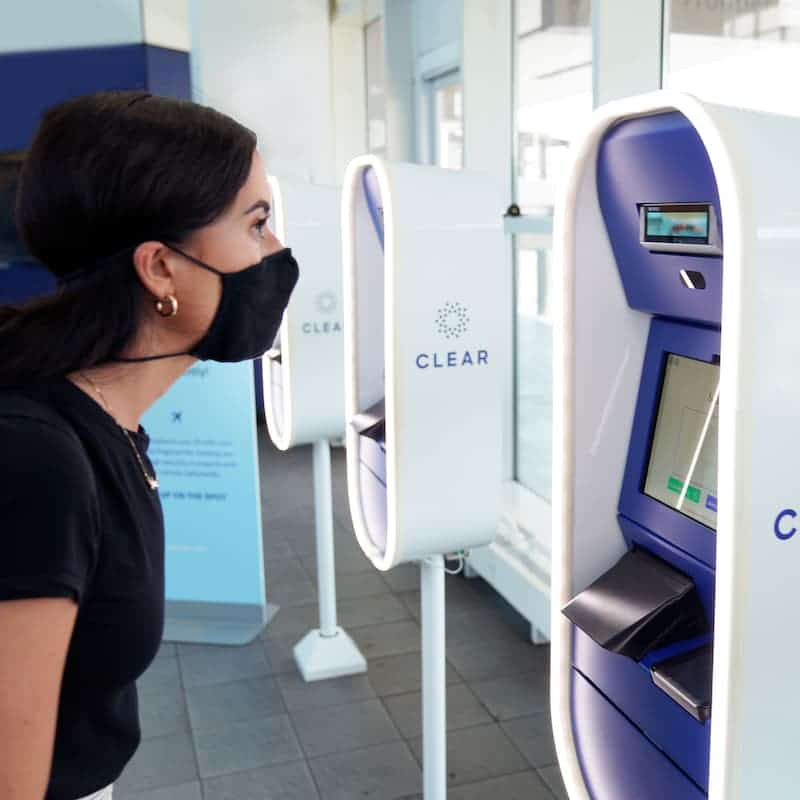 How Does CLEAR Work?
Founded in 2010 by Caryn Seidman-Becker and Ken Cornick, CLEAR utilizes unique technologies to turn your biometrics (such as your face, fingerprints, and eyes) into a digital passport and health record. 
With this technology, customers can stop by one of the CLEAR kiosks, confirm their identity, skip the security line, and board their flights—without removing shoes or emptying bags. This makes getting through airport security quick, easy, efficient—and most of all—safe.
At first glance, this new technology may seem intimidating. However, CLEAR boasts security measures to keep your data safe and secure. The company is Safety Act certified by the U.S. Homeland Security office so you can rest assured knowing that your identity will never fall into the wrong hands. 
Signing up for a CLEAR membership is also easy. Simply visit CLEAR and follow the enrollment instructions. You will need valid government-issued documentation to sign up, but once your information and details are confirmed, you will receive your own encrypted code. 
CLEAR also has a free app that features a "Home to Gate" time calculator. Based on real-time data from traffic control, security screenings, and terminal walking times, the "Home to Gate" provides you with a timeframe so you know exactly when to leave your home to catch your flight on time. 
In fact, CLEAR recently announced a new feature in their app that allows users to carry a digital copy of their vaccine records. Talk about efficiency at your fingertips! 
How to Find the Best Deals at CLEAR
CLEAR is only $15 per month to sign up. However, right now you can purchase an annual subscription for $149, which means a $30 savings for you. As if that wasn't enough, if you sign up through Giving Assistant, you can also receive up to 10% cash back!
CLEAR helps you travel safely with a fast, touchless experience. Enjoy a 2 month free trial.
Help Create a Brighter, Safer Future By Giving Back
At Giving Assistant, we make it easier for you to give back by allowing you to earn cash back and giving you the option to donate your cash back earnings to a nonprofit or charity of your choice. If you haven't already, download The Button to start finding awesome deals at your favorite stores and brands, and start saving and giving back today.