In celebration of National Parks & Rec Month in July, we're shining a light on the Golden Gate National Parks Conservancy, a community-supported nonprofit responsible for preserving and protecting the second most-visited parklands managed by the National Park Service.
Their vision: Parks For All Forever.
Learn more about how the Parks Conservancy inspires national parks worldwide with its sustainable innovations to help preserve wildlife and parklands for future generations.
What is the Golden Gate National Parks Conservancy?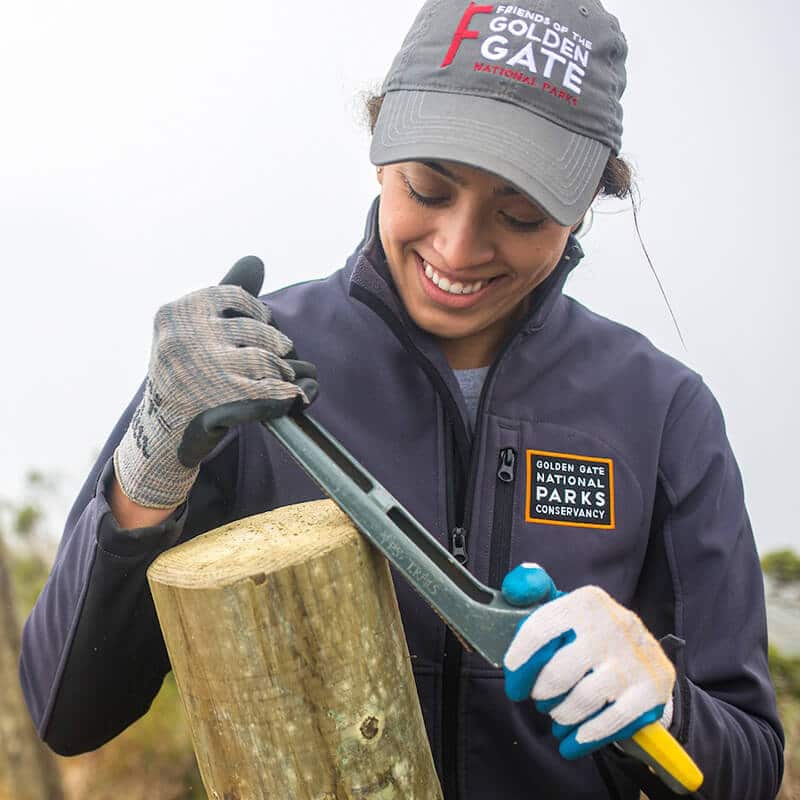 The Golden Gate National Parks Conservancy (GGNPC) is a 501(c)(3) nonprofit organization created "to preserve the Golden Gate National Parks, enhance the experiences of park visitors, and build a community dedicated to conserving the parks for the future."
The GGNPC oversees the protection of 80,000 acres north and south of the Golden Gate Bridge, in the San Francisco Bay Area, California—which constitutes one of the world's largest national parks in an urban setting (37 separate park sites total).
What Are the Golden Gate National Parks?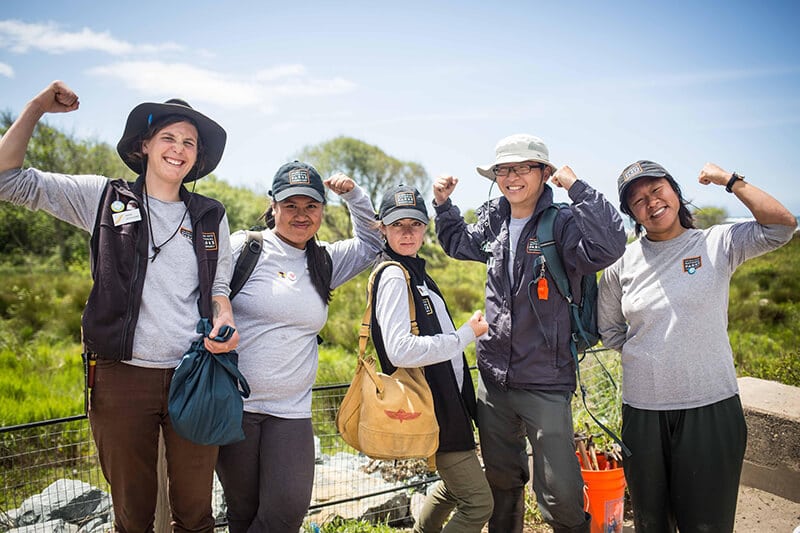 The Golden Gate National Parks (GGNP) includes:
Muir Woods National Monument,
Fort Point National Historic Site, and
The Golden Gate National Recreation Area.
The GGNP is home to more than 1,400 historic structures (from Alcatraz to Fort Funston), over 130 miles of trails, and nineteen separate ecosystems in seven distinct watersheds. It has the most extensive museum collection in the National Park System and supports dozens of federally protected plant and animal species.
Over 19 million visitors come to experience the GGNP each year (beating the visitation of Yosemite, Yellowstone, Olympic, and Grand Canyon national parks combined!).
Golden Gate National Parks Conservancy History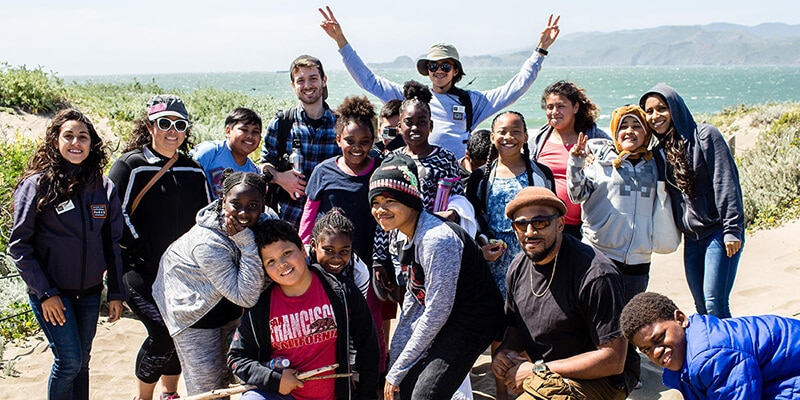 The Parks Conservancy was established in 1981 as the Golden Gate National Parks Association (GGNPA) and has since established a reputation as an innovative leader among nonprofit conservation organizations. In 1982, one of the first things the Conservancy accomplished was monetizing park visitor centers to raise funds for park programs and projects.
In 1985, the GGNPA launched its Members program and attracted 5,000 supporters in its first three years of operation. They also started a pioneering program that trained volunteers as hawk counters, banders, and trackers for the Golden Gate Raptor Observatory and established the Habitat Restoration Team, one of the longest-running volunteer programs within the park.
During the 1990s, the Parks Association worked with the National Park Service to convert the Presidio from post to park and unveiled a wildly successful identity campaign featuring eye-catching Michael Schwab-designed logos for each park. They also found new ways to attract visitors (think Alcatraz Night Tours!).
In 2003, the Parks Association changed its name to the Golden Gate National Parks Conservancy. Into the 2000s, the GGNPC unveiled new programs to nurture and engage future generations of park lovers: Junior Ranger, Teens on Trails, and Camping at the Presidio (CAP).
Since its existence, the Conservancy has reached numerous milestones. It attained LEED Platinum status for some of its buildings—the highest certification possible—granted in 2013 to the Golden Gate National Recreation Area's Crissy Field and Land's End Lookout. It also celebrated the 20th anniversary of Crissy Field's revitalization in May 2021 (to date, one of the most popular outdoor spaces in San Francisco with over 15 million visitors!).
Today, the Golden Gate National Parks Conservancy is over 14,000 members strong, and its work is viewed as a worldwide model for urban park management. The GGNPC also serves as a leader in environmental stewardship amongst national parks, earning many awards for its restoration and sustainability efforts.
How the Golden Gate National Parks Conservancy Gives Back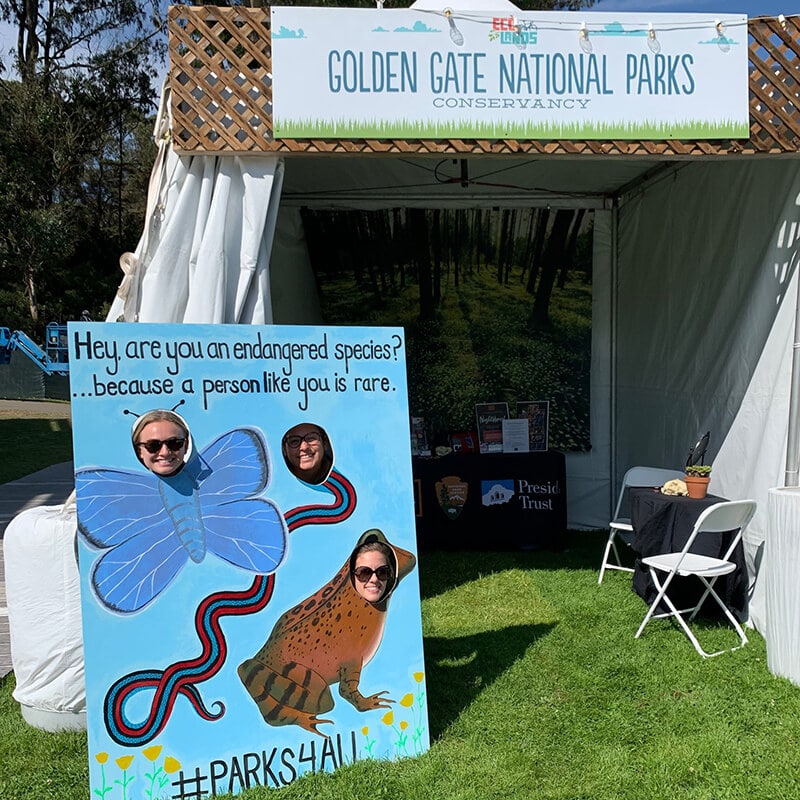 The Golden Gate National Parks Conservancy has many diverse programs and projects in support of the parks and gives back to the community in the following ways:
1. Trail and Park Improvements
The Parks Conservancy has an award-winning Projects team that ensures the sustainability and enjoyment of its parks by creating new and enhanced trails, restoring cultural and natural landscapes, and more. A few Parks Conservancy programs and restoration projects include:
Preserving Marin County's Mt. Tamalpais' natural resources through One Tam
Protecting habitats and rare species (like Mission blue butterflies) at Marin Headlands
Building and maintaining its "world-class trail system" with Trails Forever programs, and
Repairing and reopening Fort Mason's Black Point Historic Gardens.
2. Protect Plants, Animals, and Ecosystems
The UNESCO designates the Golden Gate National Parks a "biodiversity hotspot" for its significant natural resources—it also has the third-largest number of endangered and threatened bird species within the National Park Service.
There are nearly 53 species of mammals, 250 species of birds, 20 species of reptiles, and 11 species of amphibians that call the Golden Gate National Parks home. The Parks Conservancy conserves the wildlife and habitats of its parks through the following programs:
The Golden Gate Raptor Observatory (GGPO): This over 30-year program inspires the preservation of California raptor populations (birds of prey like hawks, eagles, and vultures!).
Native Plant Nurseries: The Conservancy runs volunteer programs where communities help restore native plant habitats needed for local flora and fauna to thrive.
Conservation: Staff and trained volunteers collect and analyze data to help protect endangered species and monitor the plant survival across the GGNP.
3. Education and Youth Programs
The Conservancy's hands-on programs for kids and youth at all grade levels cultivate a love for nature and wildlife at an early age, which can tremendously impact the national parks' future:
4. Community Shuttle Program
The Parks Conservancy teamed up with the Presidio Trust and the National Park Service to offer a free shuttle program (funded by the California State Coastal Conservancy) to connect the Bayview Hunters Point community in San Francisco to their national parks.
Golden Gate National Parks Conservancy Impact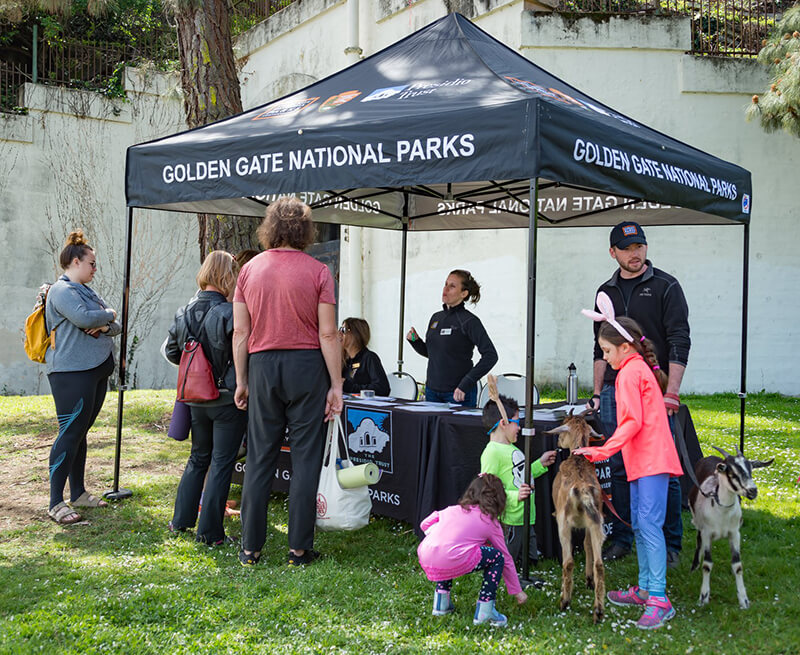 Since 1981, the Conservancy has helped to provide over $624 million in support to the Golden Gate National Parks, which enabled the park staff to:
Rehabilitate more than 100 historic structures
Protect 30+ endangered and threatened species through habitat restoration
Preserve the redwoods at Muir Woods National Monument
Educate more than 540,000 school kids through its Parks as Classrooms program
Return endangered plants cultivated in the Conservancy's nurseries to the Presidio, and
Build a café and environmental education center at Crissy Field.
The Conservancy effectively engages local communities and has rallied more than 357,000 volunteers to participate in its innovative park stewardship and education programs—and clocked in over 7 million hours of volunteer time!
Future Plans for the Golden Gate National Parks Conservancy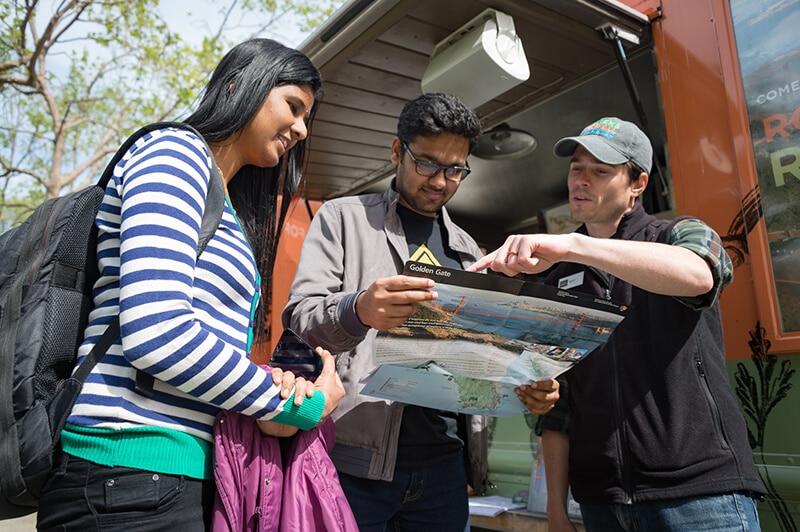 During the pandemic, significant revenue loss disrupted park operations and substantially impacted Golden Gate National Parks' sustainability programs. As it looks to the future, the GGNPC plans to reclaim its carbon-neutral status with a renewed commitment to its climate and sustainability goals that include programs and ongoing conservation projects to:
Reduce fossil fuel emissions
Increase waste diversion
Increase the number of sustainably built facilities and amenities, and
Develop new land management strategies in the face of climate change.
The Parks Conservancy also plans to provide more safe and sustainable ways for visitors to access parklands, such as restoring trails, improving bike paths, and installing more bike racks.
How to Support the Golden Gate National Parks Conservancy
A few ways you can show support:
Donate directly to help preserve 80,000 acres of parkland
Select Golden Gate National Parks Conservancy as your nonprofit when shopping with Giving Assistant.
Attend a fundraising social event (like Trails Mixers and NightHowl)
Become a Golden Gate National Parks Conservancy member
Participate in volunteer projects
What is Giving Assistant?
Giving Assistant helps online shoppers turn their everyday shopping into charitable giving.
Members have access to exclusive coupon codes and deals at thousands of online stores, plus earn cash back they can donate automatically to any nonprofit organization in the U.S.
Nonprofits that partner with Giving Assistant can expand their reach and achieve their fundraising goals with ease by receiving shopper donations.
We make giving effortless! If you haven't already, you can install our free browser extension, the Giving Assistant Button, to start shopping, saving, and donating your cash back to the causes you want to support, like the Golden Gate Conservancy. It's a win-win for everyone!