Gift ideas are not always easy to come by, but when it's time for graduation, it's especially important to find a meaningful gift. As you look for graduation gifts for her, show her how much you care with these fun and practical gift ideas.
Here are some of our favorite graduation gifts, complete with a short guide to help you identify the best options for gifting. 
The Best Graduation Gift Ideas for Her for 2023
This classic Kate Spade work tote in soft pebbled leather is destined to be a wardrobe essential. Such a beautiful and practical gift that she can utilize at her new job or for her next weekend get away. This large tote has all the space to fit all the necessities including phone, tablets and laptops.
Savings Tip: Find Kate Spade coupon codes for the best deal.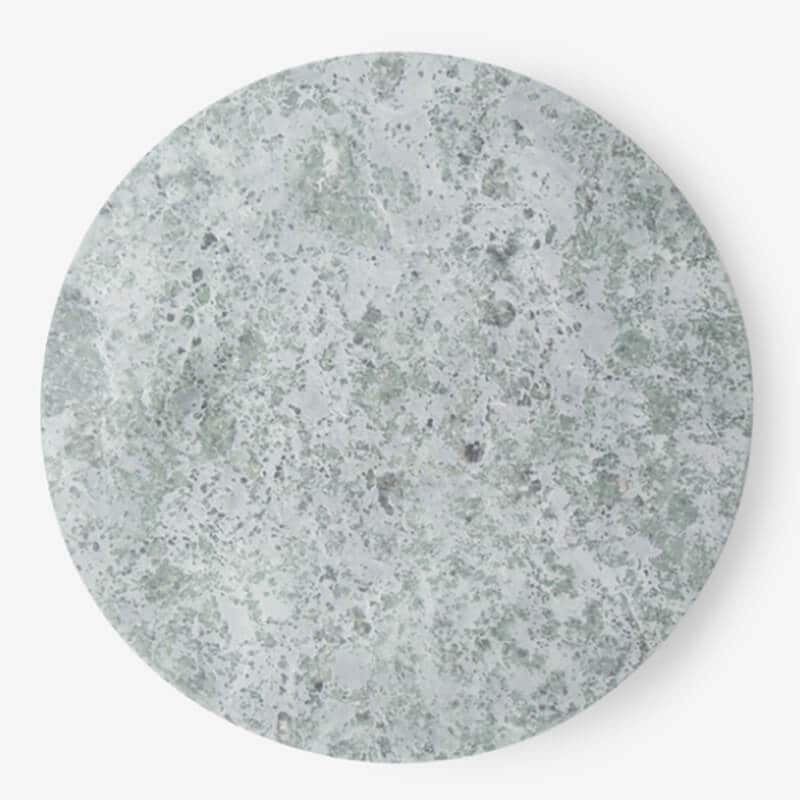 If you're looking at college or even high school graduation gifts for your favorite pizza lover, then this pizza stone is going to bring them years of joy. Soapstone is non porous and it radiates heat more evenly than any other type of surface, so every pizza they cook on it will come out crispy and evenly cooked. They're stainproof, nonstick, and eco-friendly. Who doesn't want to be able to make the perfect pizza every time?
Savings Tip: Check out Bespoke Post promo codes for the best deal.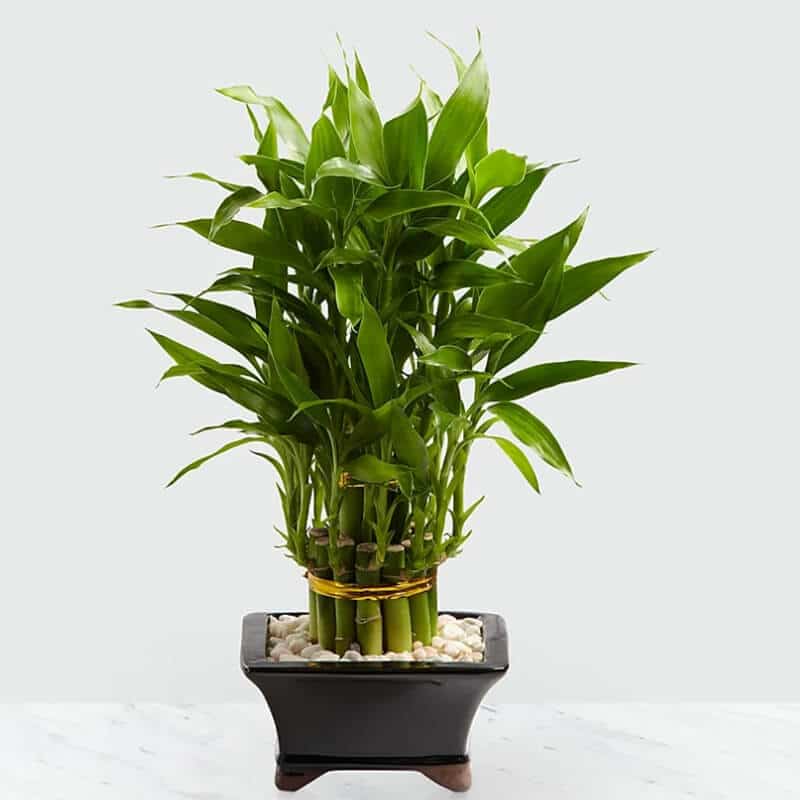 Living bamboo is believed to provide good luck to the person who has received it. This double lucky plant has 2 layers of Bamboo, tied together with a gold band so that your college grad is going to be doubly lucky in life. It includes pebbles, care information, and a 5" ceramic container. All they need to do is add water – bamboo is super easy to care for!
Savings Tip: Get FTD promo codes for the best deal.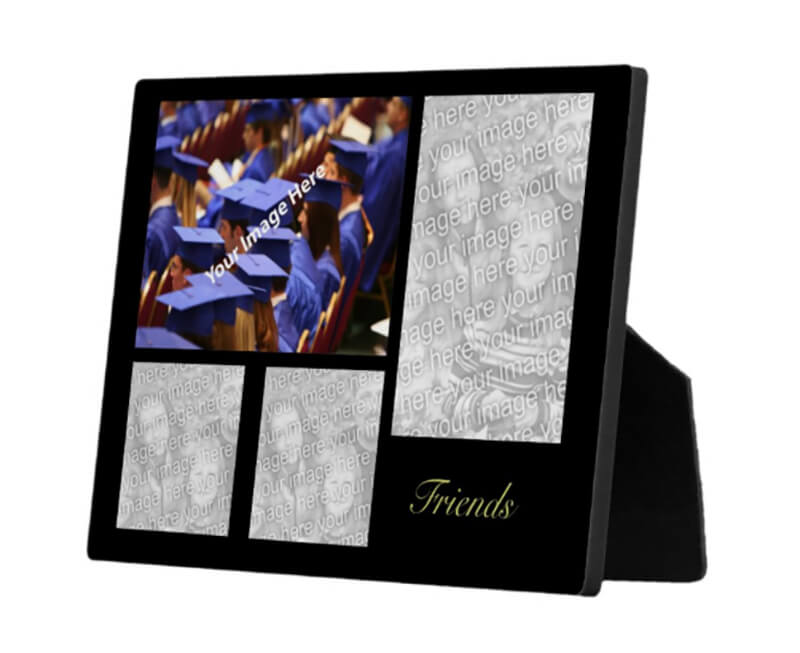 If your graduate is like most of today's youth, they have tons of pictures from their mobile device. This photo collage plaque allows you to put together their favorites and make a beautiful keepsake plaque that they can hang anywhere. The hardboard panel allows the vibrant colors to pop, and it is designed to prevent fading.
Savings Tip: Find Zazzle promo codes for the best deal.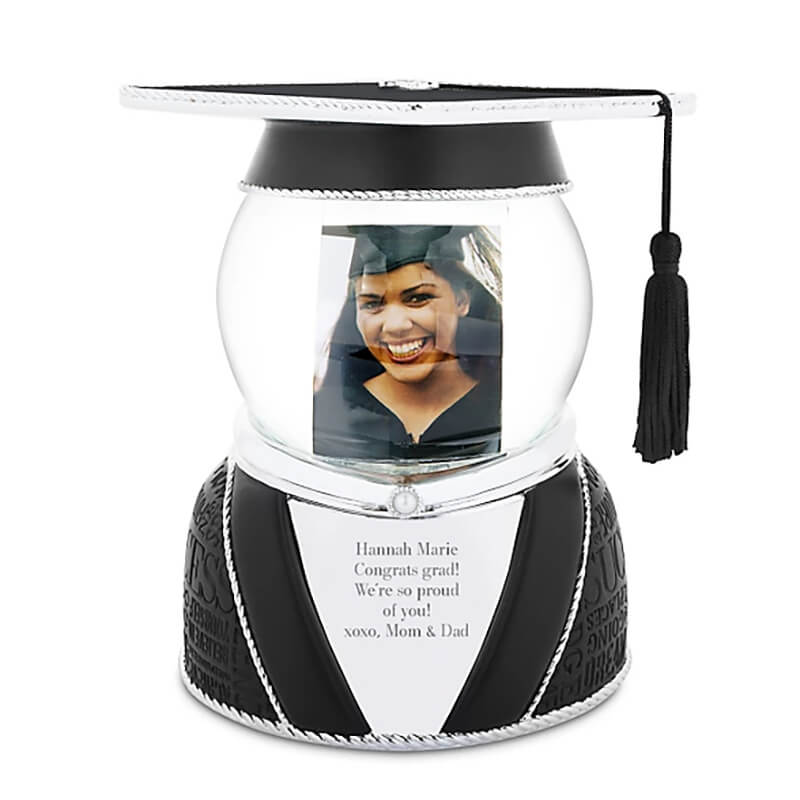 Want to get a cute memento that celebrates achievements and brings back college memories? This snow globe plays "Pomp and Circumstance" and any photo can be placed inside of the frame. Plus, you can engrave the front with their graduation year, a special message, their name, and/or their monogram.
Savings Tip: Get Things Remembered promo codes for the best deal.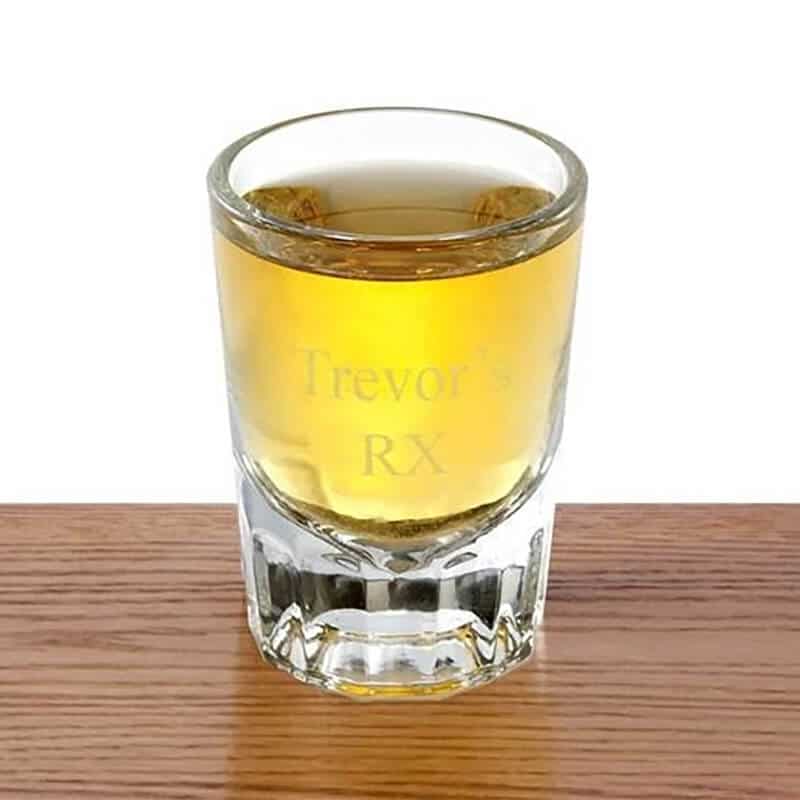 If they're going to be adulting, then why shouldn't they have a drink from time to time? Then a set of shot glasses is the best gift to help them get through the end of a long week. These personalized shot glasses can have a name, message, initials, or their graduation year engraved on it. Purchase them early enough and you can have a celebratory drink together!
Savings Tip: Get A Gift Personalized promo codes for the best deal.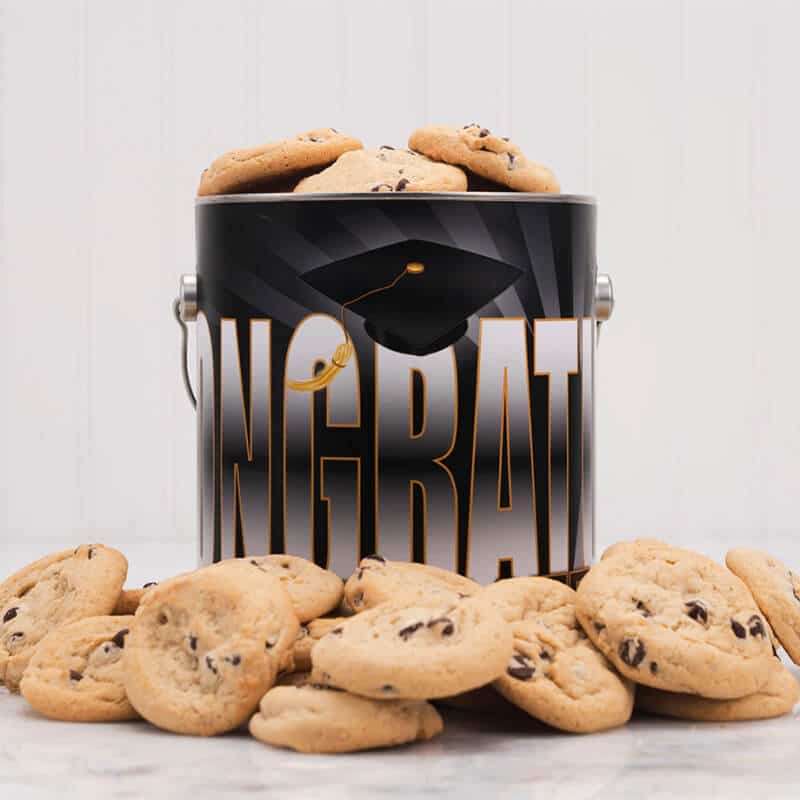 Cookies are among the best options out there when you're looking at graduation gift ideas, and a gallon of cookies is a great way to show your excitement. This gallon cookie tin has a vibrant graduation design, and it is filled to the top with soft-baked chocolate chip cookies. Pair the tin with some classic champagne for a really celebratory gift.
Savings Tip: Find GiftBasket.com coupon codes for the best deal.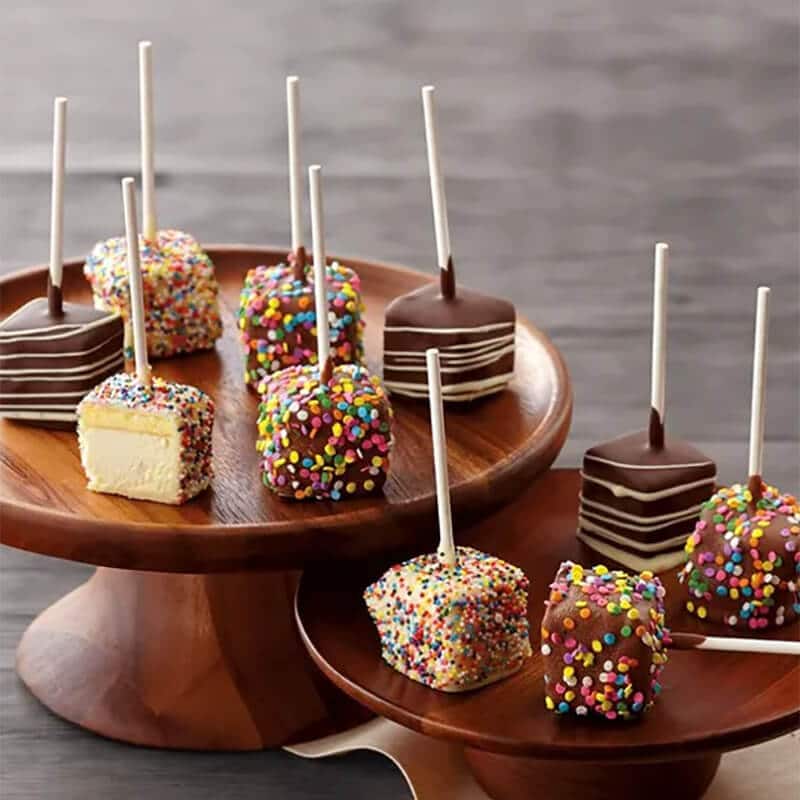 Want to help your recent grad to splurge? These "Celebrate" cheesecake pops are going to be a hit at any graduation party or other celebration. The inside of each pop is creamy cheesecake, and they're covered with silky chocolate that is decorated with sprinkles, dots of confetti, or white piping. Your grad may not want to share because they taste so good!
Savings Tip: Get Harry & David coupons for the best deal.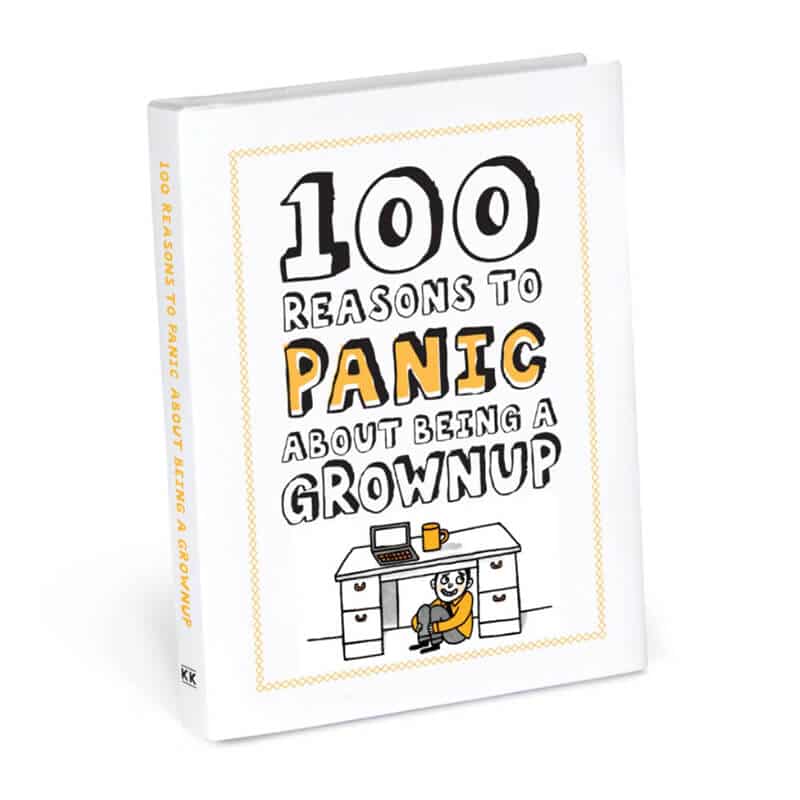 A book about being a grown up is, of course, the perfect gift for a new graduate. It shows a worrisome (but hilarious) look at all of the stressful things about adulthood, while also helping to reassure them that it's all going to be okay in the long run. This hardcover book has 112 pages and 30+ hilarious illustrations that they'll enjoy.
Savings Tip: Check out Knock Knock Stuff promo codes for the best deal.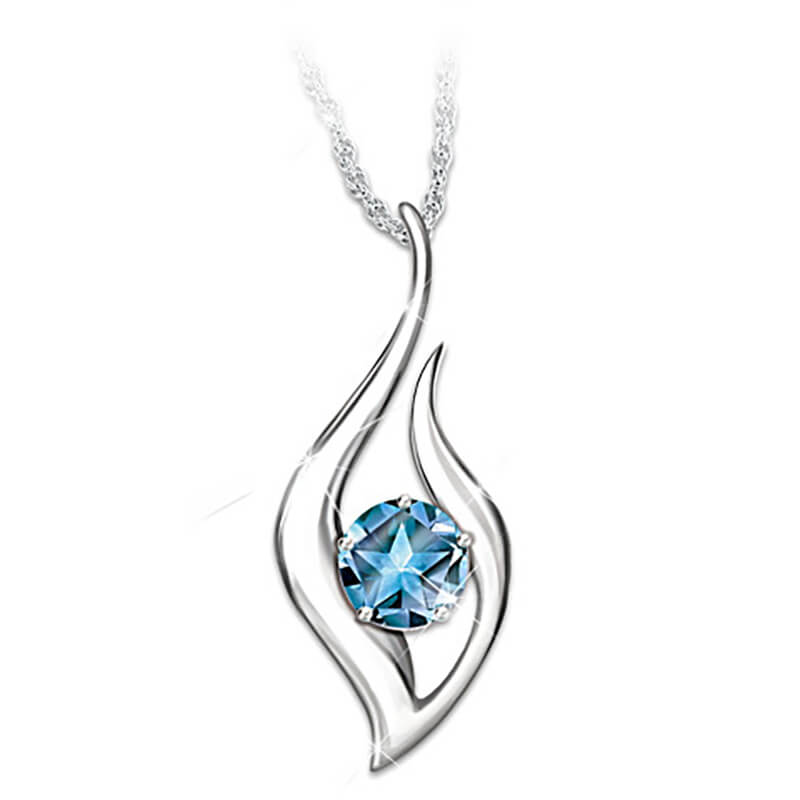 Celebrating hopes and dreams is central to graduation, and this keepsake is a beautiful piece of jewelry she will treasure forever. The stunning silver pendant has a simulated blue topaz with a star in its center and on the back it says "Reach for the Stars" with the class year.
Savings Tip: Get Bradford Exchange Online promo codes for the best deal.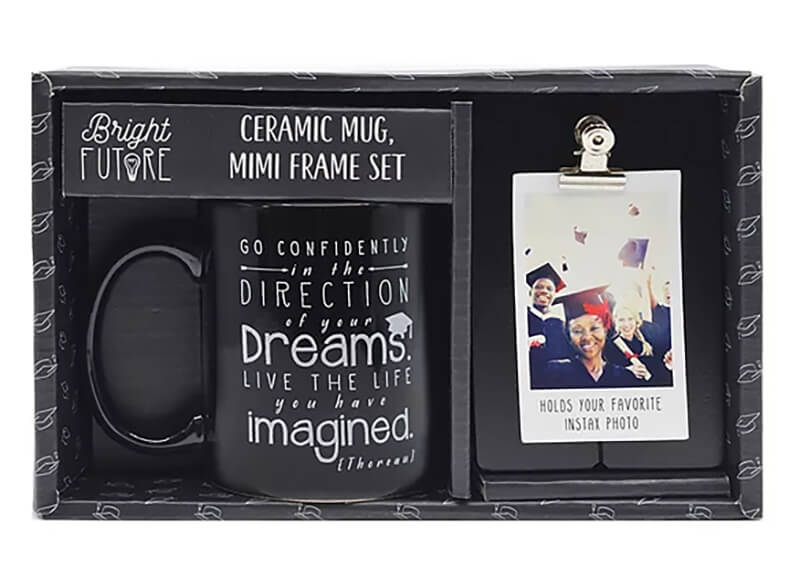 A great gift to go with their new coffee maker is a graduation mug. This particular mug is part of a two piece set; the other piece is a small frame that they can use to display a small professional photo of themselves or a dear friend. The mug and frame both have a graduation theme; the mug holds 13 ounces.
Savings Tip: Find Kohl's promo codes for the best deal.
Constructed from real wood, this Bluetooth speaker from Target features a 3-speed turntable, CD player, USB player, FM radio, and a cassette player for good measure. You can also record directly to your computer using software.
A great graduation present idea for the music lover, this speaker's vintage record player/radio aesthetic is sure to make the new grad feel like getting through college was worth it while dancing along to music in their new digs.
Why we like this:
fun, different and retro for the music lover
has bluetooth technology
has a cassette player for old schoolers
The Boulevard Beverly Marble Watch, 38mm, is an analog watch constructed with hardened mineral crystal, a stainless-steel case brushed with rose gold as well as rose gold hands and time markers and an interchangeable genuine leather strap. It's also gorgeous.
One of the best graduation gifts for her high school or college graduation, there's nothing that signifies a huge accomplishment and being seen as a responsible grown-up quite like having a gorgeous timepiece on their wrist.
Savings Tip: Get Bloomingdale's promo codes for the best deal.
Practical ideas for graduation gifts for her include this canvas and leather multipurpose tote bag. Durable, light, spacious and good looking, wherever your recent grad is running – around campus, the city or her office – her daily essentials will be right with her.
We like this bag because it is not too feminine and also very durable. The tote's versatility makes it one of the best graduation gifts for college graduates because it can be used as a carry-on weekend bag, gym bag, or a daily shoulder bag for work and graduate school.
Savings Tip: Find Walmart promo code for the best deal.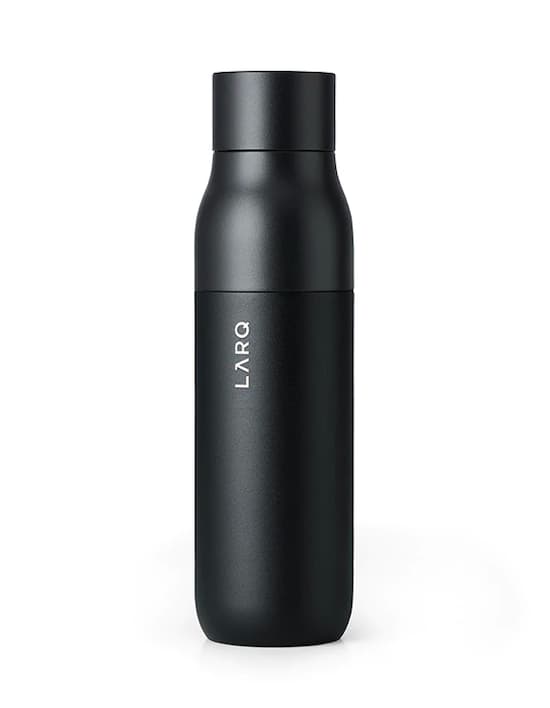 The LARQ Bottle PureVis is the world's first self-cleaning water bottle and water purification system. It uses UV-C LED light to eliminate up to 99.9999% of bio-contaminants from your water and bottle. This bottle comes in 17 oz or 25 oz and 6 fun earthy colors.
Why we like this:
it is self-cleaning. need we say more
never look for clean water again
With this planner, she will be empowered to be her best self when college demands pile up or her new job gets rough. She can organize her life without the overwhelming feeling that planners usually trigger with the help of 3 goal templates, a habit tracker, weekly planning, and motivational quotes.
Luxuriously crafted and well-made, it is a great graduation gift idea that keeps giving.
Savings Tip: Find The Grommet promo codes for the best deal.
Thirty is not the new twenty. This graduation gift will make sure they understand that. Our culture may have fun saying the twentysomething years are irrelevant but it's not true, it's important to step into adulthood with a plan while not taking it all too seriously.
As far as college graduation gifts for her goes, this one is a winner she will appreciate.
Savings Tip: Get Barnes & Noble coupons for the best deal.
Dreaming big is the theme of many high school graduation gifts, and this keepsake is no exception. Filled with plenty of great advice, this pillow is 15 inches square and can be personalized with their name and whatever year that they've graduated. It's a lovely way for them to remember where they came from and to step into the next chapter of their life.
Savings Tip: Get Personal Creations promo codes for the best deal.
The Champagne Gold Watch from MVMT offers excellent craftsmanship and the perfect color! This versatile piece can be worn casually as an everyday watch or paired with bangles to dress it up. More than a watch: the gift of time, routine, and sophistication.
Saving Tip: Find MVMT coupons for the best deal.
Want to give a graduation gift that you know will bring a smile to her face? The home gym from Lululemon is great for the world we live in today. Now she can work out at home, a great way to show how much you care.
Savings Tip: Find lululemon promo codes for the best deal.
Haven't found the right piece of jewelry yet? Then try the fine items at Kobelli. The gemstone riddles bracelets, necklaces, and more are eye-catching and gorgeous ways to express your love. You can even customize your own lab-grown diamond setting and selection.
This diamond cluster necklace is only one amongst many beautiful options on site – but each will be a great way to offer a tangible expression of your love.
Savings Tip: Find Kobelli coupon codes for the best deal.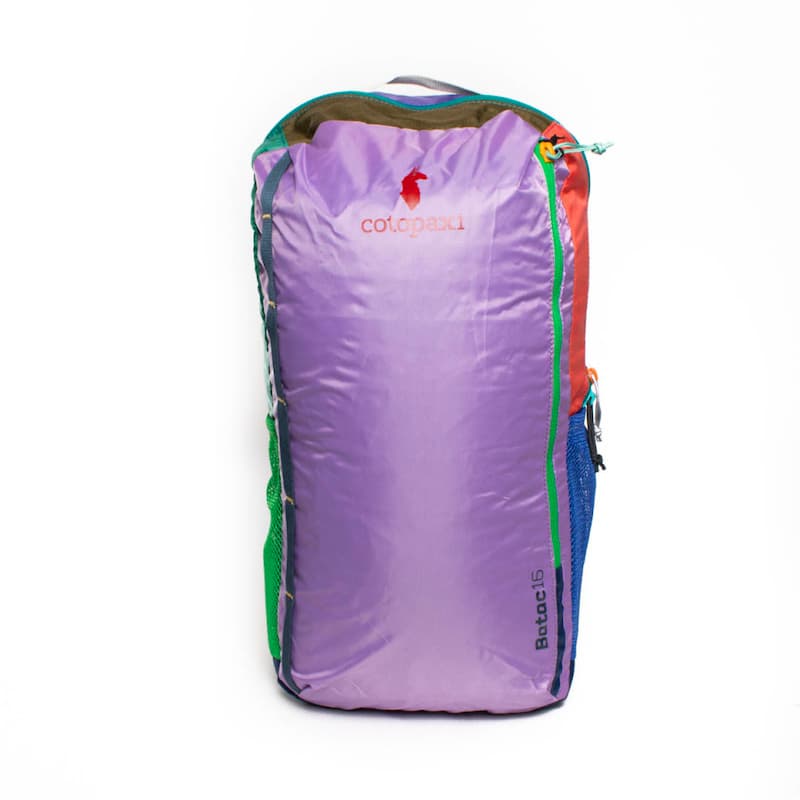 We love this bag because no two bags are alike. If she likes to travel or explore, this is a gift for her. Maybe she is taking a year off or will be traveling while working remotely, and if so, she will appreciate this re-worn bag. It is eco-friendly, made with recycled materials, and just plain cool. It is also super light and versatile making it a great school pack, gym bag, and daily travel companion.
Why we like this:
Made from recycled materials
No two bags are a like, neither is she
super versatile
Slippers are a girl's best friend, right? Ugg offers some of the softest slippers on the market. They are comfy, stylish, and very warm. There are several styles and colors to choose from so you can pick a pair that your girlfriend will wear every day.
Savings Tip: Get UGG promo codes for the best deal.
Gifting perfume is a passionate present where you can't go wrong. She will love this trio of favorites from the Love Relentlessly collection, capturing that euphoric feeling of falling in love. The set is packaged inside a signature orange gift box and includes a spray, lotion, and a rollerball.
Savings Tip: Shop with Giving Assistant and get Tory Burch promo codes for the best deal.
Gifting a zodiac necklace shows how much you care and how proud you are of your graduate. She is unique and deserves a piece that expresses how much she has earned her graduation. Each piece is made with gold-filled, rose gold-filled or sterling silver. Choose her zodiac sign and she will love and cherish this necklace forever and remind her of her amazing accomplishment.
Savings Tip: Find Made By Mary coupon codes for the best deal.
This makes a great graduation gift for the gal who loves to cook. Or even the ones who don't. This is gift will come in handy when entertaining at her new home or with family. This pack is filled with all of the spices any gal would need in their kitchen, including a salt and pepper blend, all-purpose seasoning, Italian herbs, Paprika, cinnamon, onion, and garlic, among others.
We like this graduation gift because each spice is in a glass jar and the gift set comes in a wooden box. Send her into the real world (or a college dorm) with a well-stocked spice kit.
Savings Tip: Check out Savory promo codes for the best deal.
Smelling sweet is never a bad thing. Buying perfume for a lady may seem cliche, but it's a gift that she will appreciate and use for a long time to come. The Gucci Guilty perfume is popular for a reason. The notes of bergamot, jasmine, and amber are just right for daily wear for any woman. The pleasant reminder of your graduation gift will be with her day-to-day.
Savings Tip: Get FragranceX coupons for the best deal.
A laptop is a necessity in this tech age. Having a personal computer is excellent for personal or business use but can be expensive for the new graduate.
She will appreciate an updated computer for at-home or at-work use. The Dell Inspiron 15″ 3000 laptop is excellent for either situation. This is a graduation gift for her that keeps on giving.
Why we like this:
top technical gift at a refurbished price
Portable and easy to carry
A stemless wine glass is an essential piece of glassware for a wine lover, and giving a set of eight as a gift is a practical and safe bet for your graduate. You know she will always have a use for good glasses. These tumbler glasses are designed to enhance the pleasure of your wine varietals and are made to easily fit within and withstand a dishwasher.
A stemless wine glass is sturdier and requires less delicacy than stemmed glasses. The stem is intended to slow down the wine's heating, and therefore red wine, like a Merlot, is usually preferred for stemless glasses.
Why we like this:
Get 8, pay for 6
Practical, timeless, can be used for wine, water or cocktails
Enhances the flavor of red wines
What Should You Consider with College Grad Gifts for Her? 
Getting her ready for the next chapter
High school was a first step, but now she's taking an even bigger one! Whether she's going into the "real world" or starting her post grad studies, she needs to be ready. You can help your loved one to get items for her new apartment, or just make sure she has gift cards so that she can get what she wants or needs. 
Sentimentality is always helpful 
Most recent grads are excited about what's next, but they also want to hold their experiences close to their heart. T-shirts, tassels, and other mementos are always a great way to celebrate their accomplishments and ensure that they have what they want for a graduation gift. 
Practical gifts are a great option
Sometimes, new grads just need something practical for their new job. Useful gifts like carry-on bags, business card holders, tote bags, tumblers, coffee mugs, and other similar items can be both sentimental and helpful, which makes them a perfect gift. 
Shop for Your Favorite College Grad Soon! 
They're a college graduate and they deserve to celebrate their years of hard work! Help them to make that celebration special by finding gifts that are fun, useful, and helpful for what they want and need to be able to do. Gift giving for college grads can be fun if you know where to look.