The 2nd wedding anniversary – also called the cotton anniversary because of the traditional gifts given here– is often overlooked. It's a "big one" like the 5th, 10th, or even 15th anniversary, and everyone has likely gotten into some sort of rhythm in their 2 years of marriage. But, just because it's not a big anniversary doesn't mean it shouldn't be celebrated.
So, what sorts of things should you get for their second anniversary? Are there anniversary gifts that make sense for what they need and want? Here is a gift guide with some of the best second wedding anniversary gift ideas that we've found.
The Best 2nd Year Anniversary Gift Ideas for 2023
1. Personalized Cooler – Insulated – Coastal Cotton – Tote Bag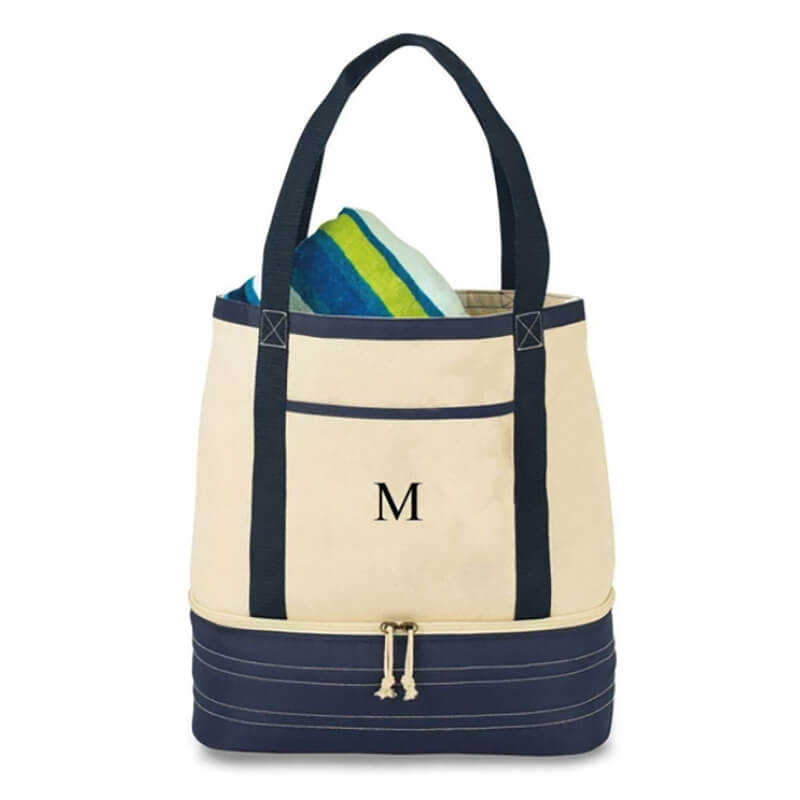 Nowadays more couples than ever are making the choice to push off their honeymoon to a later date. Because of that, they may be looking for vacation items that they can take with them when they finally decide to go. This personalized cooler is a fun option that you can get embroidered with their initials or name.
This cotton gift is large enough to carry an entire picnic, and it has heavy straps and a zipper base that can hold soda separately from the rest of your items. It measures 14.75 by 16.5 by 6.5 and is fully insulated, so it's perfect for any vacation or day trip.
2. Personalized Couples White Apron Set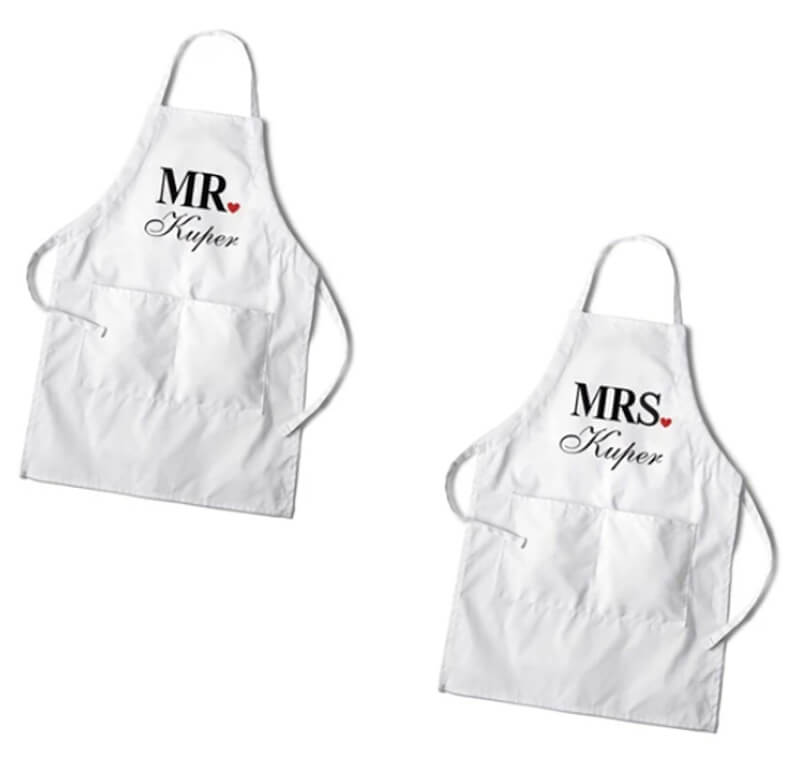 If the couple that you're gifting items to enjoys cooking together, then this adorable apron set is a lovely cotton anniversary gift to consider. This charming set comes in 3 different patterns and can be personalized with their initials or names.
The aprons are one size fits most, with measurements of 28 3/8 inches by 19.5 inches. It's a polyester and cotton blend, with heat pressed vinyl, to provide the best protection while they're in the kitchen or at the grill.
Get Personalization Mall promo codes for the best deal.
3. First Dance Song Lyric Wall Art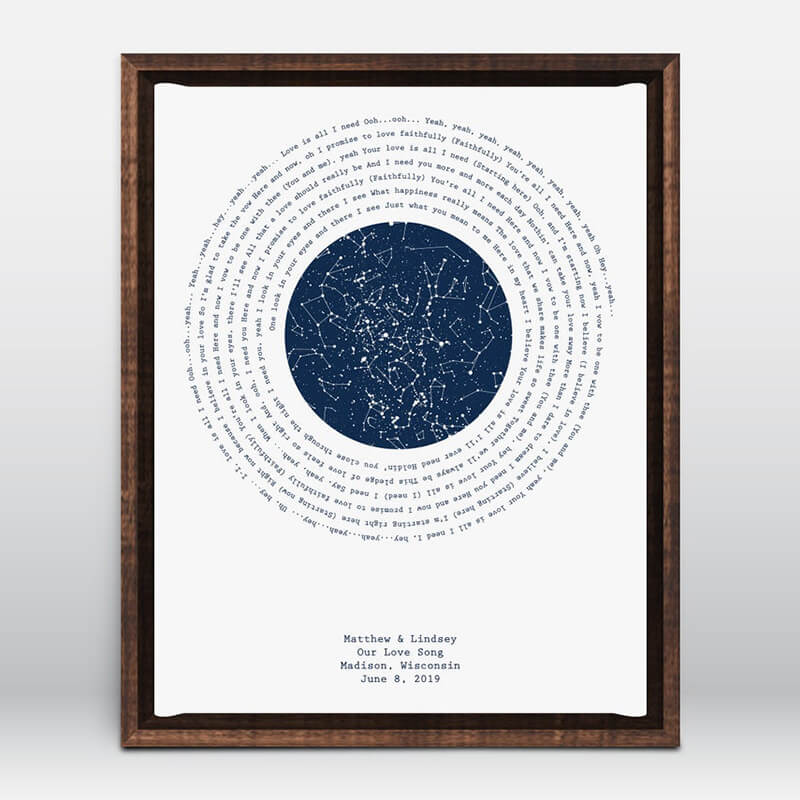 One of the most special moments at any wedding is not the wedding gifts, but the first dance. There's a lot of emotion around it, and many couples remember everything that happened around their first dance even if the rest of their wedding day is a blur.
This unique first dance song lyric wall art is a really cool keepsake that features the stars in the night sky on the date and in the location that you were married. It uses all of the lyrics to make what looks like a record. Then, it's framed in an 11 inch by 14 inch framed canvas for the perfect second anniversary gift.
4. Roses and Vines Romantic 2nd Wedding Anniversary Throw Pillow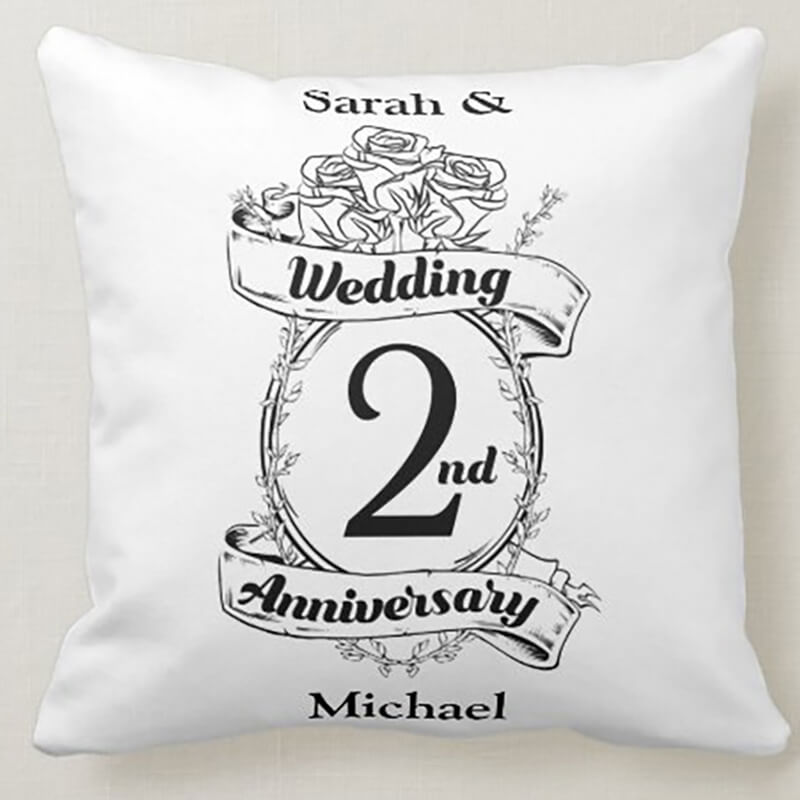 Another great option for the cotton anniversary is to get some sort of custom throw pillow. This particular pillow is a wedding anniversary gift that really puts the second anniversary gift theme front and center.
At 16" x 16" in size, it is a solid addition to any couch or bed. The personalization is very classy, and the heavyweight stretch material is wrinkle free. The filling is synthetic, and the zipper is completely hidden from view, which makes the pillow look uniform.
5. 2nd Anniversary Gift For Her Chalk Hearts Hand Drawn Round Pillow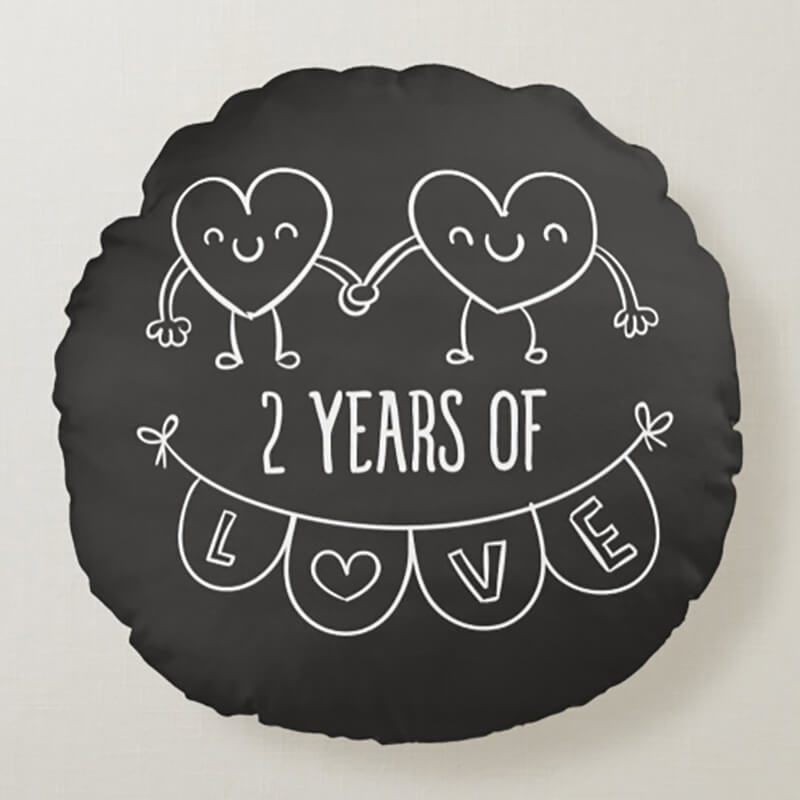 This is another cute pillow design, complete with a hand drawn pillowcase that looks absolutely adorable.
These top-end pillows are soft and made from high quality fabric, allowing it to stretch and last a long time. You can personalize this adorable hand-drawn pillow so that it reflects the couple and everything that they love about each other.
Get Zazzle promo codes for the best deal.
6. Mr. And Mrs. Marriage Wall Art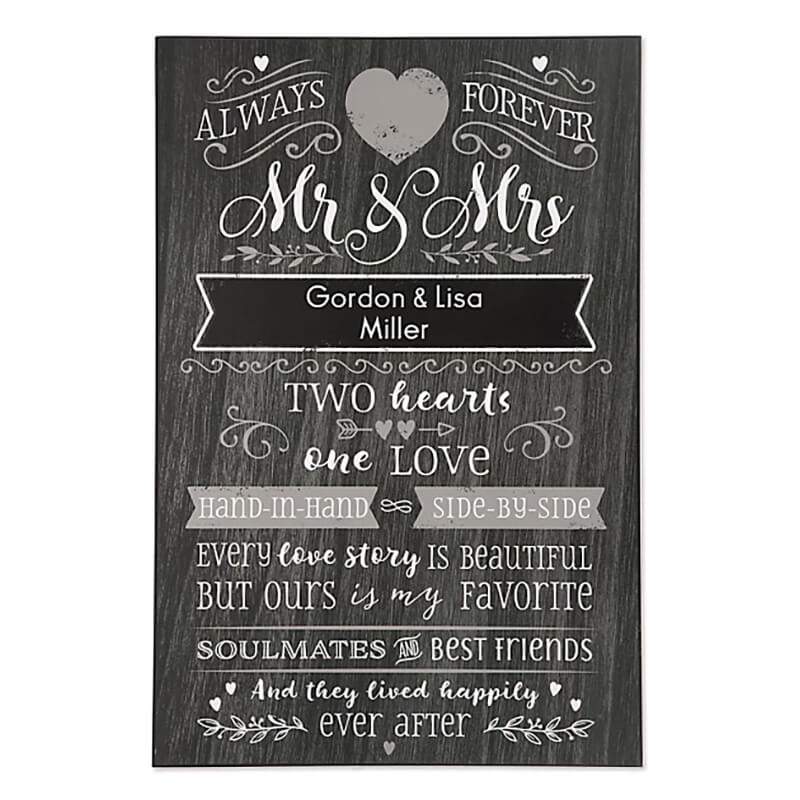 This lovely piece of wall art is engraved with the names of the happy couple onto it. Then, the rest of the 12 x 18 frame is filled with beautiful sayings and sentiments, representing their love and affection for one other.
The black, grey, and white art stands out, while also blending perfectly with any sort of décor or design that the couple may already have in their living space.
Get Things Remembered promo codes for the best deal.
7. His Side or Her Side Personalized Pillowcases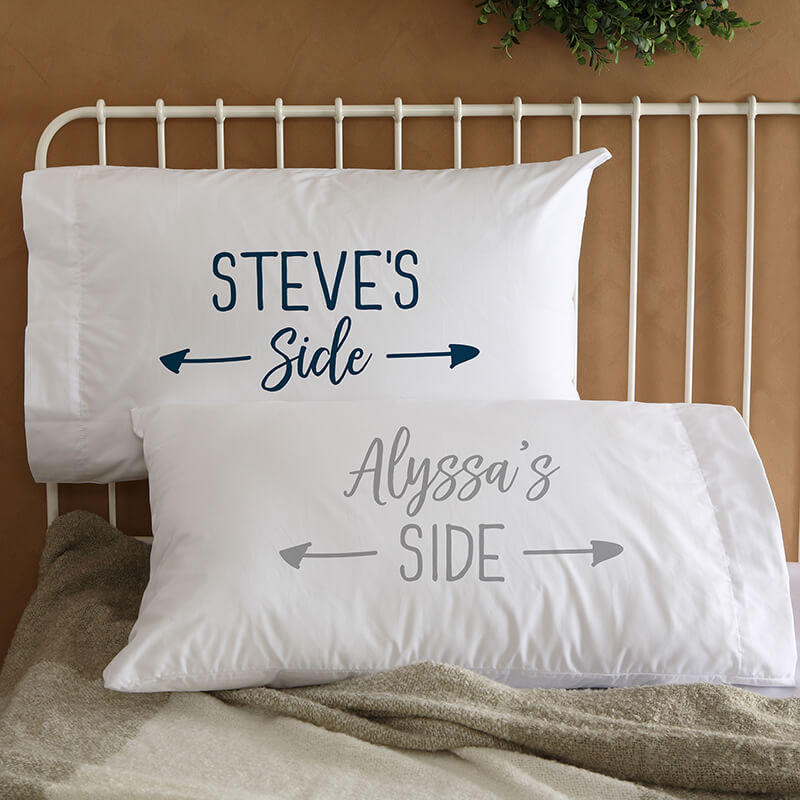 Matching pillowcases for the wedded couple can be a really fun gift that they cherish for years to come. The "His Side/Her Side" design can be personalized with the names of the couple, and they are standard sized (31 by 20 inches).
The pillowcases are soft (100% polyester) and completely white. But, when you choose the personalization that you want to use, you'll find that there are 8 different colors to choose from – burgundy, blush, black, navy, gray, tan, sky blue, and plum. This allows you to choose a design that will match the layout of the couple's room.
Get Personalization Mall promo codes for the best deal.
Buying Guide for 2nd Year Anniversaries
Did they just buy a home?
The second year after getting married is often filled with all sorts of life changes, and one of them is buying a home together.
It's very likely that they decided to purchase some sort of home, and that there are all sorts of things that they may need in order to enjoy that home to its fullest. Combining a housewarming gift with their 2nd anniversary gift is a great idea.
Has their family grown?
If they've had a child or gotten pets, you want to take that into consideration as you try to choose whatever you want to give them as a present. If their family has grown at all, be sure to incorporate those family members (or at least consider them) as you pick out 2nd anniversary gifts.
What's new?
In the 2 years since they got married, it's likely that there are some fun new technologies, tools, or products that have been popular and getting a lot of attention. You may want to use that information as inspiration for whatever it is that you are trying to do.
More Anniversary Gifts You Might Like:
A 2nd Wedding Anniversary Gift They'll Love
Finding a reason to celebrate the couples that you love is fun and exciting, and their second wedding anniversary is just as good a time as any to get them the best gifts possible. Whether you get a personalized bathrobe or a practical handmade item, you're sure to find some sort of gift that they are going to love and use for the long term.