Like a sparkling gem, your love is built to last. Celebrate your crystal anniversary major milestone with a traditional crystal gift for any 15th wedding anniversaries!
We've put together our favorite gifts made from crystal, selected for their beauty, sentimentality and heirloom potential. These products make great gifts for your partner or another couple you're celebrating, like parents, godparents or friends.
The Best 15th Year Anniversary Gift Ideas for 2023
1. Personalized Partial Wreath With Family Name Stemless Wine Glass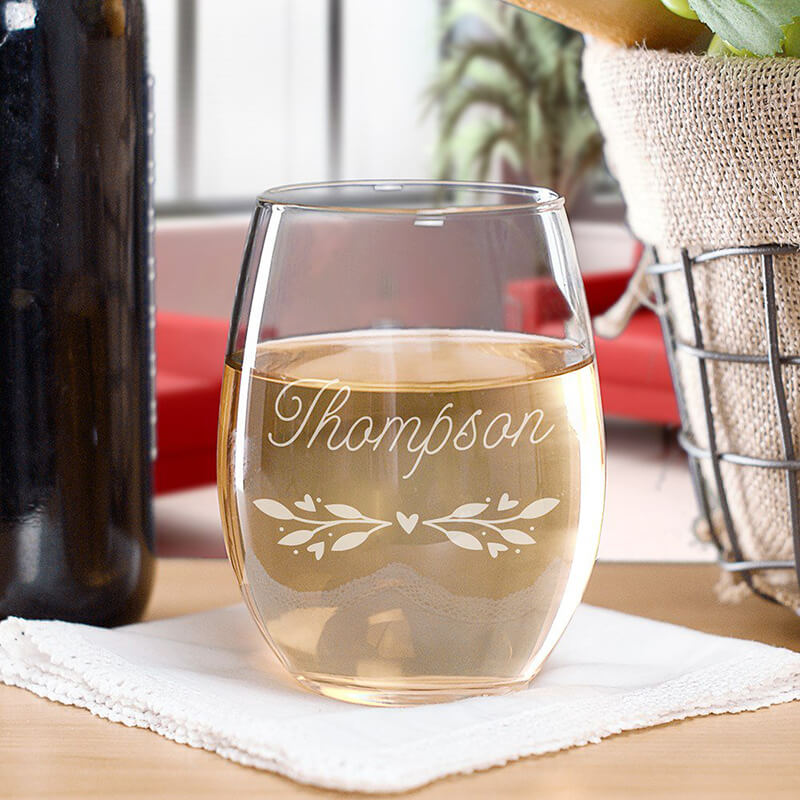 Wine glasses are a really classy option when you're looking to celebrate the crystal anniversary. These can be personalized and they're stemless, so you can just hold them in your hand without worrying about it teetering, falling over or the stem breaking.
Personalize the crystal anniversary gift with the family name etched above the stylized heart and leaf bough that adorns the side. This particular wine glass can hold up to 17 ounces of liquid.
Get GiftsForYouNow.com promo codes for the best deal.
2. 6 inch 3D Photo Crystals
3D photo designs are one of the more unique options that you can find for the crystal anniversary. This particular anniversary gift allows you to convert a picture into a 3D photo experience. It looks amazing and it can sit anywhere.
The base for the photo crystal comes in black or rosewood, and it allows it to sit anywhere, making it a beautiful centerpiece.
Get Things Remembered promo codes for the best deal.
3. Anniversary Memento Etched Crystal Vase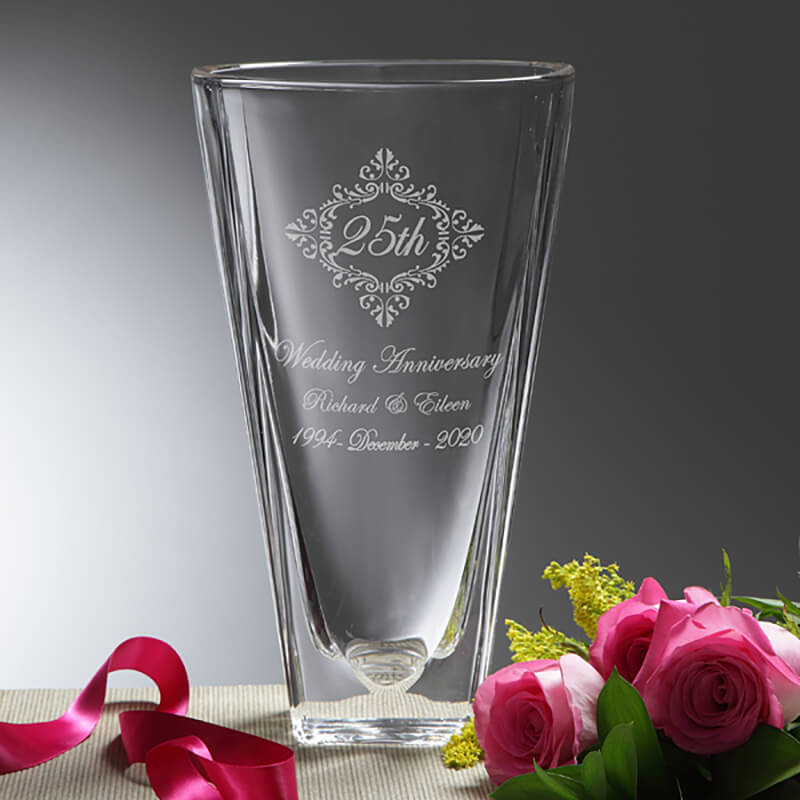 A crystal vase is a gorgeous way to display any sort of fresh flowers that you may have as a gift. This particular vase stands an impressive 11 inches high, which allows it to stand out on your mantel or table. Even if there aren't any fresh flowers in it, it's still an impressive show piece that any couple celebrating their 15th wedding anniversary will love.
This particular vase has a number of etching options, including the wedding anniversary year, when the anniversary date or wedding date was, and the first names of the couple. It makes for a perfect wedding anniversary gift that they'll always cherish.
Get Personalization Mall promo codes for the best deal.
4. Cool and Sturdy Engraved Pint Glass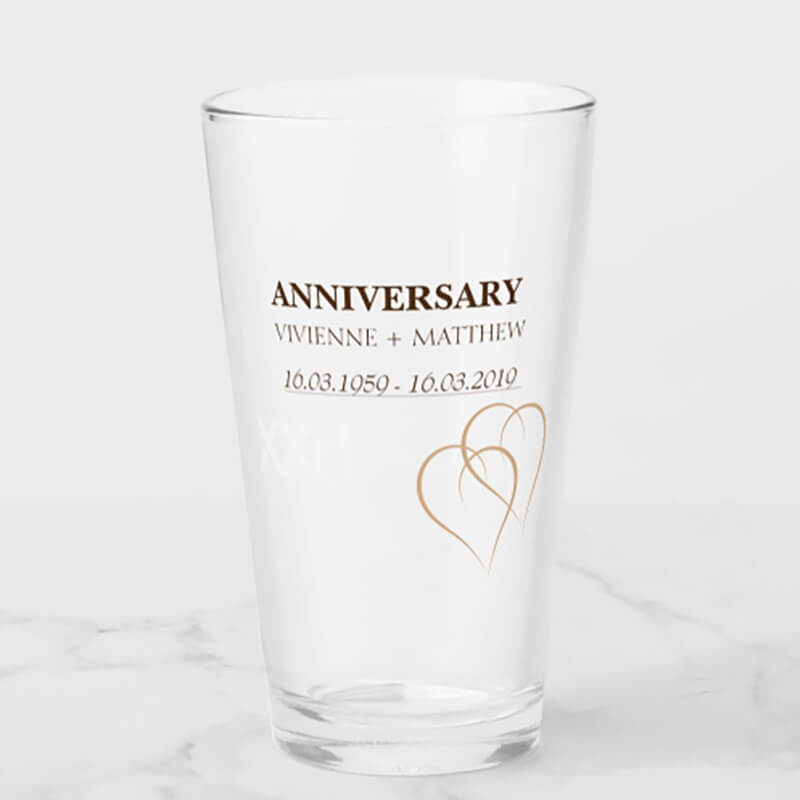 If the couple in your life really enjoys a good beer, then you may want to think about purchasing this lovely pint glass. Crafted from the best glass and made with husbands in mind, this 6 inch tall pint glass is a great showpiece and a refreshing place to hold the best brews.
The glass is sturdy, and it can be engraved with multiple lines of text so that you can do whatever you want to show a couple how much you love them. It holds about 16 ounces of liquid, as well, so your recipient can enjoy a tall glass of beer while hanging out during or after the 15 year anniversary celebration.
5. Mr. & Mrs. Engraved Crystal Ice Bucket & Chiller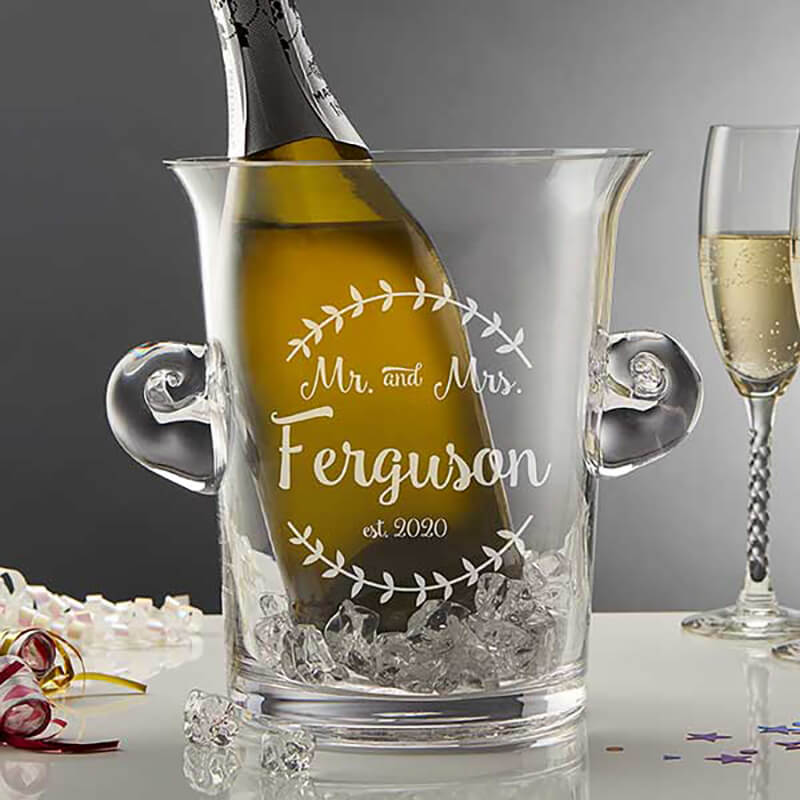 Want to step up the party a little bit? This lead-free crystal ice bucket and chiller can work as a wedding gift, but it's also perfect for a couple that is celebrating 15 years together. This quality crafted, etched ice bucket and chiller can ensure that your drinks and wine are nice and cold when you want them to be.
This is actually handcrafted, so no two Mr. and Mrs. Buckets are going to be the same. It can be custom etched with titles, last names, and a line of text that expresses how much you love the couple. You can also add the anniversary year or their wedding date, if that's what you want to do.
Get Personalization Mall promo codes for the best deal.
6. Personalized, Traditional 15 Years Anniversary Glass Gift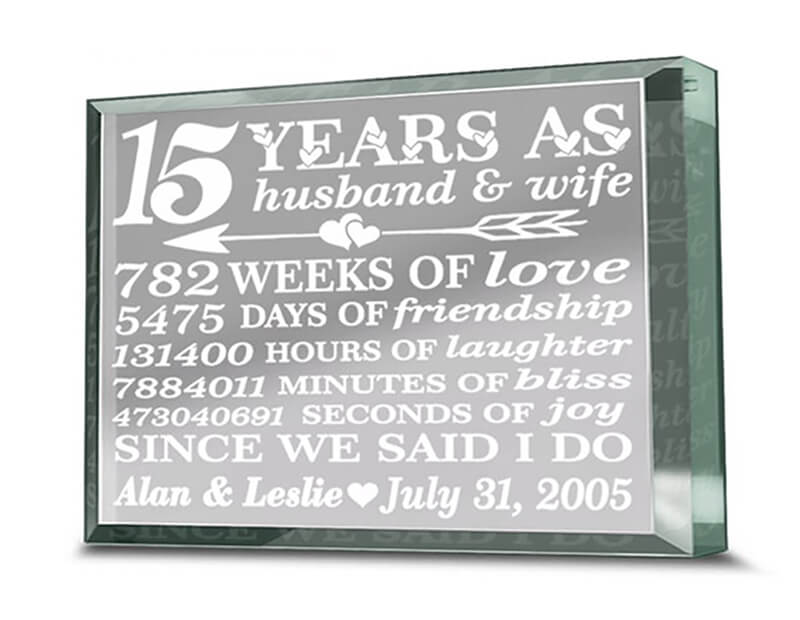 This lovely keepsake block is handmade from the best glass, and it measures 3.5" by 4.5", with 1/2 inch of thickness.
An elegant, simple crystal paperweight, it has the name of the couple and their wedding date or anniversary date on the bottom. Then, the block is engraved with the number of weeks, days, minutes, and seconds since their wedding day, which makes it a personalized paperweight like no other.
7. Personalized Family Name Glass Photo Frame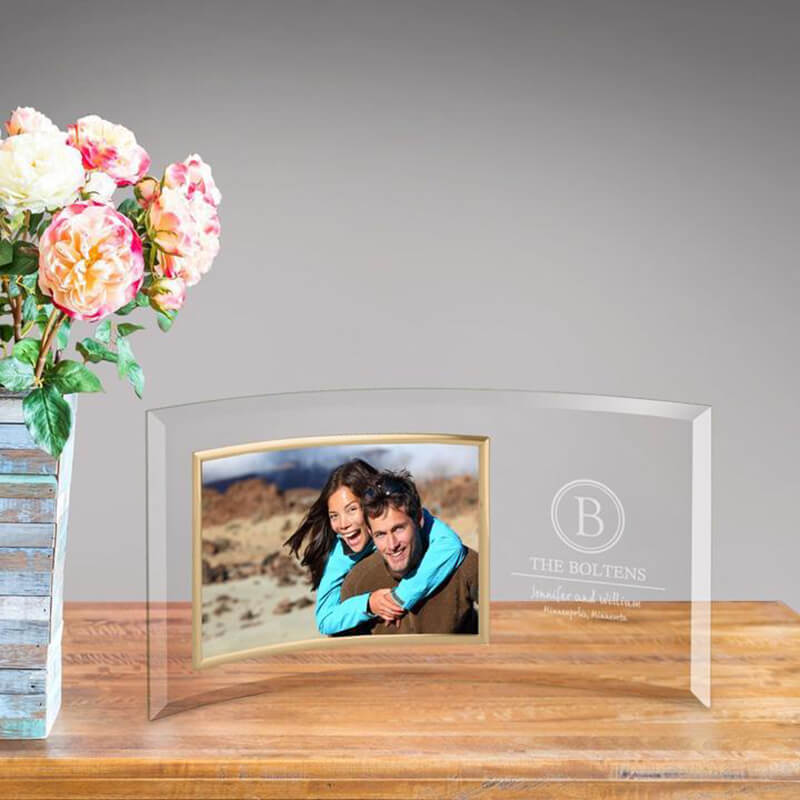 Picture frames don't need to be boring – this crystal picture frame is unique and looks a lot different than the traditional ones that you may be used to. Standing 7.5 inches tall and 13 inches wide, the piece is a curved glass frame that holds itself up on its own.
There is room for 3 lines of 20 characters for personalization, and it can fit a 5" by 7" photo. You can include a personalized message, the anniversary date, and pretty much anything else that you would want to include on this beautiful piece of art.
Our Tips for a 15th Year Anniversary Gift Buying Guide
Don't overspend
People don't want their friends and family to spend way too much money on their anniversary gifts, even if it's after many years of marriage. Be sure that you get something that works for your budget and that is also going to bring a smile to their faces, as well.
Have fun with the couple
Anniversaries are a time for fun, and the anniversary gift should reflect that in some way. Get something that is fun and that they're going to remember is from you, even if they look at it 10 or 15 years into the future.
You can't go wrong with timepieces
Since 15 years is the crystal anniversary, you may want to take some time to look at all of the different types of clocks and watches that are out there. Not only do they typically have crystal as a part of them, but there are some people who consider 15 to be the "timepiece anniversary" as well. You can hit both with one gift!
More Anniversary Gifts You Might Like:
Your 15th Anniversary Gift Plans
While the 15th anniversary seems a little out of the ordinary, more people are celebrating this special occasion with their families and friends. You can find some personalized gifts and even some practical gifts that are perfect for the lovebirds. That way, this crystal anniversary can be one that is fun and full of memories.