Concerns about climate change have caused millions of people around the world to reconsider the ways their decisions are impacting the environment. And more and more consumers are searching for ways to decrease their carbon footprints, whether through recycling, moving to more energy-efficient vehicles, or even by searching for eco-friendly clothing brands.
But finding genuinely sustainable clothing brands isn't a simple endeavor. The industry is filled with 'fast fashion' (those designers and manufacturers that pump out new trends as quickly as possible, maximizing profit and the amount of damage done to the environment).
It's simply not sustainable.
And that's without mentioning the fact that the fashion industry is the second largest polluter of clean water and contributes nearly 10% of the world's carbon emissions. When you add in the fact that many of the most famous clothing brands use poor, overseas workers that can easily be taken advantage of – it doesn't paint a pretty picture.
But there are companies that are taking a stand for our world. They're committed to making business decisions that are good for the earth as well as their bottom line. And they're transforming the fashion industry, even making many traditional 'fast fashion' manufacturers and retailers take notice.
So, if you've been searching for eco-friendly, ethical and sustainable clothing brands that you can support, look no further. These are the top sustainable clothing brands for you.
Top 19 Sustainable & Eco Friendly Clothing Brands in 2023
1. Gap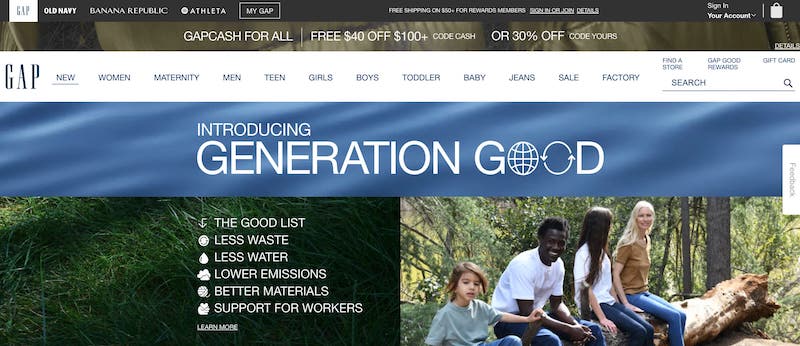 Gap is leading the way with responsibly-made basics, denim, activewear, and more. 
As part of their ongoing Gap for Good commitments, Gap has developed standards for products that consider their impact from every angle. To make the Good List, clothes have to be made with less waste, less water, lower emissions, better materials, and support for workers. 
This means innovating to make apparel better—and make it with better methods. To reduce the footprint of jeans, they started the WashwellTM program, which uses 20% less water in the denim production process. They also offer denim styles without rivets (those small metal fasteners) to make it easier to recycle clothes and give them a new life. It's all part of Gap's mission to close the fashion loop.
You can find organic, recycled, and ethically sourced apparel when you shop Generation Good, Gap's most sustainable clothing line yet. Or look for the globe in the corner to find sustainable wardrobe essentials sitewide.
Get up to 50% off at Gap, combinable with your GapCash! No GapCash? Get an extra 30% off.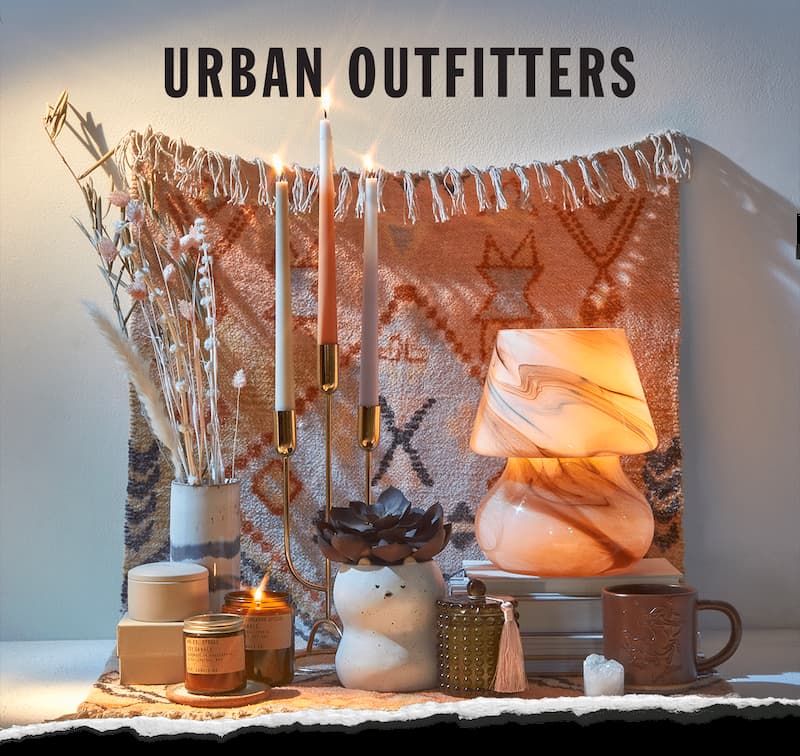 Only at Urban Outfitters, Urban Renewal is our curated collection of original vintage items and vintage that has been carefully selected, re-designed and upcycled into modern silhouettes. Urban Renewal has all your favorites: vintage Levi's jeans and recycled denim cut-off shorts, plaid flannel shirts, broken-in t-shirts, vintage dresses and deadstock finds like camo surplus jackets.
Savings Tip: Find the best Urban Outfitters promo codes and earn 5% cash back to keep or donate to your favorite charity.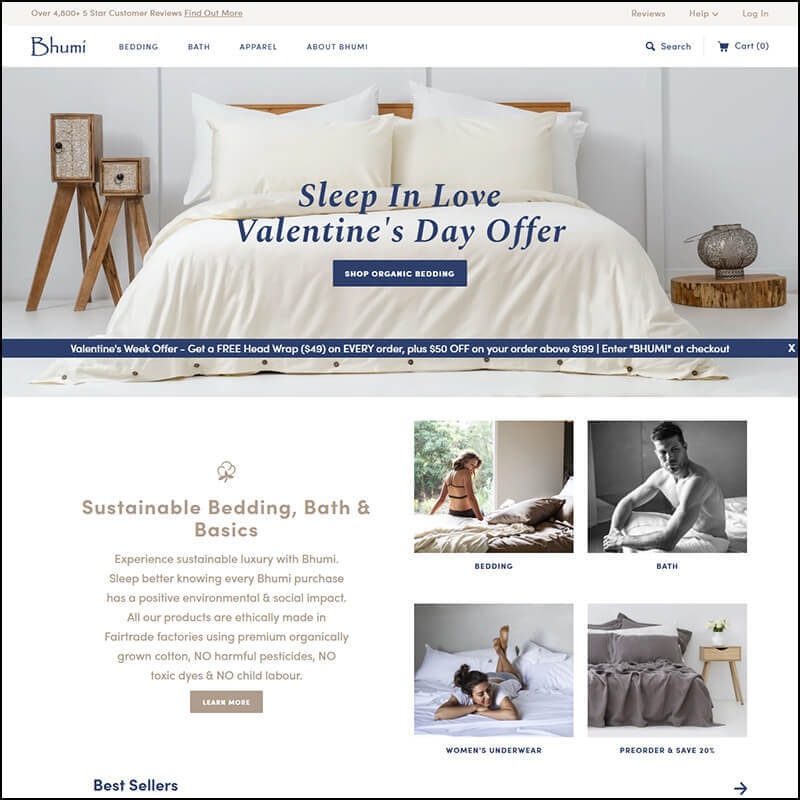 Bhumi is the Hindi word for 'Mother Earth.' And this Australian-based company is committed to treating our planet like a parent, enjoying her presence and gifts while caring for her at the same time.
They have a number of concerns about the modern fashion industry, including its use of GMO seeds, dangerous pesticides, and toxic dyes. And they aren't satisfied with the willingness of many to allow child labor and unhealthy working conditions.
As a result, they've created processes that protect workers and consumers by creating organic, chemical-free products that are luxurious and long-lasting – using sustainable, fair-trade factories.
They specialize in women's clothing (everything from tops and bottoms to underwear) as well as bath towels and bedding.
Shop at Bhumi to help support this brand.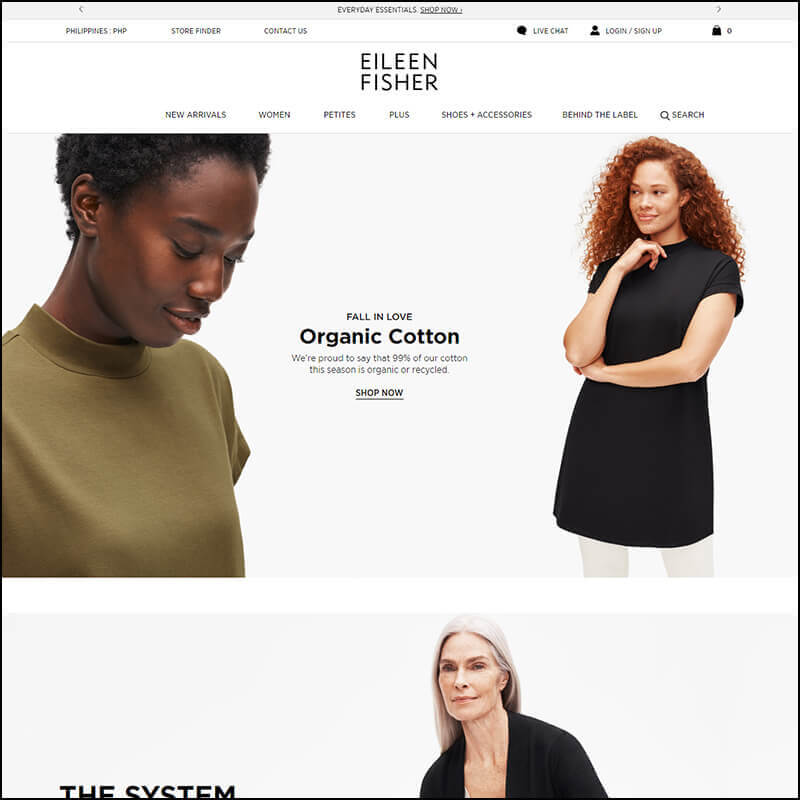 Eileen Fisher started her eponymous company in 1984 with one idea in mind: to create clothing that is beautifully simplistic. Since that time, it's grown to be a major player in the modern fashion industry, especially when it comes to sustainability.
This is a company that's committed to green processes every step of a product's lifecycle, from development to recycling. Not only do they use environmentally friendly dyes and finishes, but they also ensure the entire production process attains the highest ethical standards.
And they have programs like RENEW, a way to recycle Eileen Fisher clothing by bringing in worn or torn pieces. Eileen Fisher retailers will take them back, offer a $5 reward card, and recycle the clothing by repairing it or transforming it into an entirely new design. This is sustainability at its best.
Giving Tip: Shop at Eileen Fisher through Giving Assistant and earn up to 9% cash back which you can use to help a nonprofit of your choice.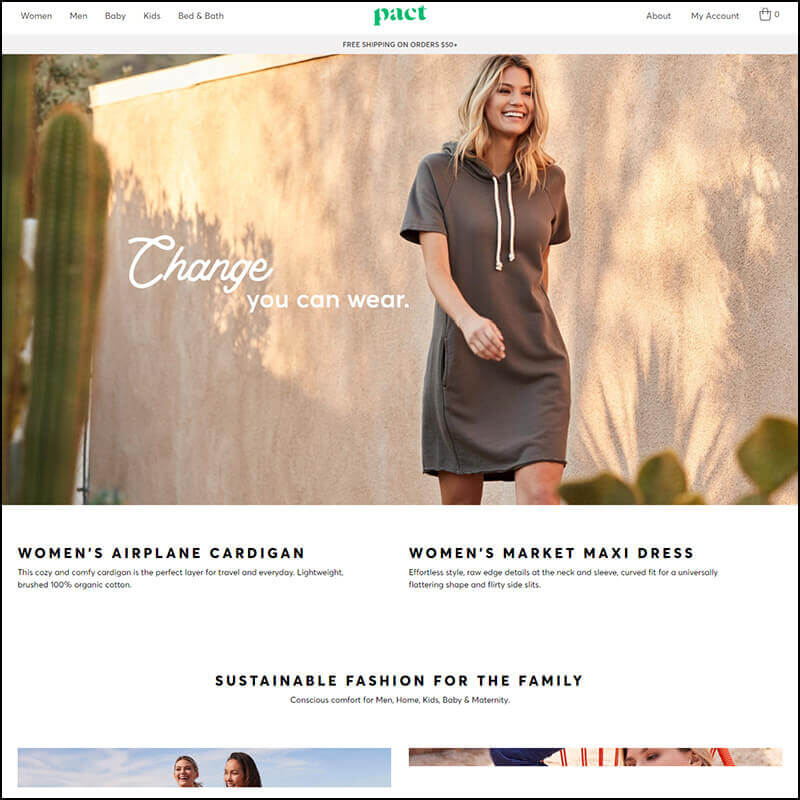 PACT prides itself on offering "guilt-free fashion."
They're committed to using 100% organic cotton that's grown without fertilizers or dangerous chemicals. And since it foregoes those modern "conveniences", it uses far less water on every item produced.
They are also fair trade factory certified which ensures that everyone who's involved in manufacturing their products is treated fairly and provided with a living wage.
Pact offers a wide array of options, including men's, women's, and children's clothing, as well as bath towels and bedding.
In their commitment to sustainability goes deeper in their manufacturing and distribution processes, they also provide opportunities to recycle old clothing, towels, and lemons. These commitments are what makes them a leader in the sustainable fashion industry.
Giving Tip: Shop at Pact through Giving Assistant and and earn 5% cash back. Use your free cash back to donate to an environmental nonprofit or any nonprofit of your choice.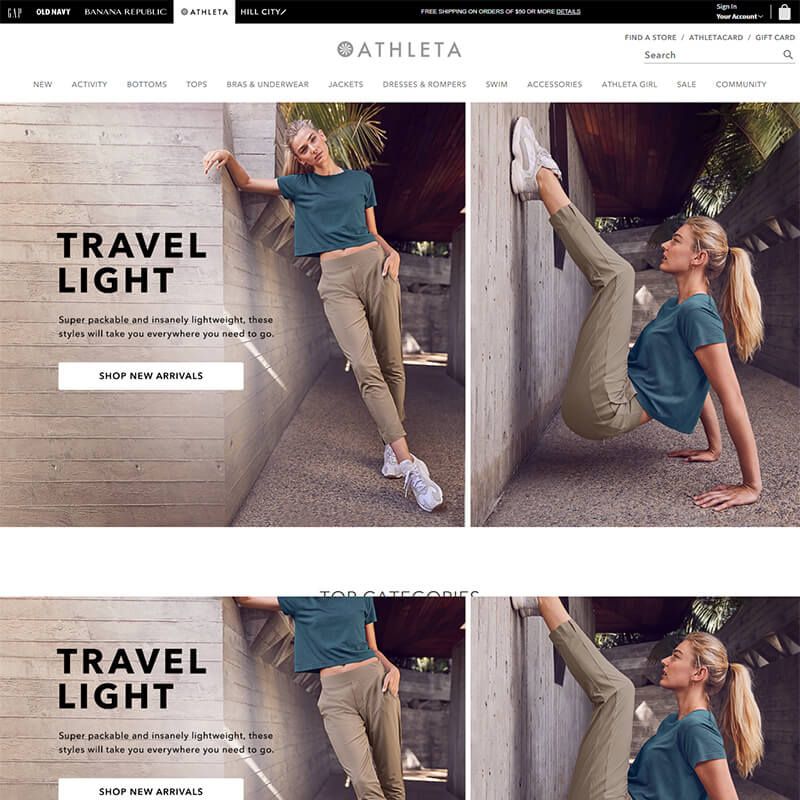 Athleta is a certified B Corporation. This means they use business as a force for good by putting people and the planet first before profit. They have goals to work differently which include constantly looking for new ways to support our planet and the people who live on it. So far, 76% of their materials are made with sustainable fibers and 72% of waste from shipping packaging has been diverted from landfills. Not to mention, they rock everything they do with style and comfort.
Savings Tip: Find the best Athleta promo codes and earn 7% cash back that you can keep or donate to your favorite environmental nonprofit.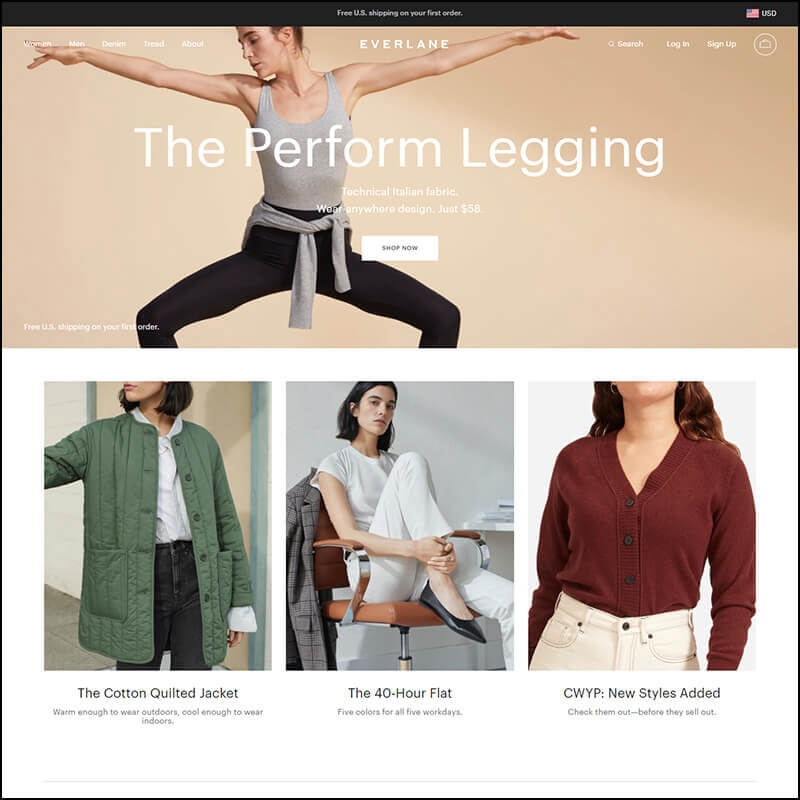 One of Everlane's taglines is "radically transparent." But it's not just a tagline for them. It's a unique way of doing business. They reveal the actual costs of their products, from materials to labor and transportation, and show exactly how much they are marking it up. In addition, every item has a link to an information page about the factory where it's produced, including why they chose it and who owns it.
On top of their commitment to transparency, they regularly audit their factories to ensure fair wages, reasonable hours, and a safe environment are provided to every worker.
Each item is designed with the kind of quality and timelessness that will ensure it gets used for years into the future. Every line offers a full men's and women's clothing line.
Savings Tip: Shop at Everlane through Giving Assistant and find the best promo codes and coupons.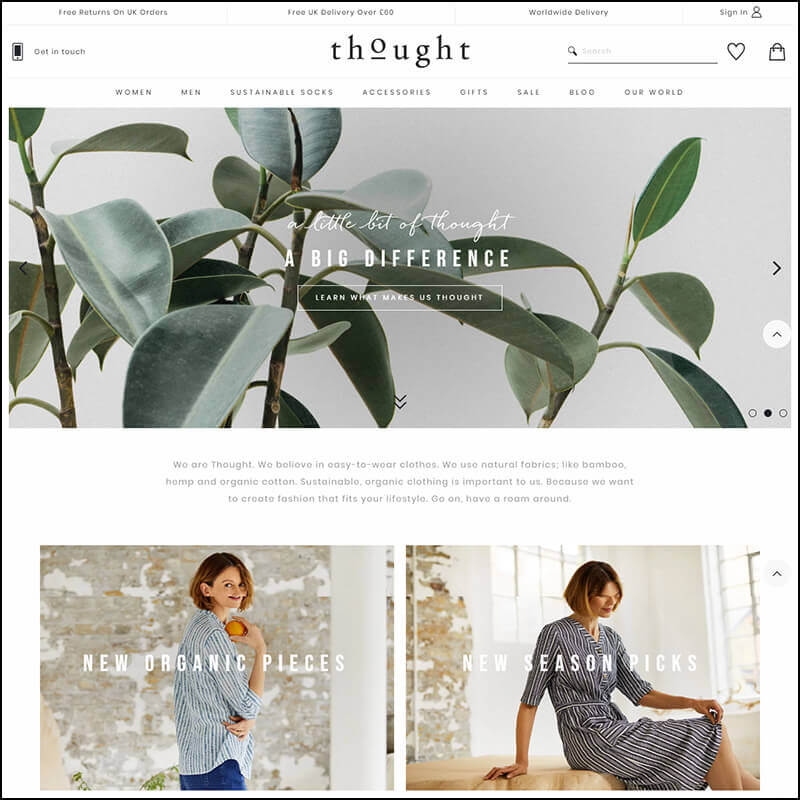 Thought sets itself apart as a purveyor of 'slow fashion' rather than fast. They use naturally grown bamboo, cotton, wool, and hemp that are grown without dangerous chemicals. And they source every raw material from responsible, ethical suppliers.
One of the things that set them apart competitors is there commitment to make every piece of clothing in the same country so unnecessary emissions are minimized. This takes them longer but is better for the environment. In addition, they are founding partners of Common Objective, a not-for-profit network that advocates for higher ethical standards in the fashion industry.
Not only do they have a full line of women's and men's clothing, but they also have accessories of every variety and a huge selection of sustainable socks.
Shop at Thought to help support this brand.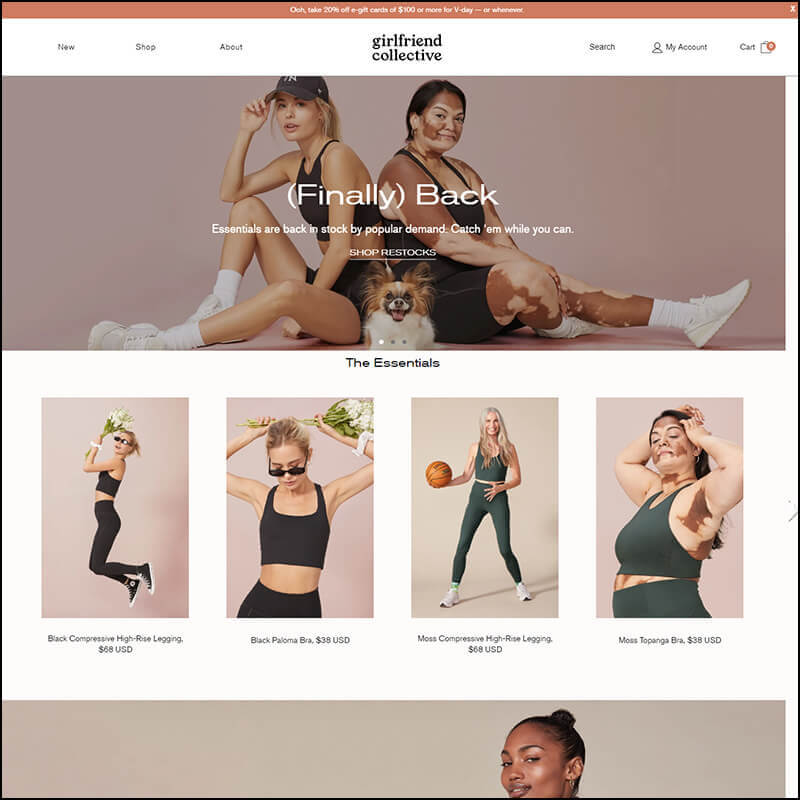 Girlfriend Collective is an apparel company that designs and produces environmentally friendly activewear. Since synthetic activewear is often made from plastic, they are able to use recycled water bottles to create the clothing they sell. And they are made in eco-friendly, sustainable facilities in Taiwan and Hanoi. They've worked with manufacturers to ensure that all workers receive fair wages and a safe working environment.
One of the other things that set Girlfriend Collective apart is its commitment to transparency. They share all their certifications online and have an extensive FAQs and policies page.
If you're looking for leggings, bras, tops, or shorts that are sustainably made in good for the environment, look no further than Girlfriend Collective.
Giving Tip: Shop Girlfriend Collective through Giving Assistant and donate 3% cash back to your favorite nonprofit.
In addition to a quarterly earnings report, Reformation provides a quarterly sustainability report that reveals its environmental footprint. They make this report available for anyone to see through their online newsletter. This is one of the ways that Reformation is setting the standard for sustainability in the fashion industry.
And though they'd ultimately like to produce net-zero waste, they're currently recycling 75% of their garbage. This is an incredible amount in an industry that's known for stuffing landfills full.
Reformation does everything they can to reduce their business's impact on the environment, from using wind energy when available to conducting more business online. They even offer their HQ team Metro passes to encourage public transportation use.
Reformation specializes in women's clothing, offering casual wear, formal wear, underwear, and bridal attire.
Shop at Reformation to help support this brand.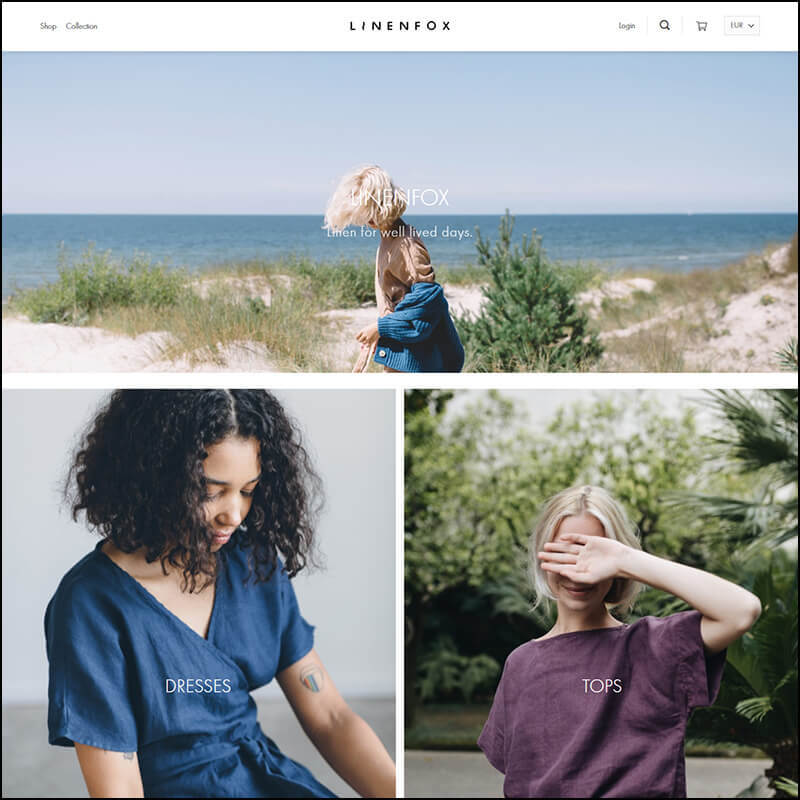 Linenfox was started by a husband and wife team from Lithuania in 2014. Though a small company, they've grown over the past several years and become a leader in the sustainable fashion industry.
Not only do they cut and sew every piece of clothing in an Oeko-Tex certified factory (Oeko-Tex is a global certification for sustainable, responsible textile facilities), they also have made a commitment to fair trade principles and decent wages.
And their packaging is 98% plastic-free, making it easily recyclable. They also have a 'no waste' policy on-site which has led them to sell every scrap of fabric waste for packing.
Linenfox has a complete line of women's clothing, from coats and jackets to jumpsuits, dresses, and more.
Shop at Linenfox to help support this brand.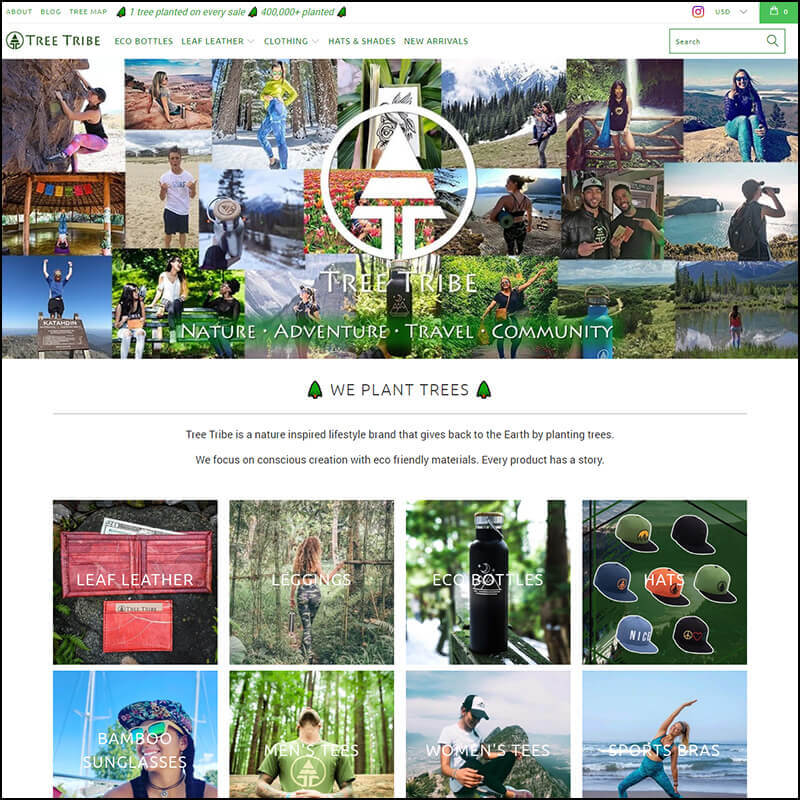 Tree Tribe is an environmentally friendly brand that's dedicated to four values: nature, adventure, travel, and community. These commitments can be seen in everything they produce, from their website to their clothing styles.
One of the things that makes this brand unique is its commitment to plant a tree for every sale they make. To date, they've planted over 400,000 trees across the globe, in places as diverse as the United States, Costa Rica, Madagascar, and Nepal.
They offer a range of products made from leaf leather, a plant-based alternative to leather that's tough, textured, and sustainably harvested from fallen trees.
In addition to leaf leather products, they offer a range of men's and women's clothing as well as hats, shades, and bottles.
Shop at Tree Tribe to help support this brand.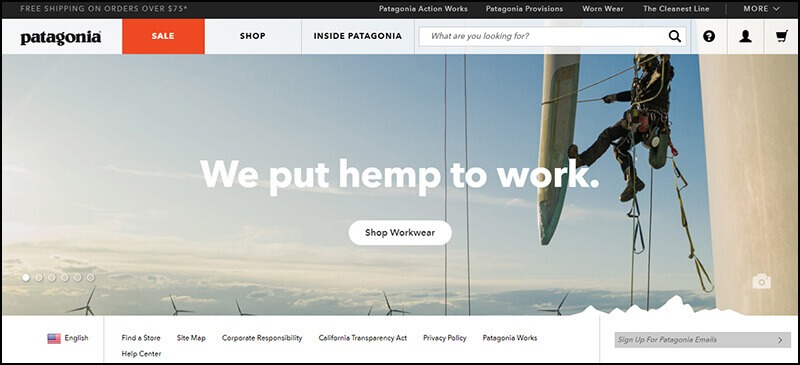 Patagonia makes its commitment to the environment crystal clear: "We're in business to save our home planet."
Though it began as a small company that was dedicated to creating climbing tools, over the past forty years it's grown into one of the leading voices for sustainability in the fashion industry. They're one of the few large corporations that take a holistic view of environmental issues. And they donate at least 1% of all sales to help grassroots organizations who are addressing climate change and other environmental issues.
They also provide repair services for customers so that their apparel will last longer. And since they are Fair Trade Certified and Bluesign approved, you can be sure that when you purchase one of their products, it has been manufactured and transported ethically and responsibly.
They offer complete lines of men's, women's, and children's clothing as well as a line of bags and packs.
Savings Tip: Look for Patagonia coupon codes to find the best deals.
14. PEOPLE TREE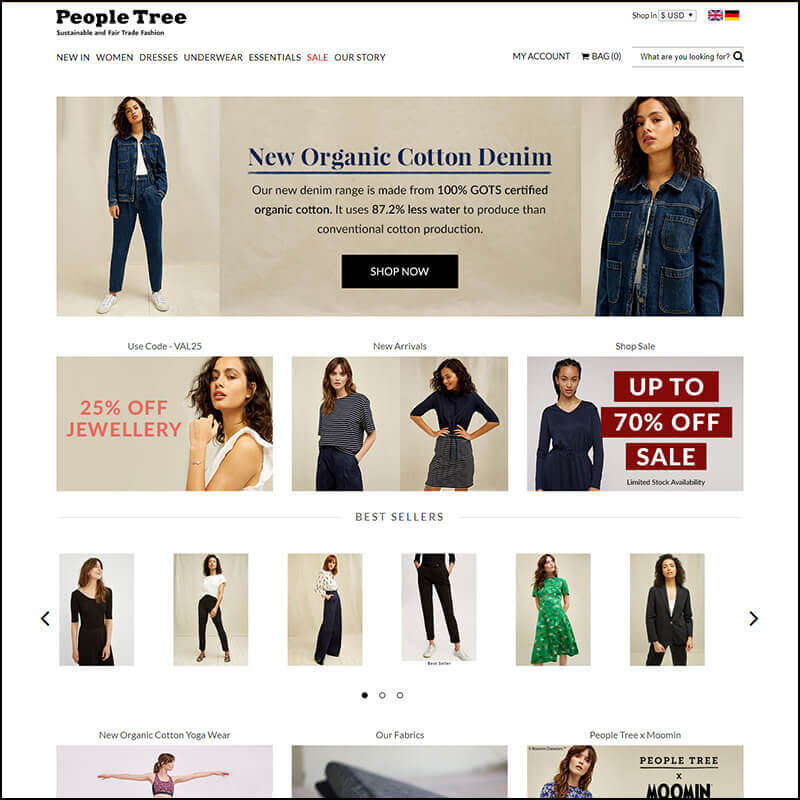 People Tree is a UK sustainable and fair trade clothing brand that offers a wide variety of women's clothing, from dresses and tops to underwear and everything in between.
People Tree has been a pioneer in sustainable fashion since 1991. They are committed to making every product to the highest standards, ethically and environmentally. They offer a wide range of styles and designs that make use of traditional skills like hand weaving, hand knitting, and hand embroidery.
In 2013, they were the first fashion company in the world to be awarded the World Fair Trade Organization product label, guaranteeing their dedication to living wages, safe working conditions, complete transparency, environmental friendliness, and gender equality.
One of the things that set them apart is their commitment to helping the people who produce their products achieve economic independence. As a result, they gained a reputation for high quality, stylish clothing that's been sustainably and ethically made.
Shop at People Tree to help support this brand.
15. ORGANIC BASICS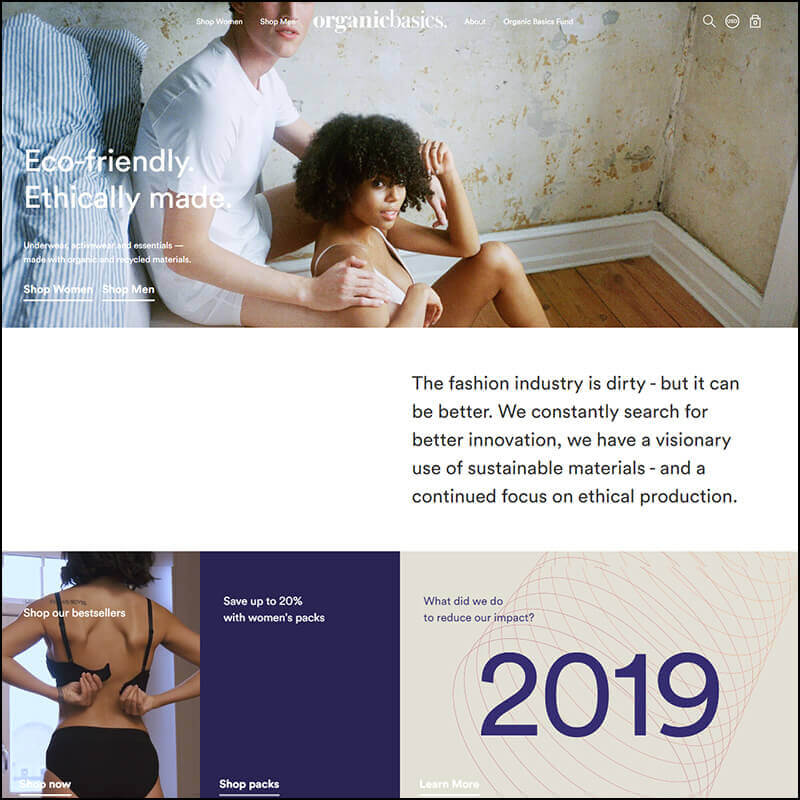 Organic Basics sets itself apart from the competition in several ways.
First, they only work with certified factories that are committed to sustainable and ethical practices. These are factories that are free of child and forced labor, that offer employees a safe environment to work in, and that treat every worker with the human dignity they deserve. And Organic Basics will give you a glimpse into those factories through their website.
In addition, they choose fabrics based on their environmental footprints and durability. You can easily find information on every fabric they use, and the reason they've chosen it, on their 'About Us' page.
Finally, they partner with the Koru Wind Farm in Turkey to offset 100 kg of CO2 for every order that's placed.
All of that adds up to an apparel company that's committed to the environment as much as it is to profit.
Shop at Organic Basics to help support this brand.
16. MONKEE GENES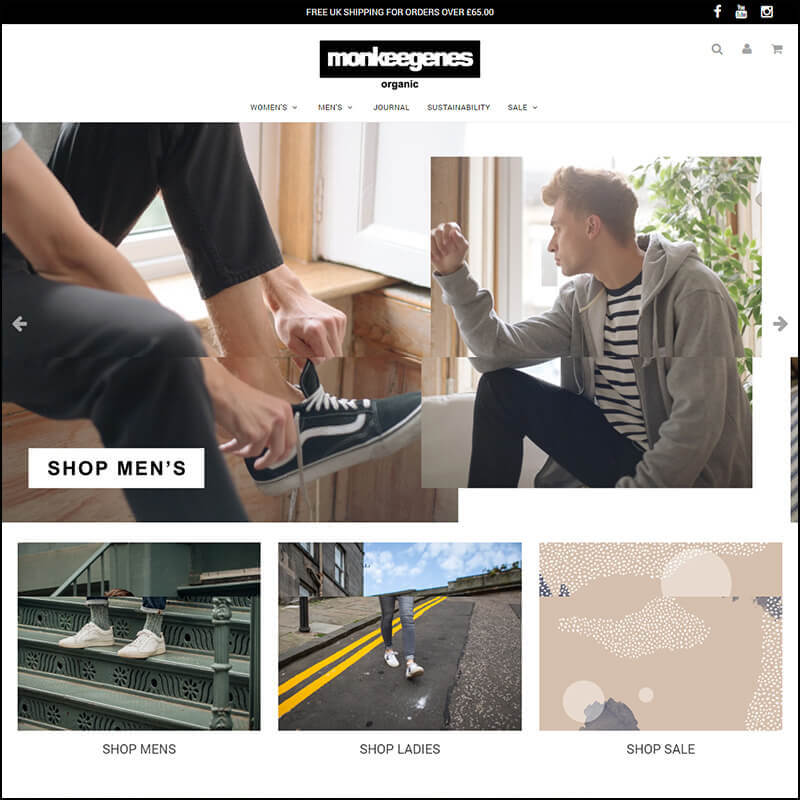 Monkee Genes is a men's and women's apparel manufacturer that's committed to environmentally sustainable business practices.
They make all their products in GOTS certified factories, meaning only 100% organic cotton is used. Not only does organic cotton lack the harmful chemicals used in modern agricultural methods, but it's also more environmentally friendly, producing 46% less CO2 emissions compared to traditional techniques.
Monkee Genes is also committed to saving water. Denim requires a tremendous amount of water to be produced. In fact, most denim brands use up to 7600 liters of water to create a single pair of jeans. But Monkee Genes has developed methods of creating denim that requires up to 80% less water than traditional methods. And they still look great.
Finally, Monkee Genes believes that everyone involved in the supply chain deserves a fair wage and a safe work environment. And they do whatever it takes to make that a reality – from those picking cotton to the people working in their HQ.
Although Monkee Genes specializes in denim, they also produce an assortment of other men's and women's clothing, including shirts, shorts, and more.
Shop at Monkee Genes to help support this brand.
17. TAMGA DESIGNS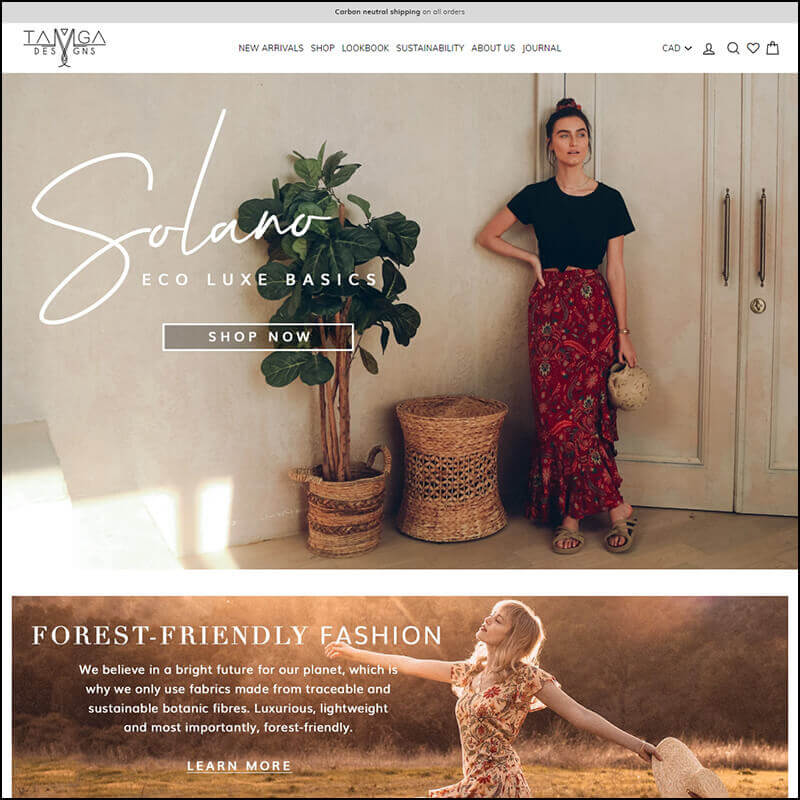 TAMGA Designs was started by an engaged couple who were working for the UN in Bangladesh shortly after a major garment factory collapsed, killing over a thousand workers. The aftermath of this disaster inspired this young couple to found a company that would prove "that fashion can be a force for good."
One of the ways that they've done this is by committing to the ethical treatment of all workers. As UN workers, they saw the risks that many sweatshop workers are exposed to. This is why they do everything in their power to provide safe working environments and fair wages to all garment workers.
In addition, they strive to be eco-friendly by choosing sustainable materials, using non-toxic dies, and shipping all of their products using plastic-free packaging.
TAMGA Designs offers a variety of women's styles and looks, from kimonos to jumpsuits.
Shop at Tamga Designs to help support this brand.
18. OPIA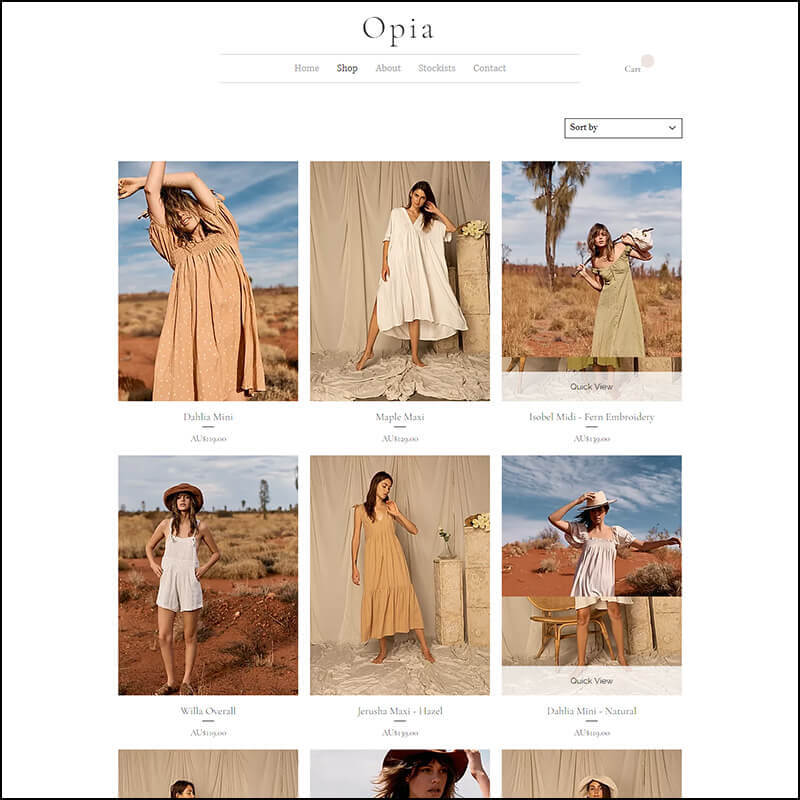 Opia is an Australian independent clothing label that focuses on designing and producing minimalist clothing that's inspired by nature. Every design is created in the Byron Bay area and crafted in small runs by workers in Indonesia, ensuring sustainability.
This is a company that only uses natural fibers and fabrics. And they ship everything in compostable bags, minimizing waste. In addition, they donate all excess material to organizations in the local communities where the items are created.
Opia focuses on creating flowing, feminine outfits in earth tones. They have lines of dresses, jumpsuits, bottoms, and tops.
Shop at Opia to help support this brand.
19. ABLE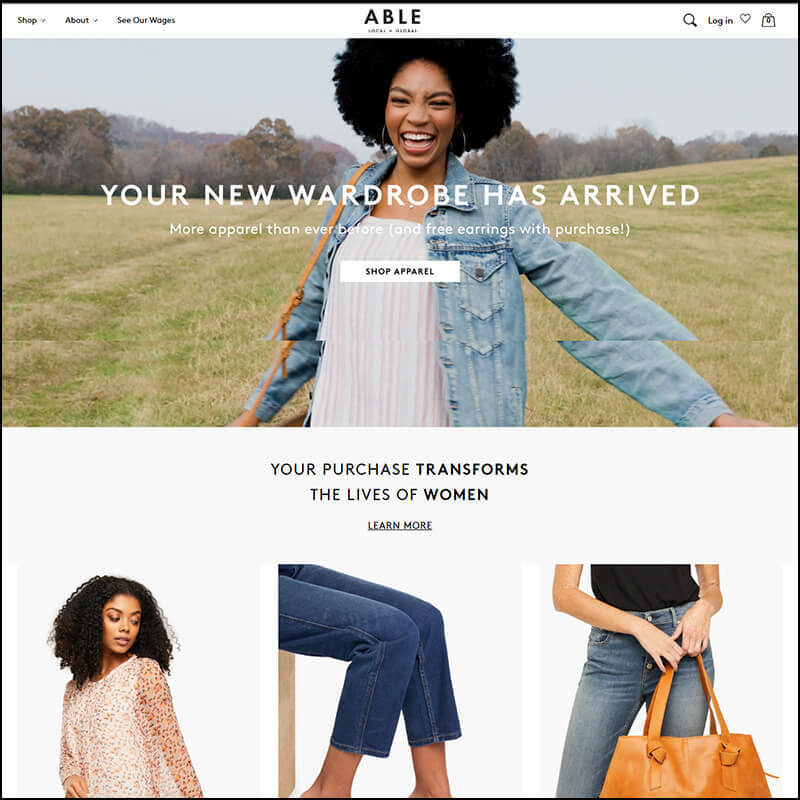 ABLE is a fashion brand that's committed to ending poverty. In particular, they focus on creating opportunities for women to break the cycles of poverty that often keep them imprisoned.
ABLE began when its founders met women in Ethiopia who were coming out of the commercial sex industry. Since they were leaving behind their source of income, they needed jobs. ABLE's founders trained them to design and create scarves. Two months later they had sold 4000 of them. Since then ABLE has invested money, time, and resources into women around the world.
One of the truly unique things about this company is its willingness to be totally transparent about what it pays its employees. They include a page on their website with detailed wage reports for every location where they employ people. It's a truly revolutionary (and transparent) idea – and one that ought to be emulated by other sustainable businesses.
ABLE offers an assortment of products, from bags and shoes to apparel and jewelry – all at a reasonable price.
Shop at Able to help support this brand.
FAQs
Is it possible to find environmentally friendly clothing on a budget?
Absolutely! When we developed this list of sustainable clothing brands, we made sure to include a wide variety of companies with many different offerings. Whether you're looking for men's or women's clothing… whether you need activewear, casual wear, or even a wedding dress… and whether you want high-end, designer clothing or something affordable and minimalist… there is an option on this list for you.
Is it ethical to buy fast fashion secondhand?
This is a question that will likely have as many answers as there are people who care about sustainable fashion. Nevertheless, I'll step out and give my opinion…
Yes, and here's my reason: secondhand fast fashion doesn't directly benefit the companies behind fast fashion. Instead, it's going to the secondhand or thrift shop selling it. In addition, buying clothes secondhand is one of the most sustainable things you can do. The only potential caveat to this is in wearing clothes that have very noticeable logos. You may want to be wary of this since others may see it and decide to support a fast-fashion company directly.
But this is an issue that every concerned consumer needs to carefully weigh for themselves.
How can I tell if a brand is sustainable?
There are a number of factors that go into determining how sustainable a brand is. You've likely noticed several of them as you read through this list. They include material used to produce the product, the business practices that went into manufacturing it, and the environmental impact that the manufacturing process had. A simple Google search or a quick browse through the company's website will give you a solid idea of how sustainable a particular brand is. And always check for Fair Trade certifications and similar commitments to ethical and environmentally friendly practices.
What's the difference between sustainable fashion and vegan, fair trade, etc.?
Sustainable fashion is a broad category that includes numerous subcategories under it. So, for example, a vegan fashion brand commits to using no animal products or animal testing in the production of their goods. On the other hand, companies committed to fair trade ensure that their workers have a fair wage, safe working conditions, and similar benefits. Vegan and fair trade fashion are types of sustainable fashion but they don't define it alone.
How can I begin practicing greater sustainability when it comes to my apparel choices?
Becoming aware of the need for greater sustainability is only the first step. After you see the problem, you need to begin working towards a solution. You can accomplish this in a variety of different ways, including purchasing more of your clothing secondhand, buying your new clothing from sustainable sources (like the ones mentioned above), recycling your old clothing, and donating to causes that advocate for greater sustainability in the fashion industry. If we all took a few more steps in this direction, we would be well on our way to a brighter and greener future.
Why Buy Sustainable?
We've looked at seventeen different, sustainable apparel companies in this list. And we've almost seen it all – from companies that specialize in athleisure to businesses that create sustainable wedding dresses. Hopefully, you see that sustainability does not require sacrificing style or comfort. On the contrary, wearing environmentally friendly, ethically sourced clothing is one of the most stylish things that you can do.
It's important to recognize that sustainability is not just about organic cotton or biodegradable fibers. True sustainability is bigger than that. It involves creating clothing that lasts longer, manufacturing that clothing in a responsible and ethical way that recognizes the value of every person in the supply chain, using environmentally friendly processes that minimize pollution and waste, and creating programs that incentivize recycling and reuse.
There are hundreds of companies that are striving to conduct their businesses in a responsible, ethical, sustainable manner. The more business we give them, the more likely they are to succeed. And as those companies succeed, more and more traditional companies will see the value in going green.
Though you might not feel like your clothing purchases can make a difference in the global problems we are facing… They can. Every purchase you make is a vote for a better future. So, how will you vote?
Many of these sustainable businesses are working to create green solutions on a variety of fronts, including…
Cutting back on the amount of water that they use to curb the pollution of one of the earth's most precious resources.
Developing dyes, finishes, and specialized features (like wrinkle-resistance) that don't require harmful chemicals to produce.
Cultivating an environment where clothes and styles last longer, are more likely to be repaired and get handed down instead of thrown out.
Discovering new agricultural methods that will provide the raw materials needed for the fashion industry without destroying our planet.
Devising fair and ethical business practices that recognize human dignity in everyone – including the workers who make our clothing.
Many of the brands on today's list have shown a commitment to these practices. They've done more than just talk a good game – they're living it out in front of the world. And they're making a difference because of it.
And you can join them. Your wallet is one of the best ways to make your voice heard. When you refuse to spend money on 'fast fashion' and commit to those brands that are practicing sustainability, everyone will take notice.
It's a step in the right direction. And by supporting these brands, you are supporting the environment.
Turn Everyday Shopping into Charitable Giving
Shopping with Giving Assistant not only helps you save money as you buy goods online but also enriches the social impact of brands that give back.
Learn more about how to use Giving Assistant. Members who download the Giving Assistant Button can apply instant coupons and promo codes.