Out of the many kinds of environmentally friendly shoes available, flips flops have the largest variety, by far. There are vegan styles made using recycled hemp, cork and plastic and eco-friendly materials like recycled polyester and natural rubber.
It's great to have so many eco-friendly options when it comes to flip flops because they are some of the most comfortable and versatile shoes on the planet. If people could wear them daily, they most certainly would.
For those ready to trade their plastic, suede, foam, or leather flip flops in for something a little more sustainable, there are a few eco-friendly flips flops below that you will love.
The Best Eco-friendly Flip Flops in 2023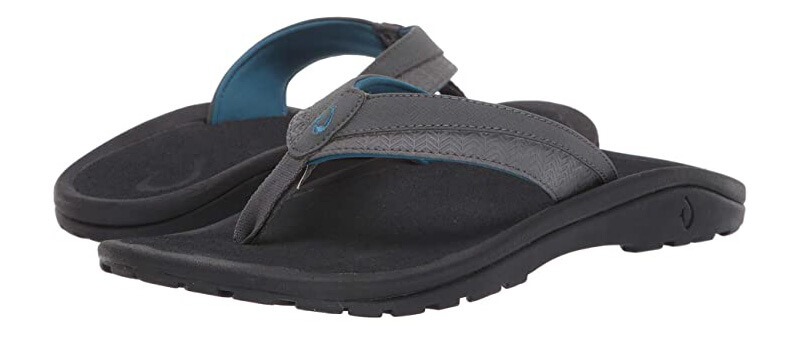 A company that believes craftsmanship can be contemporary, Olukai is a committed to quality, comfort and sustainability and this shoe highlights them all. Their eco-friendly flips flops are made using 100% synthetic materials and are water-resistant and breathable.
A stitch-free, one-piece sandal that combines durable footwear with a soft and sleek texture, this is a high-quality shoe that is sure to leave a lasting impression.
Savings Tip: Get Shoes.com coupons and 5% cash back for the best deal.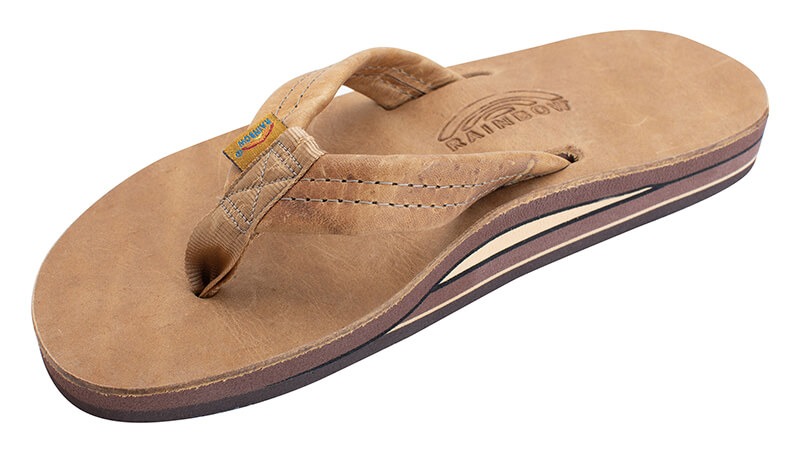 Vegan flip flops made from strong natural hemp fibers, these sandals are long-lasting and tough. Designed for comfort and confidence on any terrain, the sandals feature Rainbow's signature double layer midsole and arch support and the bottom has a non-slip grip.
A premium pair of flip flops made from supremely sustainable materials, the hemp strap and sole are double-stitched with nylon thread to prevent fraying. They are available in three colors: natural hemp, brown and black.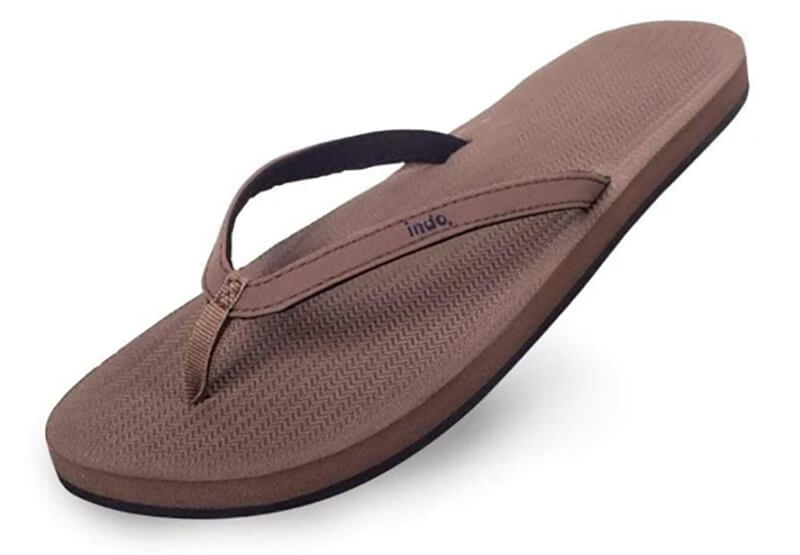 Responsibly crafted by Indonesian artisans, this eco-friendly flip flop is made with recycled tire outsoles, natural rubber and fiber straps. Embedded arch support and a durable construction make these flip flops some of the most comfortable and versatile shoes.
Pair their sleek style with jeans or walk the shore, they are never out of place. Available in 5 colors, treat your feet to a luxurious and supportive feel unlike any other.
Savings Tip: Earn 8% from your US Outdoor Store purchase to keep or donate to charity.

For years, Chaco has been creating eco-friendly shoes that are durable and won't end up in a landfill. The Ecotread is made using 25% recycled rubber outsole and leather. It features breathable polyester straps that dry quickly, is machine washable and has a great fit.
A recipient of the Seal of Acceptance from the American Podiatric Medicine Association, it features a biometric footbed for ultimate comfort and relief.
Savings Tip: Get Chacos promo codes and 8% cash back for the best deal.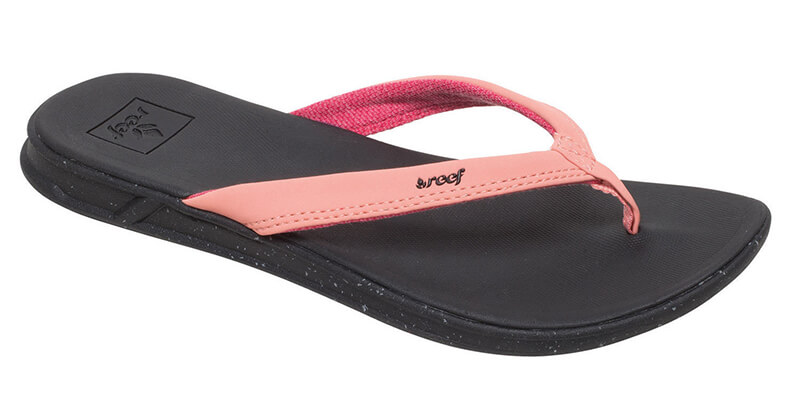 A high-quality flip flop made from vegan leather and a rubber sole that is 100% PVC free, they are better for the environment and are stylish. Built using three layers of material – contoured foam deck, medium-density midsole and rubber outsole – you get traction, durability and protection on any terrain you set foot on.
The molded footbed is designed with anatomical arch support that provides all-day comfort, making transitions from the water to the deck seamless.
Savings Tip: Find Shoes.com promo codes and earn 5% cash back that you can keep or donate.
Chic, soft and comfortable, the Candyfloss is made using high-quality Brazilian natural rubber that is harvested without causing any harm to the rubber trees their material comes from. Some of the softest and strongest shoes, they come in a fun bright blue (Candyfloss) color and classic flip flop design.
A company truly dedicated to doing good, Planet Flops plants a tree in the Brazilian rainforest for every pair of flips flops sold.
Savings Tip: Get Zulily promo codes and 2% cash back for the best deal.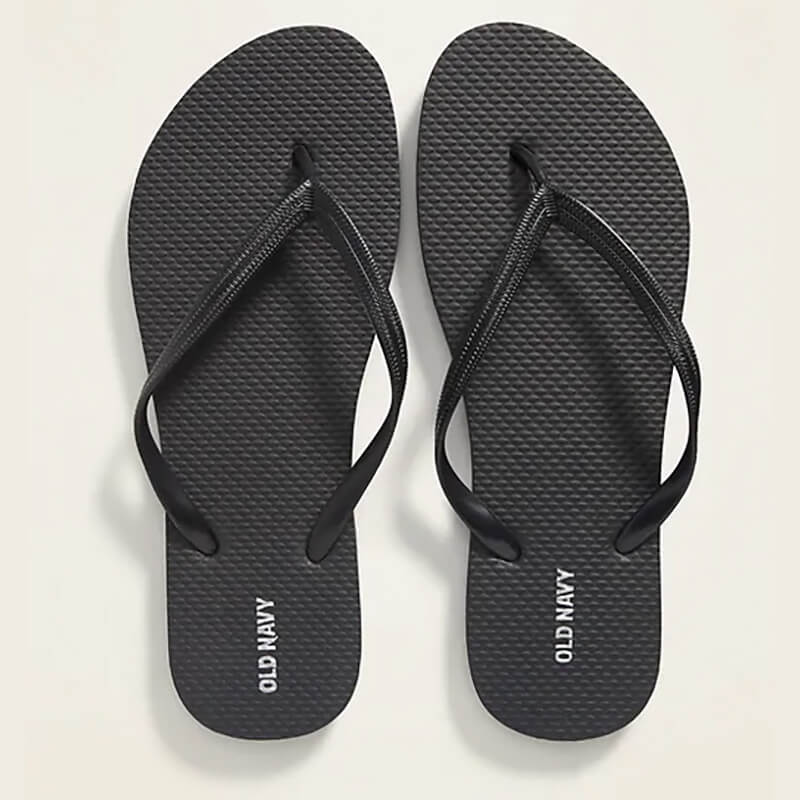 Made from 100% natural rubber that gives it a soft and smooth texture, you'll feel like you're walking on silk. Extremely lightweight, the natural material molds to your foot, providing support where it's needed the most.
Don't let the design fool you, these natural rubber flip flops are durable and can be taken hiking up a mountain or on the beach with no loss of traction or performance.
Savings Tip: Check out Old Navy promo codes and 4% cash back for the best deal.
Ensure Your Flips Flops are Eco-Friendly: A Buyer's Guide
Flip flops made using eco-friendly materials reduce your carbon footprint and last much longer than traditional flip flops that use cheap materials.
Eco-friendly flips flops don't harm the planet, but it is not always easy to identify which companies are making truly eco-friendly flip flops and which ones are just paying lip service through marketing.
To ensure you are supporting companies aligned with your environmental views and beliefs, keep these tips in mind.
What to look for in eco-friendly flip flops
Planet-friendly sourced materials: The materials used in eco-friendly sandals should not hurt the environment. Recycled materials, along with natural rubber and vegan leather are some of the best because they are mostly biodegradable and renewable.
Look out for PVC, it is a toxic chemical, but technically a shoe made using it qualifies as eco-friendly if it uses natural rubber somewhere in a shoe's composition.
Durability and quality: As mentioned earlier, eco-friendly shoes are generally well-constructed. A pair of finely crafted flip flops becomes timeless, lasting you for much more than one season. There should be double stitching and strong fibers used to ensure a solid product.
 Fair trade: While this isn't technically necessary to be eco-friendly, it sure does put consumers at ease to know the amazing people producing their shoes are getting paid fair living wages.
Production processes that conserve energy: Do they use a technology that conserves water or reduces carbon emission? Be on the lookout for those kinds of statements.
Missions that give back to the planet: Are they vowing to clean 10 tons of plastic a month or plant a tree for every sale they make? This is a show of respect to the environment.
Three ways to tell if a product and/or company is eco-friendly
To truly ensure you are making the smallest environmental impact as possible, you'll have to do a little research. It's worth it.
1. Greenwashing
This is a tactic companies love using to make people believe they create environmentally responsible products.
Watch out for broad, vague language and packaging that looks sustainable – a tree stamped on an earth-tone box is not equivalent to eco-friendliness.
2. Labels/Certifications
Reliably judge a product's eco-friendliness by seeing if it has official labels or certifications from trusted third-party organizations.
3. Follow up on specific claims
Look at the claims a company makes about their products and pay attention to how specific and detailed they are. A "green" flip flop is very different from one made from 100% recycled cork.
Slip Into Environmentally Friendly Flip Flops
Eco-friendly flip flops come in cool designs and are easy on the planet. With so many to choose from, this is a simple way to support more sustainable living.