Article by Laura Newcomer
What do donations and hors d'oeuvres have in common?
You'll find tons of them at all the best fundraising events!
Sadly, we can't tell you how to assemble the perfect cheese plate.
But we can show you how to throw a fun, memorable, on-budget, and super successful nonprofit fundraising event that will help you build positive relationships with donors and supporters, increase awareness of your organization's cause, and (of course) raise money in support of your mission.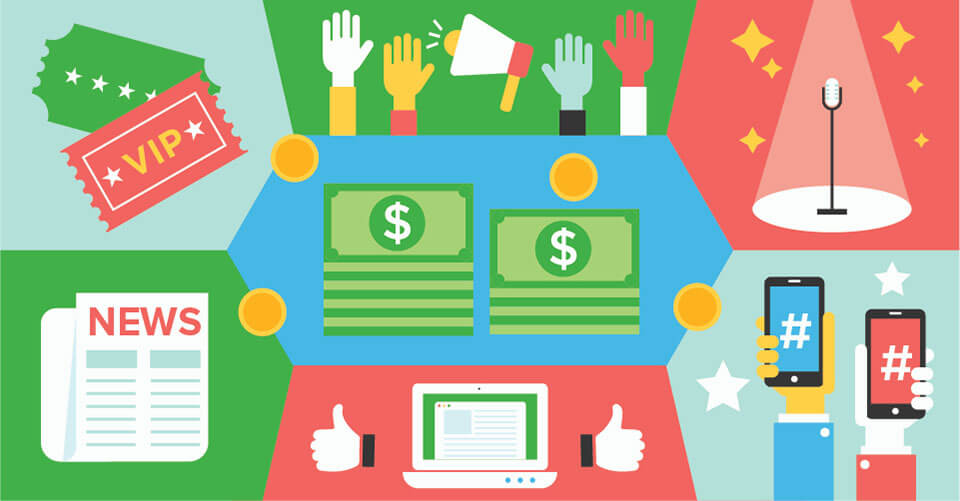 9 Steps to Successful Fundraising Event Planning
Step 1: Set clear goals
Before you do anything, it's really important to be clear about what you want this fundraising event to achieve for your nonprofit. Start the planning process by asking yourself (and your team) questions like:
Is this event strictly about raising money? If so, how much?
Is there another purpose baked in, such as building a network or marketing a particular program?
Define 1 or 2 priority goals first, and let those inform your planning decisions across the next 8 steps.
Without a clearly defined goal, you risk wasting a lot of time and money making gut-based (rather than evidenced-based) decisions that result in minimal benefit, and that team members can more readily become divided on. Not good.
Need help with brainstorming? Consider the S.M.A.R.T. goals system. It's a tried-and-true tactic that helps folks create goals that are (s)pecific, (m)easurable, (a)chievable, (r)elevant, and (t)ime-bound.
Step 2: Define your audience
Consider whether the general public is welcome or if you want to cater to a more specific audience.
Use the basis of your non-profit and your goal for the event as a starting point. This information will help dictate your theme, budget, event space, and more.
For instance, say you support reading programs for elementary-aged kids in your local community and you want to raise awareness and recognition for your cause. A free daytime carnival may be just the fit if you're looking to draw in young, local families.
Step 3: Clarify your budget
Speaking of budgets: This is another key element that needs to be defined before you dive further into non profit event planning.
When considering your budget, account for elements such as space rental, marketing, catering, staff, entertainment and/or presenters, decorations, security, furniture, audio/visual equipment, transportation, ticketing software, follow-up communications, and anything else that's going to be part of your event. And of course, make sure you leave a little wiggle room in case your expenses surpass estimates.
If your organization isn't equipped to cover the budget from its own coffers, consider seeking out event sponsors who can help you manage costs. Just make sure the sponsors' values are aligned with that of your organization, or you risk diluting your brand and turning off potential donors.

Step 4: Determine who will be responsible for what
As your nonprofit event plans take shape, you'll no doubt assemble a team of staff, vendors, volunteers, and other participants. This team is a great asset, but it needs to be effectively organized.
Clarify exactly who is responsible for each role and task, and ensure everyone on the team has a clear understanding of these responsibilities. That way you'll streamline the entire fundraiser planning and production process, and cover all your bases.
Step 5: Select and book an event space
Once you have your goals, audience, budget, and team in place, it's time to select and book an event space.
Make sure you consider your budget and whether the space is the appropriate size. Just like Goldilocks, you want a space that's just right—not excessively large or too small to host enough people to meet your financial goals.
Also make sure the layout is conducive to your planned theme and schedule and that there is adequate parking. And figure out whether you'll need to secure any permits (for example, to serve alcohol), buy or rent furniture or sound equipment, and so on.
Step 6: Create a marketing plan
Start marketing your fundraising event a minimum of two or three months before the big day.
An effective marketing plan should target people both in person and across multiple platforms, including social media. Here are some fundraising tips to craft a marketing plan that gets your event noticed and inspires people to sign up.

Step 7: Sell tickets
It's important to clarify who is responsible for different elements of the ticketing process, as this aspect of any event can quickly go awry. Before you sell any tickets, you'll need to decide how you'll sell those tickets, what the tickets will look like, what incentives are for early ticket purchases, and more.

Step 8: Practice running through the event
Before paying attendees walk through the event space's doors, practice set up and run through presentations. This way, you'll be able to determine the appropriate layout for the venue, troubleshoot audio/visual issues, identify extra furniture or equipment needs, establish a smooth flow for timing the entire event, etc.
Step 9: Send thank you notes and surveys
Right after the event, thank everyone who helped, including staff and volunteers, as well as everyone who chose to attend. Depending on how long that list is, you could choose to send handwritten cards or emails, or make phone calls. The medium doesn't matter so much as putting thought and heartfelt thanks into whatever you write.
It's also smart to send out event surveys to everyone who attended. The feedback you receive will help improve future events and assess the success of the one you just held.
While you may be exhausted after hosting a fundraising event, the work isn't quite over! Make sure you take the time to update your nonprofit supporters about the event's fundraising results so they can feel like they were part of something meaningful. Also take time to reflect on what worked and what didn't so you can apply those lessons to your next fundraising endeavors.
Conclusion
Finally (finally!), make sure you give yourself and your team some time to rest up and appreciate everything you've accomplished. Managing a nonprofit fundraising event from start to finish is no joke, and everyone involved deserves some time to catch their breath (and digest all those hors d'oeuvres!) before moving on to the next fundraising project.

Share this Image On Your Site