Now more than ever, online learning sites are making it easier to pick up new skills, explore a career change, stay connected, get creative, and combat boredom through free classes and subscription-based video libraries.
Here's a list of the best online education resources (based on their popularity and content) that we think will not only educate and entertain but also energize your spirit with a positive distraction:
Best Online Education Platforms in 2023
1. Udemy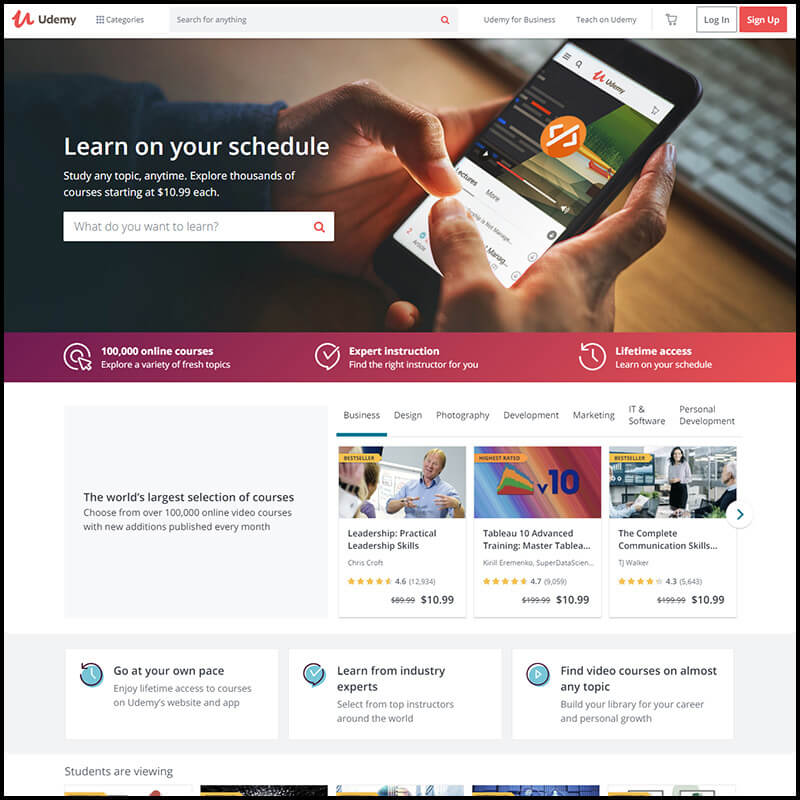 Udemy is the world's largest online learning platform—one that supports 57,000 instructors and more than 50 million students taking 100,000+ online courses in over 65 languages.
It's here you can spend the day learning how to brand a small business, play "Happy Birthday" on the guitar, write HTML code, train a puppy, and everything else in between.
What's Included with Udemy?
From Rockabilly Guitar for Beginners to 14-Day Yoga Detox and Empowerment, a wide variety of online course themes are sure to keep you busy!
Lifetime access to free and paid courses on Udemy's website and app.
Paid, approved courses offer a Certificate of Completion; there are plenty of excellent business-training and career development solutions that look good on a resume.
30-day money-back guarantee for every course.
How Much Does Udemy Cost?
Udemy courses are individually priced and typically cost $10-$20.
Udemy Pro ($19.99/month) is their only subscription; it's for students interested in IT certifications.
Udemy Discounts and Savings Tips
Keep an eye out for monthly sales that take up to 95% off hundreds of courses.
Find the best Udemy deals plus earn 15% cash back with Giving Assistant.
Take advantage of the 7-day free Udemy Pro trial
Recommended for: People who want the most options but don't want to pay an arm and a leg.
2. LinkedIn Learning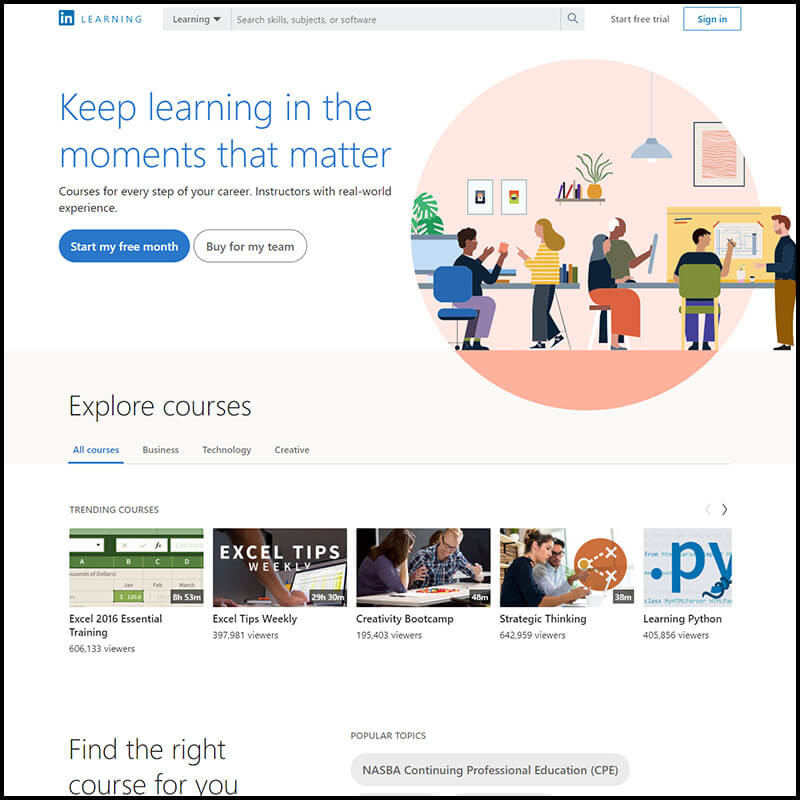 LinkedIn Learning is a relatively new resource. In 2015, the professional networking giant, LinkedIn, acquired the wildly-popular, online training site, Lynda.com.
With that acquisition came 25 years of online learning expertise and one of the largest collections of video courses dedicated to sharpening business-, creative-, and tech skills.
What's Included with LinkedIn Learning?
15,000+ expert-led courses categorized by subject, software, and learning path.
There's no limit to the number of courses you can watch with a subscription; they add dozens of new subjects each week.
Get personalized course recommendations based on your current job and skills.
Receive a free Certificate of Completion upon watching a LinkedIn Learning course with a subscription; there is no limit to the number you can receive. Note: You can, however, receive only one certificate per course or learning path.
How Much Does LinkedIn Learning Cost?
$29.99 for a month-to-month subscription
$19.99 per month when you pay annually
Note: You can also buy individual courses (prices vary).
LinkedIn Learning Discounts and Savings Tips
Take advantage of the 1-month free trial
Pay annually to save 33% off of your subscription and get $5 cash back when you purchase one through Giving Assistant.
Recommended for: Voracious learners who want to do more than just freshen up and strengthen their LinkedIn presence.
3. Coursera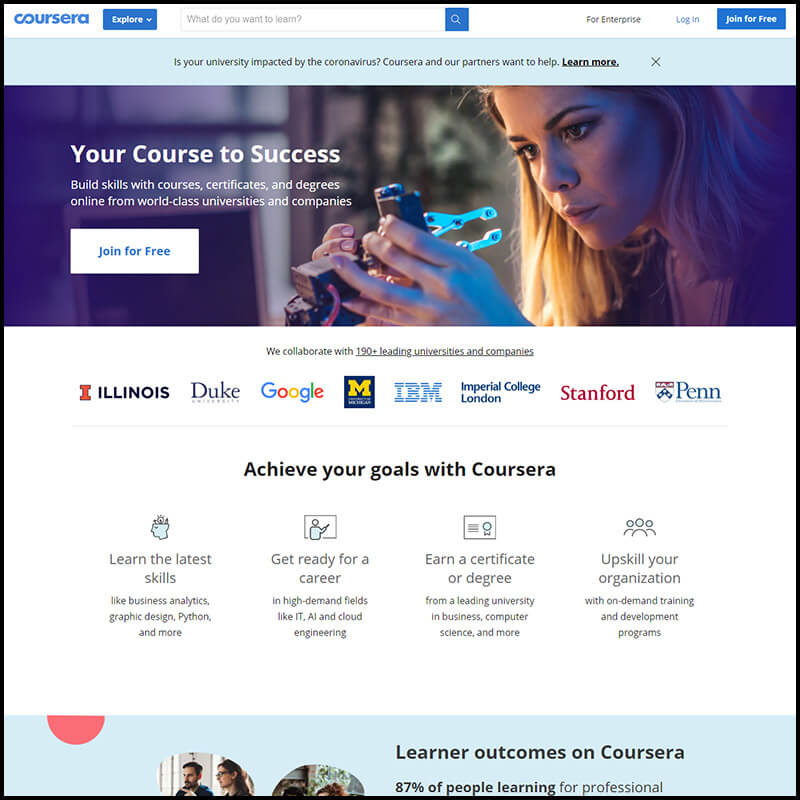 Looking to change careers, qualify for higher-paying positions, or expand your mind?
Thanks to two Stanford computer science professors with a vision to increase access to the "world's best education," Coursera was founded in 2012.
This nonprofit collaborates with over 190 leading universities and companies (like Google and IBM) to provide online, skill- and career-building opportunities to anyone, anywhere.
What's Included with Coursera?
Learn something new in 4-6 weeks; 4,100+ options include hundreds of free courses.
Add a specialization to your resume within 4-6 months, like Python or graphic design.
Pursue an online degree from a leading university and try your first course risk-free; if they admit you to the full program, your completed courses count towards the degree.
Exercise your mind with a challenging (and free!) college-level, non-credit course.
What Does Coursera Cost?
Monthly subscriptions for Specializations typically cost $49-$79/month. It takes an average of 3 months to complete a specialization.
Annual subscription for Coursera Plus costs $399 per year. There is no limit to course enrollment or Course Certificates you can earn; get a 14-day money-back guarantee.
One-time payments for courses and Specializations (prices vary).
Coursera Discounts and Savings Tips
Get the free 7-day premium membership trial
Sign up for a Premium Membership through Giving Assistant and earn 20% cash back.
Get 50% off a Premium Membership with a valid .edu address.
Select college-level courses are free
Recommended for: People who want the rare opportunity to attend a lecture from an Ivy League university (like Harvard or Stanford) without being enrolled at the school.
4. edX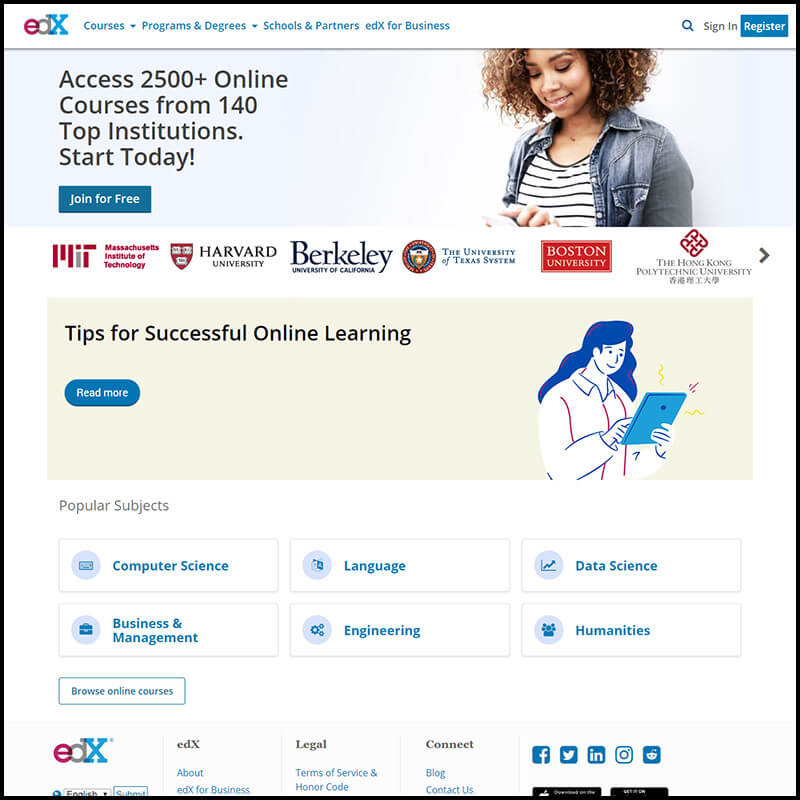 edX is a global, non-profit organization with an online learning platform founded by Harvard and MIT in 2012. This massive, open-source movement sees 20 million learners take classes with educators from the world's highest-ranked universities and industry-leading corporations.
What's Included with EdX?
A mix of career-advancing courses and self-paced "fun": There are 2,500+ online courses from 140 institutions, ranging from MIT's Circuits and Electronics to Wageningen University's The Science of Beer and the Smithsonian Institution's Star Trek: Inspiring Culture and Technology.
There are six different ways to advance your career, like the innovative MicroBachelors and MicroMasters programs, which break down barriers of time and money.
You don't need a full degree to stay competitive in-demand fields; top tier companies validate the MicroMasters programs.
Invaluable support from university partners and peers from around the world.
How Much Does EdX Cost?
MicroBachelors programs cost $500-$1,500 (that's about $166 per credit!).
It's roughly $50 to $300 to acquire a Verified Certificate upon completion of free courses.
EdX Discounts and Savings Tips
MicroBachelors and MicroMasters programs are free to try
Take up to 20% off courses when you use edX coupon codes from Giving Assistant plus earn 12% cash back.
Recommended for: People in search of fun courses (learn Italian for free!), or who want to advance their career prospects, but don't have the money or time to pursue a traditional degree.
5. Skillshare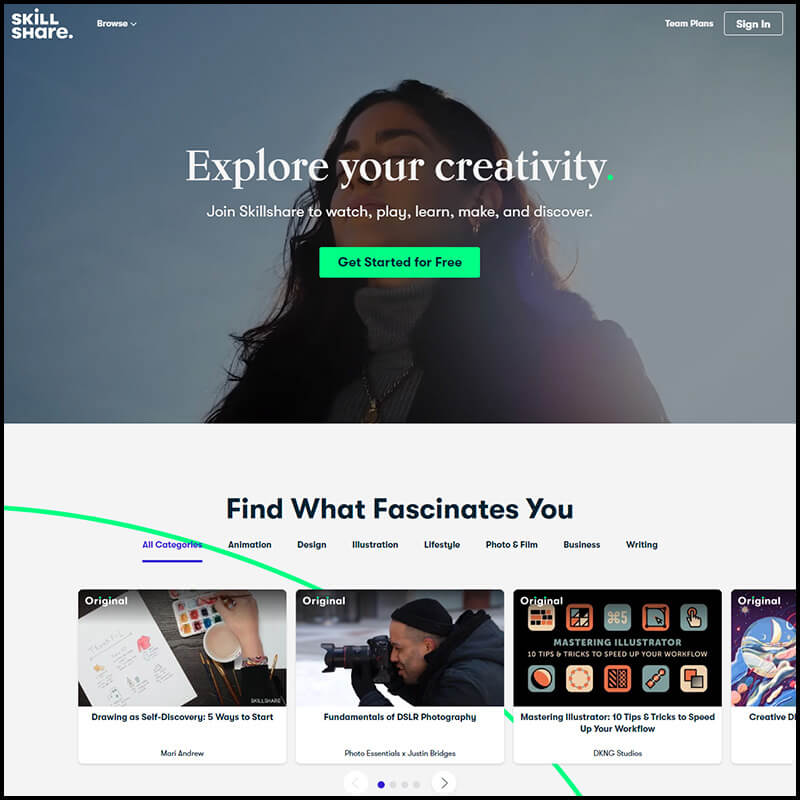 Get inspired. Advance your career. Gain valuable feedback.
Skillshare is an online learning community that builds new skills through thousands of free and paid classes for creative, curious (and bored) people. Experts teach these classes in fields such as fine art, business, lifestyle, productivity, and career development.
What's Included with Skillshare?
The platform allows students to network and strengthens their skills through sharing perspectives and insights in supportive group settings.
A Premium Membership unlocks full access to over 20,000 classes, from a iPhone food photography tutorial to an evidence-based masterclass on how to study for exams.
Learn at your own pace and customize classes to fit around an ever-changing schedule.
It's easy to share your expertise, create video lessons, and make money when students enroll in your classes.
What Does Skillshare Cost?
Monthly Skillshare Premium: $12/month billed monthly
Annual Skillshare Premium: $8/month ($96 billed yearly)
Skillshare Discounts and Savings Tips
Recommended for: Budget-savvy creatives seeking a mix of free and affordably-priced classes that center on building a community and providing constructive feedback.
6. Bluprint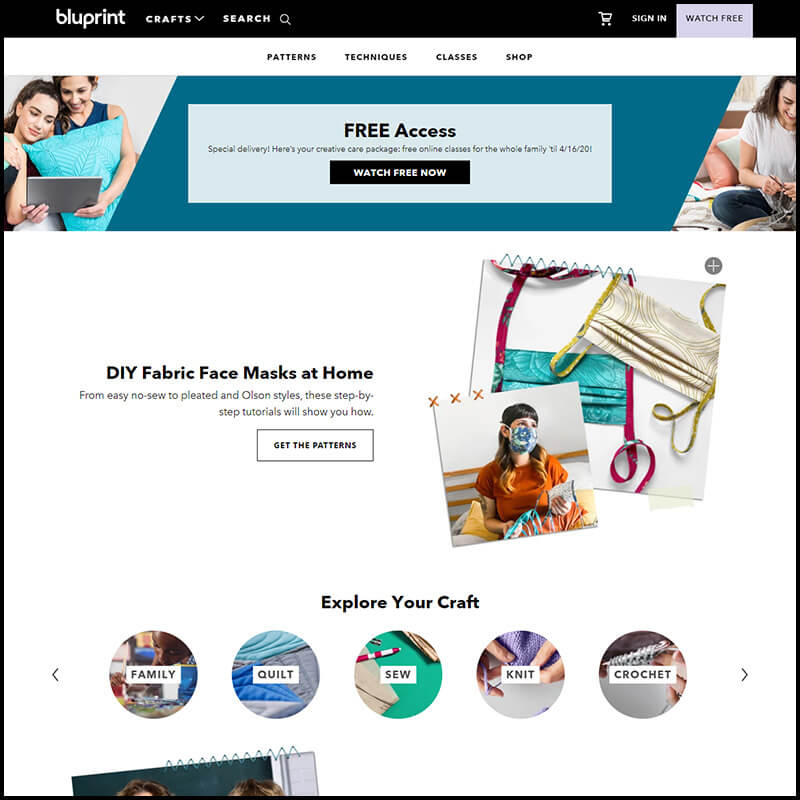 Take two minutes or two hours to learn something new.
Bluprint (formerly Craftsy) is an online creative learning platform that features an online library with over 1,300 classes, live events as well as exclusive perks, patterns, and techniques.
What's Included with Bluprint?
World-class, expert creative instruction paired with downloadable craft patterns for any skill level—some of which are free!
It's reasonably priced! Get an annual subscription for the price of a few solo classes.
Learn how to make a T-shirt quilt, knit a shawl, hip hop dance with tWitch from So You Think You Can Dance, paint pet portraits, and decorate a show-stopping birthday cake.
You are not required to sign up for a Bluprint subscription to browse the site or access your previously purchased classes.
How Much Does Bluprint Cost?
Monthly Plan ($7.99): Site access + 15% off bluprint.com fabric, yarn, and supplies.
Annual Plan ($79.99): Site access + 15% off bluprint.com supplies + free U.S. shipping.
Single classes in digital form, or as a DVD, generally cost from $25 to $100.
Bluprint Discounts and Savings Tips
Take advantage of their 7-day free trial
Right now, watch unlimited online classes for free until 4/16/2020; no credit card required.
The Annual Streaming Plan is now $39.99 + tax; price valid for first-year only. Ends 4/16.
Use one of our Bluprint coupon codes to save up to 40% on kits, supplies, and select classes through Giving Assistant.
Earn up to 4% cash back from bluprint.com
Recommended for: DIY crafters who like a one-stop-shop for creative classes and supplies that's fun for the whole family.
7. CreativeLive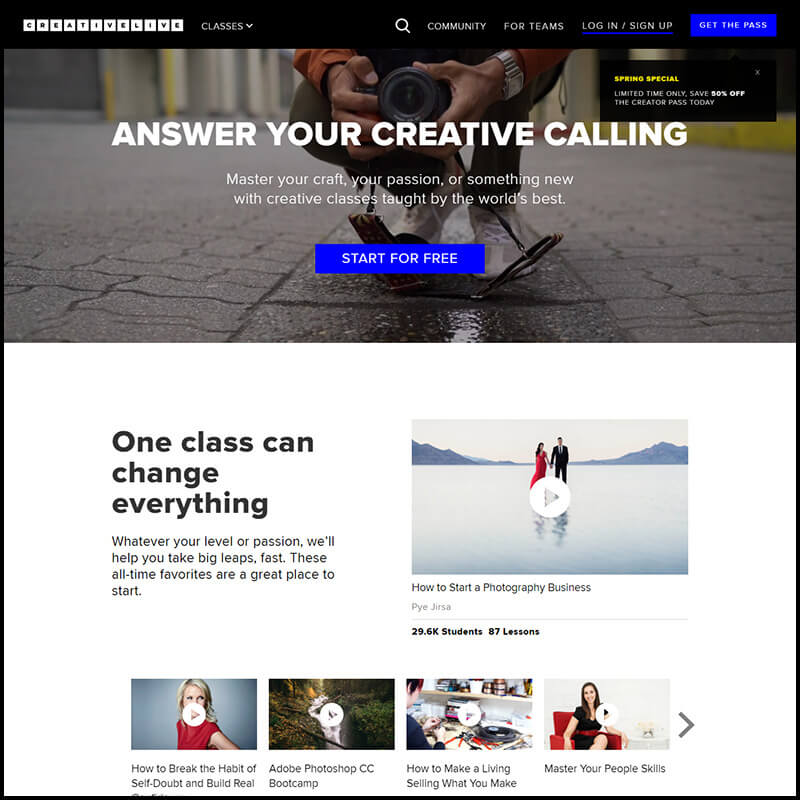 CreativeLive is an online learning platform that broadcasts live classes globally, from four in-house production studios within the company's dual headquarters in Seattle and San Francisco.
What's Included with CreativeLive?
Hundreds of expert instructors with access to projects and patterns for every skill level
Stream 1500+ top classes (with a subscription) anytime, anywhere, and on any device.
Browse an entire video library on-demand and get inspired; there are dozens of categories like Art, Music, Business, Creative Writing, Software, and Self-Improvement.
Exclusive new series released weekly.
How Much Does Creative Live Cost?
The most flexible option is the Monthly Pass ($39/month, billed monthly).
The most popular option is the Annual Pass (currently $149/year, billed annually)—less than $13 per month!
Note: Until 5/2020, the Annual Pass's price reflects a 50% discount, and usually is $299/year.
Creative Live Discounts and Savings Tips
Recommended for: People who don't mind paying a little extra to take online classes taught by New York Times best-selling authors, wicked sharp entrepreneurs, and Oscar winners.
8. Creativebug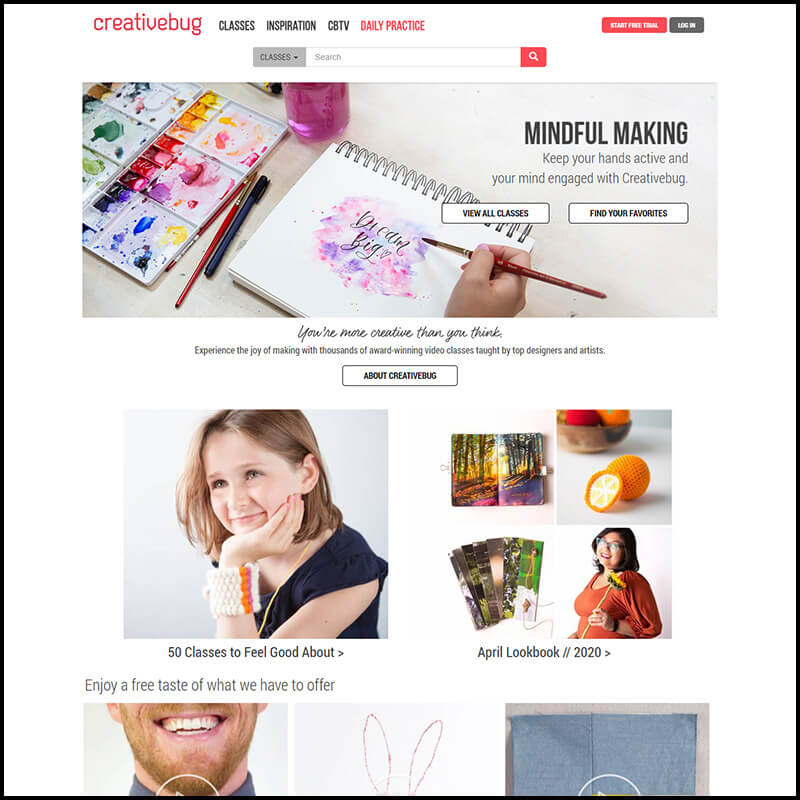 Creativebug is an online learning community for DIY fanatics owned by one of the nation's leading fabric and craft specialty retailer. In 2017, Jo-Ann Fabrics acquired Creativebug to revamp its brand. Today, the site sparks creativity with thousands of award-winning DIY craft videos, workshops, and downloadable patterns, templates, and recipes.
What's Included with Creativebug?
Unlimited access to 1,000+ online art and craft classes, like How to Make a Custom Pencil Pouch and a Monogrammed Wreath project. New classes added every week.
Browse classes for all skill levels and interests taught by leading instructors who'll walk you through creative projects from start to finish.
Creativebug classes never expire; watch at your own pace—anytime, anywhere.
A percentage of your subscription dollars go to support non-profits in art education.
How Much Does Creativebug Cost?
Unlimited: Pay $7.95 monthly to get unlimited access to thousands of ad-free classes.
Get exclusive JOANN discounts and keep 1 class per month to keep forever with Unlimited Plus subscriptions that cost $9.95 monthly (or $95.40 billed annually).
Creativebug Discounts and Savings Tips
Get everything for your next Creativebug DIY (save money by using Jo-Ann Fabrics coupon codes) to purchase supplies.
Special offer for teachers: Get a 3-month free trial plus three free classes to keep forever. After the free trial period ends, all-access is $4.95/month.
Take advantage of the 1-month free trial
Recommended for: Jo-Ann Fabrics loyalists (and beyond) who want exclusive savings on creative supplies on top of unlimited access to endless, online art and craft classes.
9. Kaplan IT Training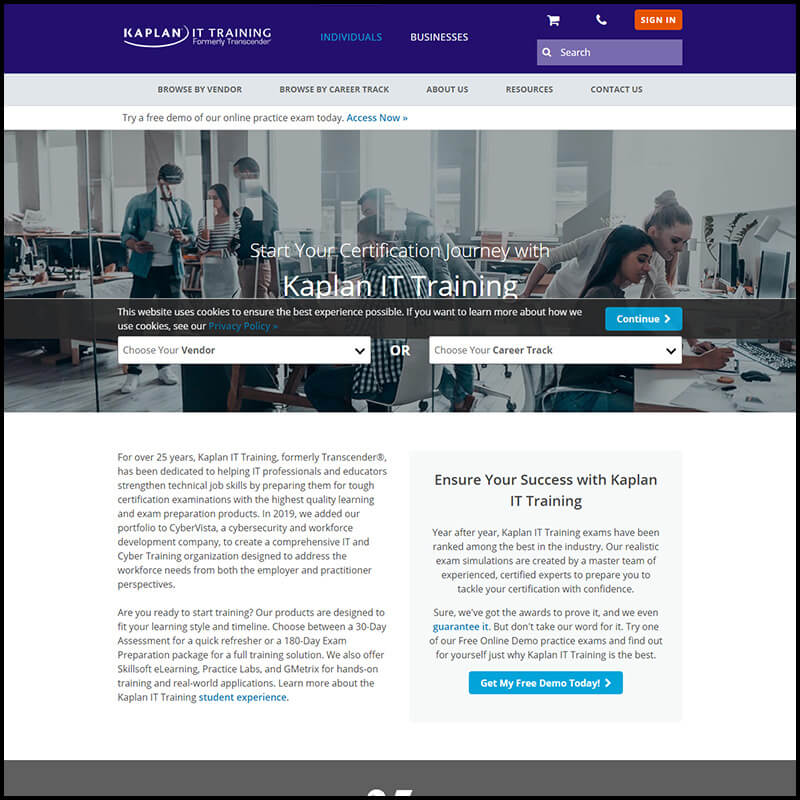 Pass your exam the first time—or get your money back.
Tech jobs are at an all-time high, making skilled, certified IT professionals a sought-after asset.
Enter Kaplan IT Training (formerly Transcender). This online learning resource has prepared IT professionals (and educators) to meet the widened skill gap of a rapidly-evolving industry for over 25 years. It's also the leading provider of IT certification practice exams.
What's Included with Kaplan IT Training?
Become certified in the industry-standard IT solutions such as Cisco, Oracle, Java, Adobe, Amazon, and Microsoft—packages include 30-day or 180-day online access.
Kaplan IT Training exams consistently rank among the best in the industry.
The user-friendly website, Learning Management System (LMS), and eLearning and Practice Lab add-on products enhance an already smooth, exam preparation.
The Pass Guarantee: Purchase Kaplan's 180-Day Exam Preparation study materials, and if you fail the corresponding vendor exam within 30 days of your access ending, return it for a full refund.
How Much Does Kaplan IT Training Cost?
There are two certification study package options with varying costs for vendor and career path:
The lowest price starts at $19 for the 30-Day Assessment (Online only) for the Adobe Photoshop certification. It's $39 to purchase the 180-Day Exam Preparation (Online + Download) for the same certification.
180-Day Exam Prep bundles for other vendors can cost up to $400.
Kaplan IT Training Discounts and Savings Tips
Recommended for: IT trainees and anyone with aspirations to advance in the following fields: web design, artificial intelligence, security, technical writing, and project management.
10. Intellipaat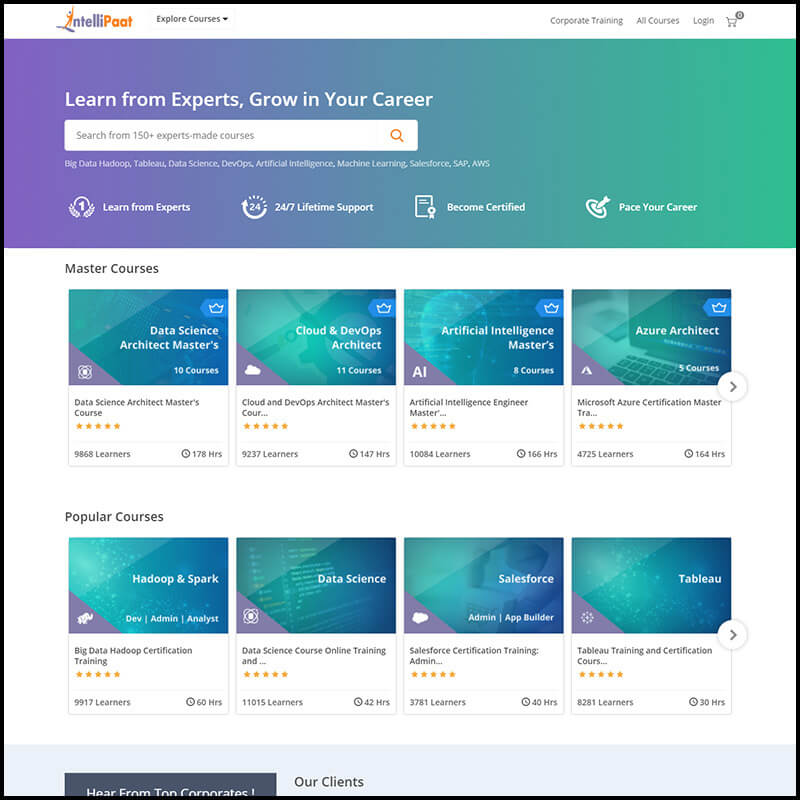 Intellipaat is an online learning platform and professional certification company headquartered in Bangalore, India, that primarily caters to software developers, IT administrators, and other professional fields—from healthcare to early childhood education.
Intellipaat's global, e-learning portal lets you learn at your own pace, offering 150+ courses through live instructor-led sessions, group learning experiences, and self-paced coursework.
What's Included with Intellipaat?
Companies such as Sony, Amazon, and Cisco use Intellipaat to upskill their employees.
Affordable, flexible class hours that easily fit into your schedules.
You can complete some coursework in less than one hour.
You get lifetime support and lifetime access to videos, tutorials, course material, resume preparation, and job assistance.
What Does Intellipaat Cost?
E-training costs range from around $20 to $1,000, depending on the qualification.
Intellipaat Discounts and Savings Tips?
Recommended for: People who want to take their technical career to the next level.
11. Khan Academy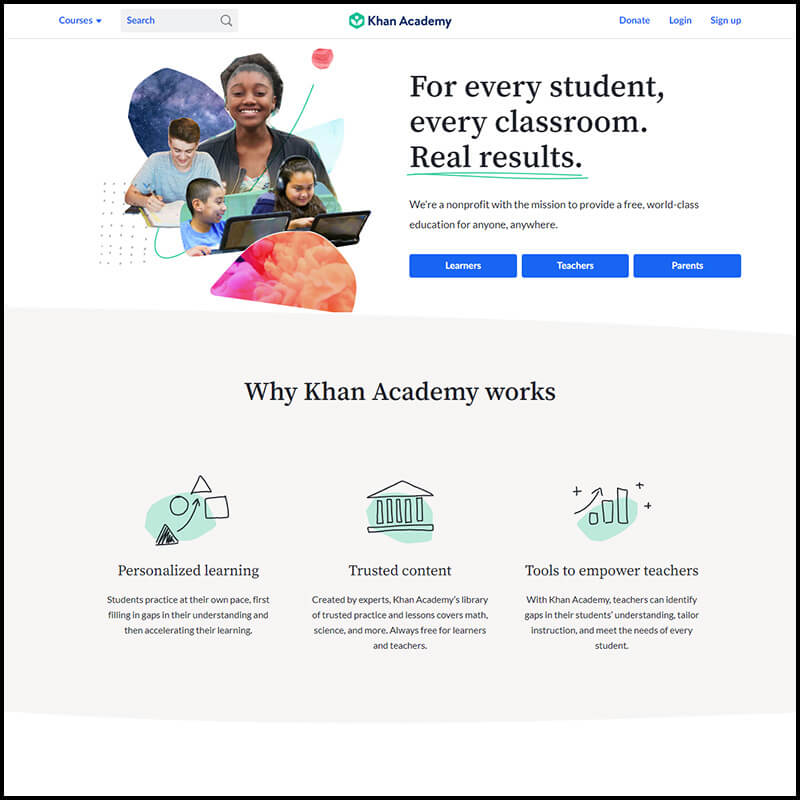 Khan Academy is a non-profit that makes free, world-class education accessible to anyone, no matter where they are. The Academy's library is packed with lessons and test prep in math, science, history, grammar, and more for K-12 and early college-level learners.
What's Included with Khan Academy?
The site is totally free, and anyone can access it—from out-of-school programs and summer camps to correctional facilities.
Free tools for parents and teachers.
Resource translations in more than 36 languages; there are also Spanish, French, and Brazilian Portuguese versions of Khan Academy's site.
Did you know that shopping through Giving Assistant for everyday items allows you to donate to Khan Academy a portion (or all) of the cash back you earn as a result?
Shop, Save & Donate with Online Learning Platforms
With extra time on your hands, now is the best time to learn something new.
And when you download our Giving Assistant browser extension, it's even easier for you to save money at the same time you're online learning and shopping. Spend the cash back you earn from shopping with us towards school supplies, crafts, and donations to your favorite non-profits.
Looking for a good place to shop? Check out these companies that support education.
We've also put together a list of nonprofits dedicated to COVID-19 Relief efforts. Your donation can make a difference!