Whether you're pitching a tent in the backyard or vacationing at a state park, having top-rated camping gear certainly comes in handy for these types of outdoor activities.
We've reviewed the best camping equipment, from ultra-bright flashlights to cozy sleeping bags, to find which ones provide the most comfort, warmth, convenience, and safety.
Below, we're sharing 11 top picks sure to make sleeping outside the best possible experience:
Top 11 Best Camping Gear & Equipment Essential Items in 2023
1. Best Sleeping Bag: "The One" Sleeping Bag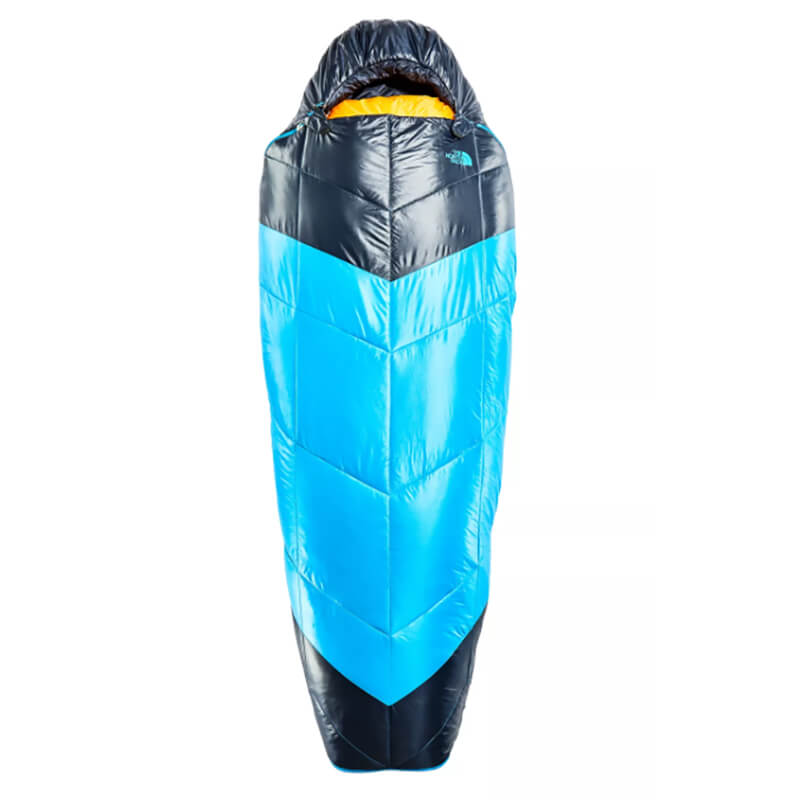 The One Bag is The North Face's amazingly efficient, 3-in-1 sleeping system made with interchangeable, removable layers for camping in 5°, 20°, and 40°F temps.
Each layer of the sleeping bag is color-coded (with small graphic symbols) that make it easy for campers to adapt accordingly to various sleeping preferences and weather conditions.
Features we like:
Three bags for the price of one!
800-fill goose down insulation
Impressive warmth-to-weight ratio
Detachable camp blanket
Find the best The North Face promo codes to save the most on this sleeping bag and more when you shop with Giving Assistant.
2. Best Tent: REI Co-op Kingdom 4 Tent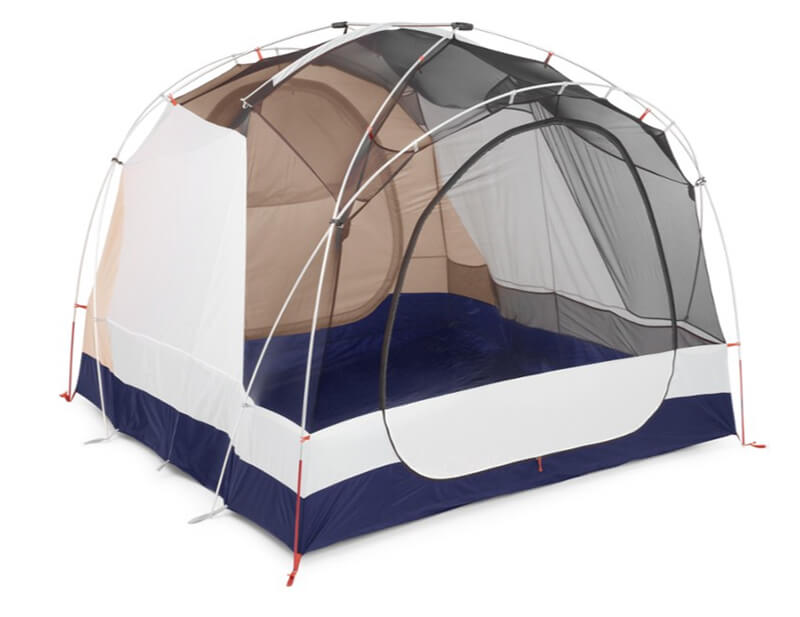 The REI Co-op Kingdom 4 is one of the roomiest, four-person tents on the market: a must-have for family camping trips! With enough wide-open space for sleepers, the tent also has a generous capacity for internal gear storage (think 20 mesh pockets with some overhead).
The tent's tall, circular doors, rectangular floor plan, and vertical walls provide easy access and enhance mobility, where the average camper can stand inside without crouching down!
Features we like:
Outstanding 3-season weather protection
Uncomplicated color-coded setup
Bug-proof mesh panels
Includes a backpack carrying case
Enjoy year-round savings with the latest REI coupons for all of your outdoor activities when you shop with Giving Assistant.
3. Best Air Bed: ALPS Mountaineering Velocity Air Bed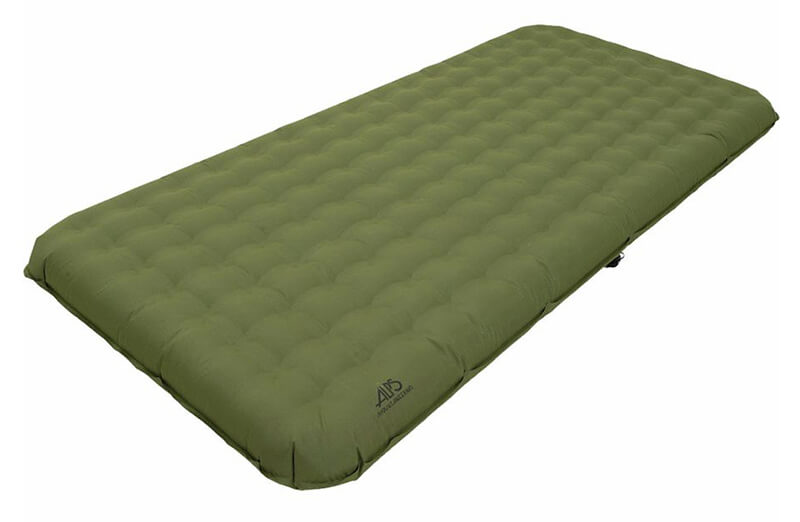 Sleep comfortably under the stars (and protect your back too!) with the ALPS Mountaineering Velocity Air Bed. It's made with durable, PVC-free fabric and an internal coil system that distributes weight evenly for cozy support throughout the night.
The air bed is available in two sizes: twin and queen (which supports up to 500 pounds). It also comes with a rechargeable pump that inflates and deflates the bed with the flick of a switch.
Features we like:
Extremely lightweight
Suitable for outdoor and indoor use
Carry bag included
Find the best Backcountry promo codes when you shop with Giving Assistant.
4. Best Camping Chair: GCI Wilderness Recliner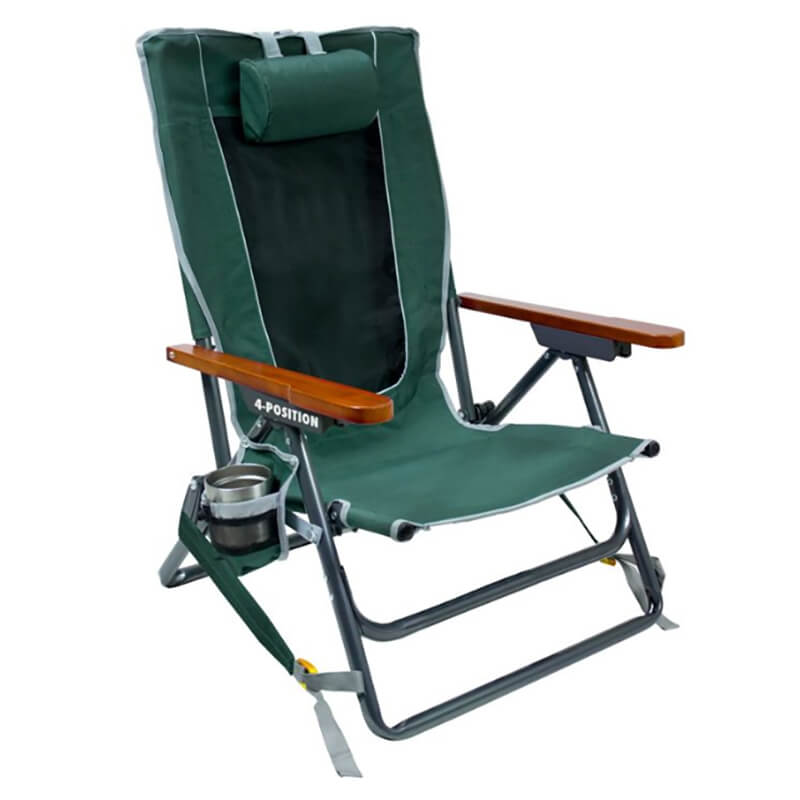 Ideal for relaxing by the campfire, the GCI Wilderness Recliner is a lightweight, durable camping chair that offers multiple reclining positions and an adjustable headrest for maximum comfort.
Features we like:
Four reclining positions
Integrated beverage holder
Folds and transports easily
Rear pocket storage with a secure cover
This camping chair ships for free. Save even more using the latest L.L. Bean coupons when you shop with Giving Assistant.
5. Best Portable Stove: Coleman FyreCaptain Propane Stove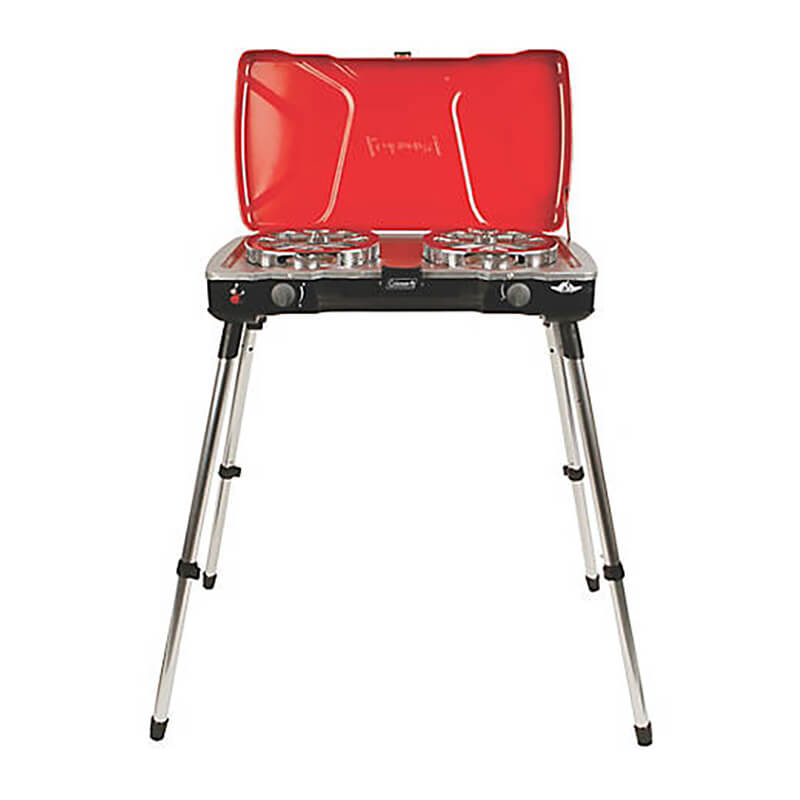 There's a reason why the Coleman FyreCaptain has the National Park Foundation's seal of approval as its official stove. This classic propane camp stove is affordably priced and versatile.
The FyreCaptain is also incredibly portable. Sturdy, telescoping legs, a built-in handle, and latching lid allow you to pack up your stove and carry it away like a suitcase.
Features we like:
Two, independently adjustable burners
Instastart push-button ignition
360° wind protection cuts boiling time in half
Interchangeable cooktops (grill grate and griddle sold separately)
Save with Tractor Supply Company coupons when you shop with Giving Assistant.
6. Best Griddle: Blackstone Tabletop Griddle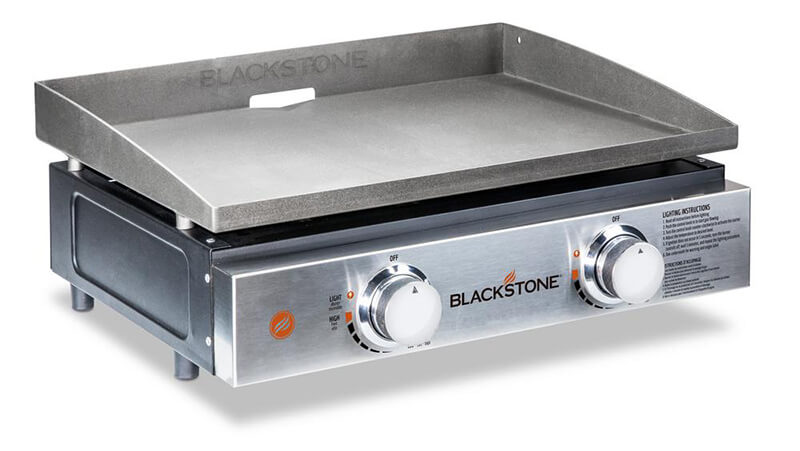 Craving pancakes at the campsite? Unlike a grill, the propane-fueled Blackstone Tabletop Griddle not only heats food evenly with every use but can also cook pretty much anything in a breeze, from juicy burgers with sautéed onions to omelets and hash browns.
The griddle has a 350 square inch cooking area with two independently-controlled heat zones that allow you to cook food on low and high heat simultaneously.
Features we like:
Cooks every meal (breakfast, lunch, and dinner)
Adjustable heat controls with built-in igniters
Lightweight and easy to clean
Save on outdoor cooking supplies and get the latest Home Depot coupons when you shop with Giving Assistant.
7. Best Flashlight: Five Mile Flashlight

The Five Mile Flashlight produces an LED light beam you can see from five nautical miles away, meaning it's more than capable of helping you navigate bathroom breaks and emergencies in the woods.
This lightweight flashlight has three brightness settings that you can zoom from a wide to a narrow beam. It also features an SOS signal and a strobe for warding off unwanted visitors.
Features we like:
40 times brighter than a standard flashlight
IPX6-rated (meaning it works when submerged in water)
Magnetic for hands-free use
Wrist strap
Find the best Hammacher Schlemmer promo codes when you shop with Giving Assistant.
8. Best Lantern: Goal Zero Lighthouse LED Rechargeable Camping Lantern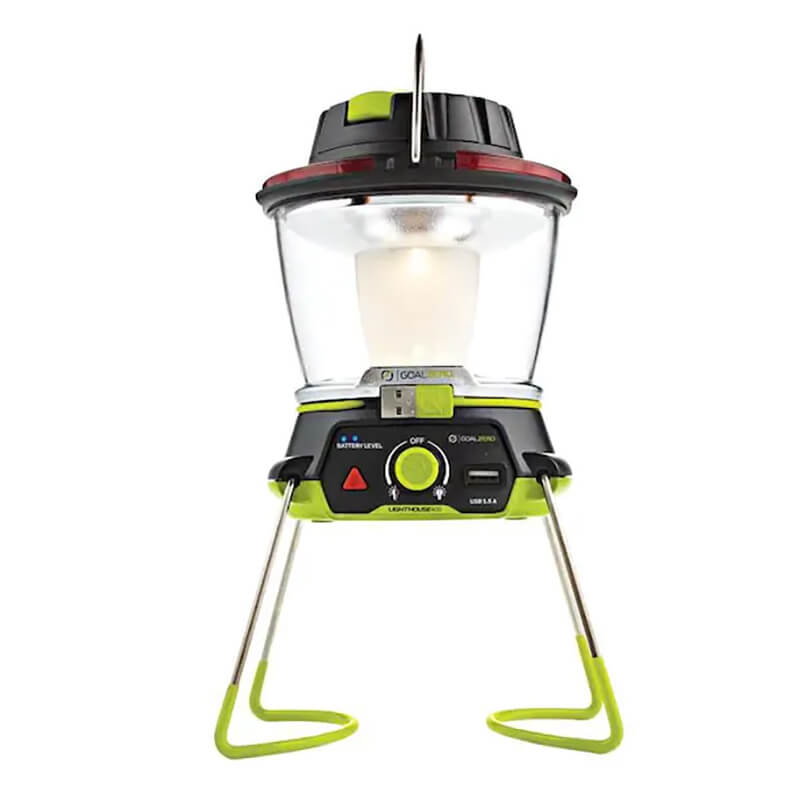 The Goal Zero Lighthouse Camping Lantern provides both on-the-go and hands-free illumination for campsites. That's especially helpful when you're inside a tent.
What makes the Goal Zero the best lantern for camping is its built-in hand crank that provides an instant charge. You'll never be in the dark! It's also packed with a powerful lithium battery and a 1.5A USB output that charges your devices while providing 400 lumens of light.
Features we like:
Light lasts 48 hours on its lowest setting
Multiple power options (including USB and solar)
Sturdy, collapsible legs and hanging hook
Compatible with all smartphones
Find the best Lowe's coupon codes to save on your next camping adventure when you shop with Giving Assistant.
9. Best Cooler: Igloo Trailmate Journey All-Terrain Cooler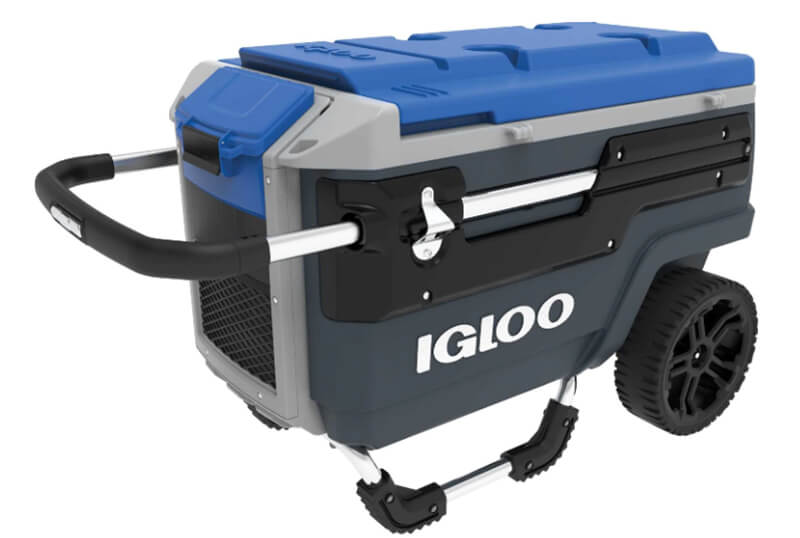 High-performance coolers keep drinks cold and food fresh for at least three days after being opened. The Igloo Trailmate Journey All-Terrain Cooler delivers in this department. Its Ultratherm® insulated body and lid offers 4-day ice retention plus lots of other fun details.
Features we like:
Self-draining cup holders on the lid
70-quart capacity holds 122 cans
Dedicated food basket, bottle opener, and serving tray
Padded glove box with a large pocket for concealed storage
Accessory holders and mounts (for fishing rods, mobile devices, and more)
Find the best Dick's Sporting Goods coupons when you shop with Giving Assistant.
10. Best Thermos: Stanley Classic Legendary Vacuum Bottle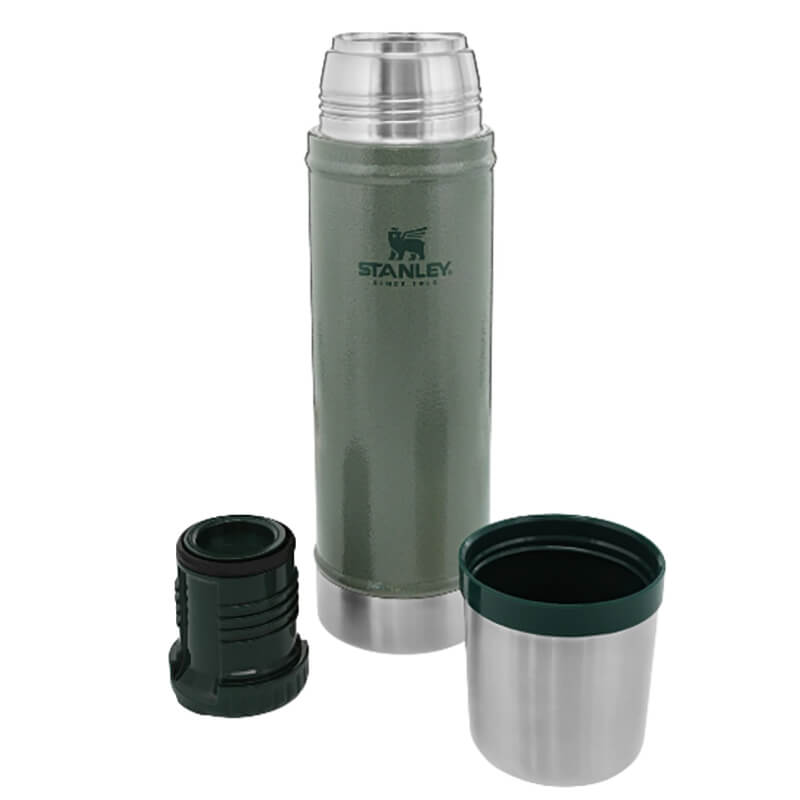 The Stanley Classic Legendary Bottle is the best thermos for camping because it's built for the most rugged camping adventures, withstanding spillage and leaks when dropped or shaken.
This BPA-free standout features double-wall, stainless steel vacuum insulation that keeps 20 ounces of liquid hot or cold for up to 24 hours — and water iced for four days!
Features we like:
Sturdy, durable, and reliable
Lid doubles as a cup
Keeps beverages at the ideal temperature
Convenient folding handle
Save even more on camping supplies with the latest Dick's Sporting Goods coupons by shopping with Giving Assistant.
11. Best First Aid Kit: Total Resources International Camping First Aid Kit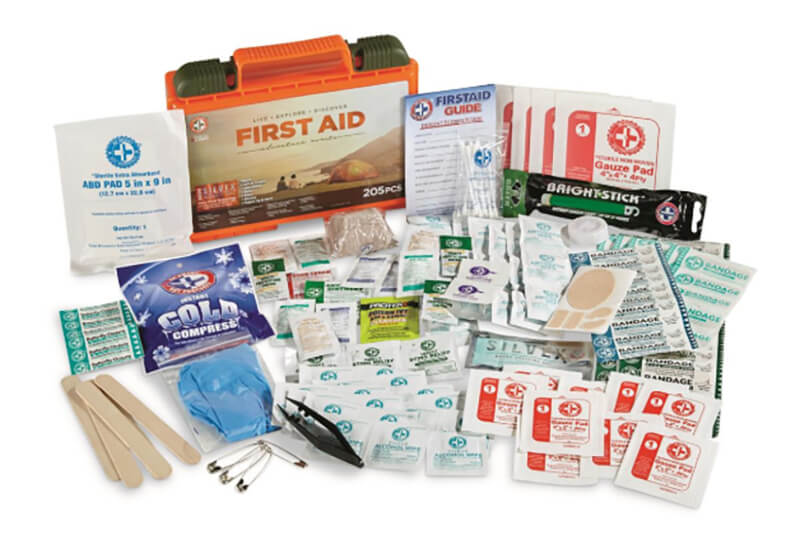 Stay safe while out in the woods with the 205-piece Total Resources Camping First Aid Kit, which contains plenty of safety and medical care essentials for treating scrapes, lacerations, burns, blisters, stings, sprains, and more.
This comprehensive kit comes in a plastic case with a water-resistant seal. It carries items such as antiseptic and alcohol wipes, fabric bandages, gauze pads, finger splints, Nitrile gloves, tweezers, and an instant cold compress.
Features we like:
Variety of treatments (from electrolyte tablets to a poison ivy wipe)
Advanced wound care (with Nano Silver Technology)
12-hour emergency light stick
First aid guide
Good-to-Know Info: Total Resources International donates a portion of the proceeds from this first aid kit toward Hope For The Warriors, a nonprofit that provides support to veterans, service members, and military families. You can choose to donate your savings to Hope For The Warriors and get the best Sportsman's Guide coupons when you shop with Giving Assistant.
12. Best Water Filter Bottle: Larq PureVis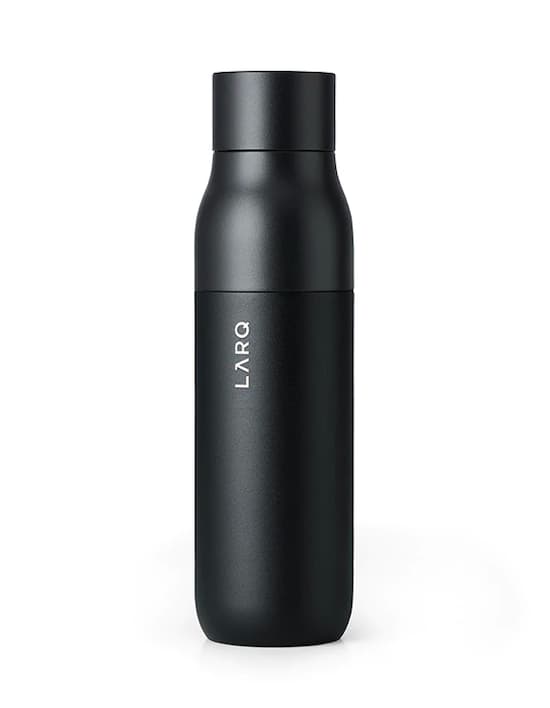 The LARQ Bottle PureVis is the world's first self-cleaning water bottle and water purification system. It uses UV-C LED light to eliminate up to 99.9999% of bio-contaminants from your water and bottle. This bottle comes in 17 oz or 25 oz and 6 fun earthy colors.
How Shopping for Camping Gear Can Help Support Nonprofits
Buying gear for a camping trip with Giving Assistant helps you prepare for more than just an outdoor adventure. You can also donate to nonprofits and uplift the causes you support. And since July is National Parks and Rec Month, you may consider celebrating the occasion by giving back to an environmental nonprofit like:
Learn more about how to use the Giving Assistant Button to find the best camping deals (and find sales year-round) that earn you cash back you can effortlessly share with nonprofits.